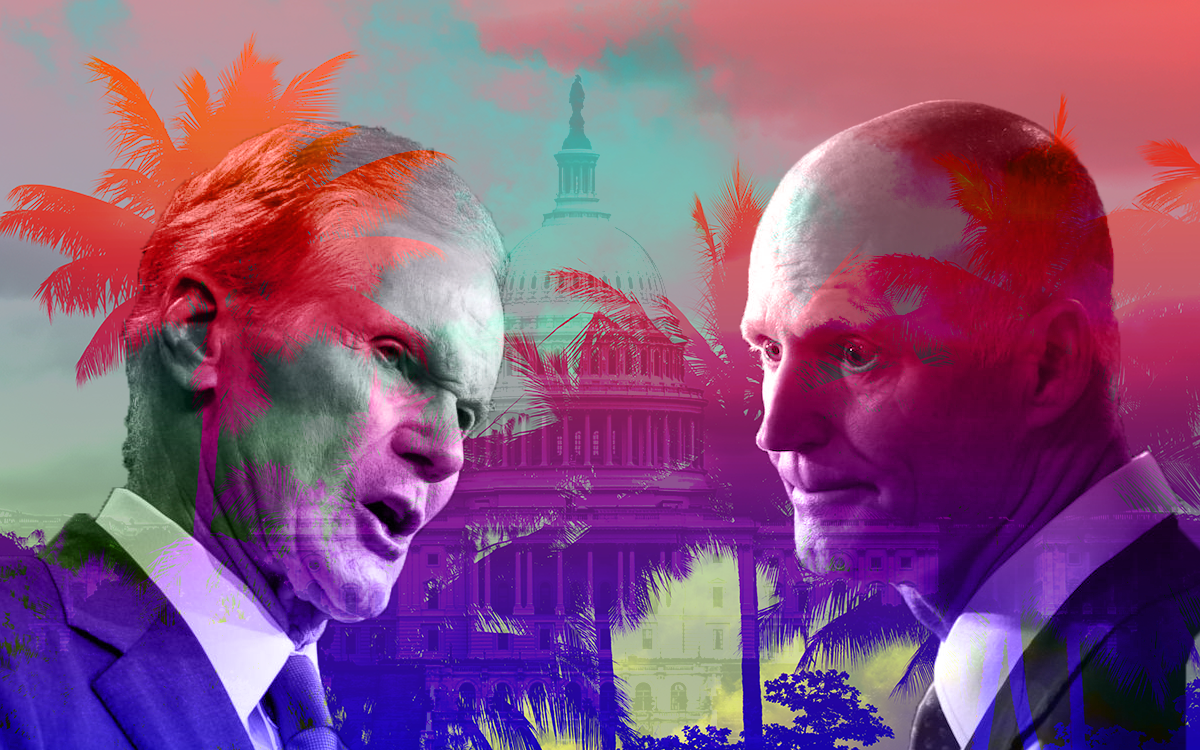 A new CBS News/YouGov poll finds Democratic U.S. Sen. Bill Nelson and Republican challenger Rick Scott in a dead heat. The survey also shows Democratic gubernatorial candidate Andrew Gillum leading Republican Ron DeSantis by just 1 percentage point.
The poll found the two major Senate candidates winning 46 percent of the vote each among likely voters, with another 1 percent going to "someone else" and 6 percent of voters still unsure.
The same poll found Gillum winning 47 percent support and DeSantis winning 46 percent, with another 2 percent supporting someone else and 5 percent still unsure.
Respondents were surveyed Oct. 23-26. Pollsters report a 4 percent margin of error.
Scott, the two-term Governor of Florida, earned high marks for his response to Hurricane Michael, with 63 percent approving of his response and 23 percent disapproving. Gillum, Mayor of Tallahassee, had a 43-24 approve/disapprove rating on storm response. For Nelson, 41 percent approved of his performance and 28 percent disapproved. And for DeSantis, the breakdown was 35 percent approval, 25 percent disapproval.
The results came out as part of a report on Senate battleground states, including Arizona and Indiana. The poll also found Democrat Krysten Sinema leading Republican Martha McSally 47-44 in Arizona, but found incumbent Sen. Joe Donnelly losing 46-43 against Republican challenger Mike Braun.
In Florida, the poll also found 80 percent of those surveyed feel somewhat or very good about the state of the economy. About 51 percent of voters were paying a "great deal" of attention to the election, and another 37 percent followed the race "a fair amount."
Some 52 percent of those surveyed said they definitely plan to vote, and 78 percent of those called had voted in 2014 or 2010.
64 percent of those voting say they have made up their mind. Another 23 percent say their support is "strong" and unlikely to change.
Curiously, pollsters found voters' sense of how well the candidates understood Florida issues divided more along whether the politicians hold federal or state office, as opposed to falling along party lines.
Some 38 percent say Scott understands Florida issues "very well." For Gillum, 34 percent feel the same. About 32 percent said that of Nelson and 31 percent said it of DeSantis.