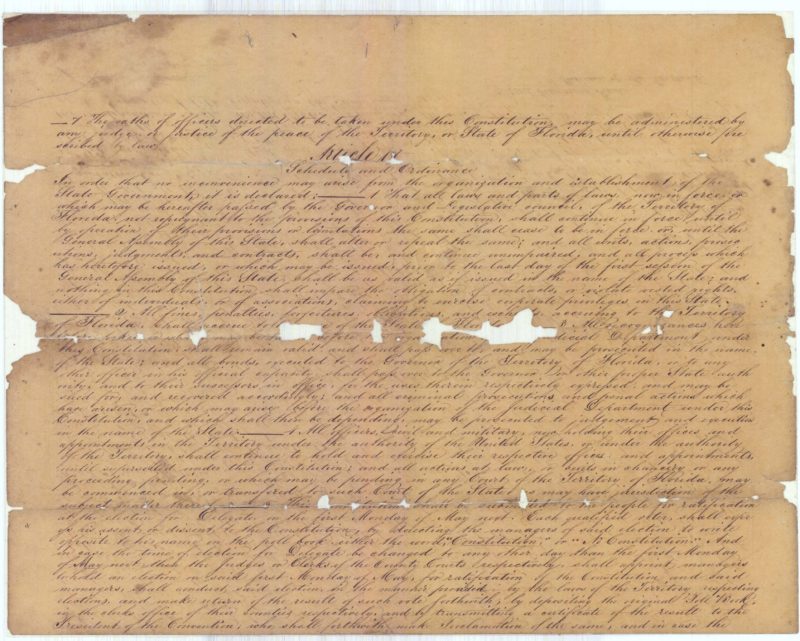 A new statewide poll found Florida voters are in favor of the constitutional amendment restoring voting rights to felons who have done their time but aren't so keen on adding a "crime victim bill of rights" to the state's governing document.
The St. Pete Polls survey found 60 percent of likely voters support Amendment 4, also known as the "Voting Restoration Amendment," while a third of voters are against the measure and the remaining 7 percent are undecided.
Among the 44 percent of voters who said they've already turned in their ballot, the amendment was above water 63-33 percent, while those yet to vote were slightly less enthusiastic, backing the plan by a 57-35 percent margin with 8 percent unsure.
Constitutional amendments must earn 60 percent support from voters to pass.
Amendment 4 crossed the 60 percent threshold among both Democrats and independents, with the former saying they were in favor by a 65-point margin, 80-15 percent. Registered Republicans, however, disapproved of the ballot measure by 13-point margin, 53-40 percent. By race, white voters were in favor 56-40 percent while a whopping 83 percent of black voters said they were yes votes compared to just 9 percent who said they were opposed. Young voters were the most supportive at 62-30 percent, with a gradual step down in support among older age brackets. Voters over 70 were still in favor by a 59-34 percent margin.
Amendment 4, sponsored by political committee Floridians for a Fair Democracy, would restore automatically voting rights to the vast majority of the Sunshine State's 1.7 million convicted felons so long as they've completed their sentences, including probation, parole or paying restitution. The only carve outs in the amendment are felons convicted of sex offenses or murder.
The current voting rights restoration system requires felons to wait up to seven years after their conviction to apply for restoration, which is handled on a case-by-case basis by the Governor and Cabinet.
Since making the ballot, the initiative has picked up supporters from both ends of the political spectrum. Democratic socialist Bernie Sanders, a U.S. Senator from Vermont, endorsed the Amendment 4 over the weekend, as did the famously conservative Christian Coalition of America. Past backers are as disparate as the American Civil Liberties Union and the Koch brothers.
Amendment 6 was also tested by St. Pete Polls, and the results weren't great for the Marsy's Law for Florida-backed amendment.
Voters were at a near-even split with 43 percent saying they were a nay vote and 42 percent saying they were a yay vote. The remaining 15 percent were undecided.
The amendment, which would add a "crime victim bill of rights" to the state constitution, was preferred 47-45 percent among those who've already exercised their franchise, but those waiting to vote scored it at a minus-3 with 21 percent undecided.
The results were similar irrespective of party affiliation: Democrats gave it a thumbs down, 44-41 percent; Republicans showed tepid support, 43-41 percent; and independent voters came in at minus-three, 43-40 percent. Ditto by race and age, with no slice of the electorate hitting even 45 percent support, let alone crossing the 60 percent threshold.
Amendments 4 and 6 are two of a dozen measures going before Florida voters on the 2018 ballot. Alongside Amendment 3, the "Voter Control of Gambling in Florida" amendment, Amendment 4 is one of two amendments that made the ballot via the petition method. Another seven measures were placed on the ballot by the Florida Constitution Revision Commission and the other three made the cut thanks to the state Legislature.
The St. Pete Polls survey was conducted via an automated phone call polling system on Oct. 27. The poll received responses from 2,118 voters who said they were planning to vote or had already voted. It has a margin of error of plus or minus 2.1 percentage points at a 95 percent confidence level.