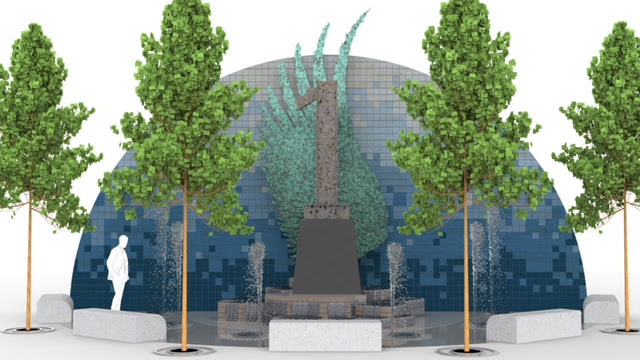 The Warehouse Arts District will break ground for Rise St. Pete, a Sept. 11 memorial and park, this Saturday. 
A structure will feature pieces of steel recovered from the World Trade Center after the two towers collapsed.
Owners of the American Freedom Distillery, which operates in the Warehouse Arts District, worked on the U.S. military response to the terrorist attack and were gifted a large steel beam from the wreckage.
One of the owners, Mark Nutsch, led a team of Green Berets who fought the Taliban — on horseback.
The district "is honored to give the Rise St. Pete memorial a home," Warehouse Arts District Executive Director Diane Morton said.
"We understand the transformative, healing power of art, and know the impact this monument will have on residents, visitors, and the hundreds of thousands of active and retired first responders and military personnel who call Tampa Bay home." 
Rise St. Pete will be a 20-foot by 40-foot monument with the World Trade Center steel as its centerpiece in the shape of the number one. MGA Sculpture Studios' Mark Aeling designed it.
The park also will feature an interactive fountain surrounding the monument with a wing "guarding" it, made from copper recovered from the Statue of Liberty during recent renovations.
The sculptor said the wing symbolizes a community rising and transitioning into new growth.
"It's an honor and a privilege to be selected to create this monument. Like a phoenix rises from the ashes, 'Rise' is all about rebirth, looking forward as a community while honoring our past," Aeling said.
A blue tile arch will serve as a backdrop to the monument. Artists at the Morean Center for Clay are making the arch, which includes four trees symbolizing a Callery pear tree that survived the World Trade Center attack and became known as the "Survivor Tree."
"We all remember where we were when the terrorists attacked us on 9/11, but the next generation doesn't have that same connection," American Freedom Distillery partner Scott Neil said.
"Rise St. Pete serves as a powerful tribute to the heroes who responded and is a reminder for the next generation of the power we have when communities unite and help each other." 
The groundbreaking is 10 a.m. Saturday at the corner of Fifth Avenue South and 22nd Street.