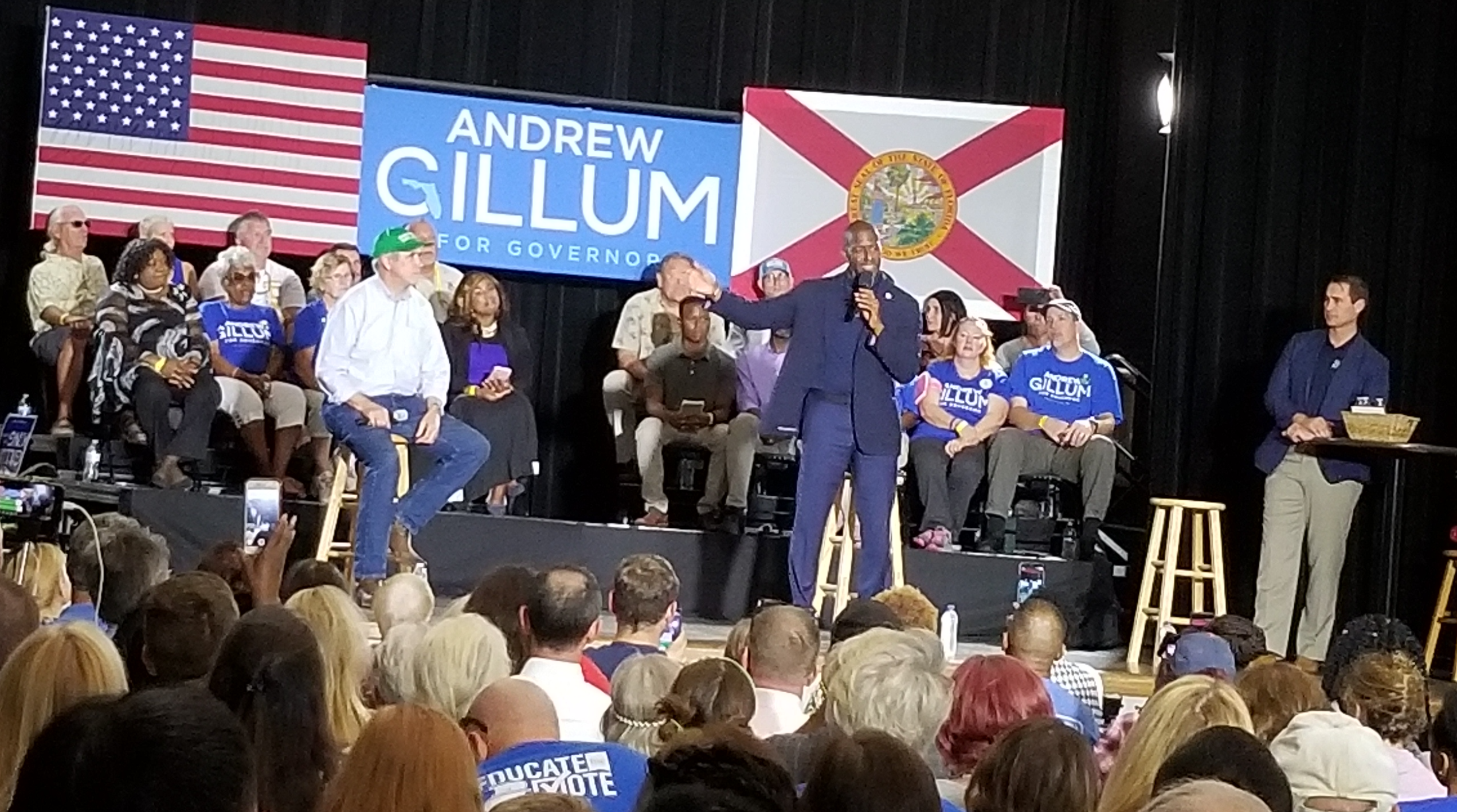 Democratic gubernatorial candidate Andrew Gillum had a message for all scientists concerned about water quality. You may be called to serve on a water management district board of trustees in the immediate future.
"Anybody that cares about our environment and has an acumen for science better get their resumes ready," Gillum said.
Gillum and running mate Chris King held a town hall in deep red Lee County on Tuesday night, just a week ahead of the election.
Oregon Sen. Jeff Merkley also flew into town, wearing a "Make America Green Again" hat and calling the governor's race one of the most important in the country for those concerned about the environment.
"If we can have a coast-to-coast partnership, we can save America and lead the world," Merkley said.
So why would Democrats spend vital campaign time in one of the most reliable Republican counties in Florida? Party leaders here say they see greater displeasure with Republican rule than experienced in decades thanks to algal blooms.
The region first suffered explosions of blue-green algae, then took another bunch on the beaches touched by red tide.
Gillum said the environmental disaster could be traced to policies of Republican Gov. Rick Scott, whom the Democrat referenced as "Red Tide Rick" to applause.
King said residents of coastal areas know the algal blooms not only create environmental problems through fish kills, but have led to air pollution and respiratory problems for many Floridians.
It's also been an economic disaster for many restaurants and hotels on the water.
"I've been so incredibly moved to see how this has impacted people's lives," King said.
He also stressed Gillum would appoint knowledgeable stakeholders to water management districts around Florida. "He will appoint people who get it, and who will stand up to those who don't get it."
And Gillum stressed he considered poor water management district leadership a statewide problem, not something confined to the South Florida Water Management District.
Perhaps more importantly, Gillum said the issue could be one that moved voters on both sides of the aisle.
When asked what residents of the region could do to help with algae problems besides voting for Gillum-King, which somehow remained the top suggestion of the campaign, Gillum said contacting lawmakers would be the best way to help.
"After we win, it may be the case the Republicans still control the House of Representatives," he said, "but when it comes to our environment, that's not a red or blue issue. Republicans and Democrats know what it felt like to go fishing in all kinds of water."
Worth noting, nobody believes Democrats will retake the Florida House of Representatives. MCI Maps analyst Matt Isbell write in a left-leaning analysis, "Democrats cannot win the chamber, but they can make gains."
Gillum figures with a hostile House, some pols will arrive in Tallahassee with knives sharpened should he become Florida's first Democratic governor in 20 years.
"Some will say, what can we do to undermine these guys, to make them a radical failure," Gillum said.
But the environment will be one of those issues where a coalition from voters on both sides of the aisle may form.
"But we've got to show up in the district offices of members, including Republican and Democratic members, to demand accountability on their votes," he said.