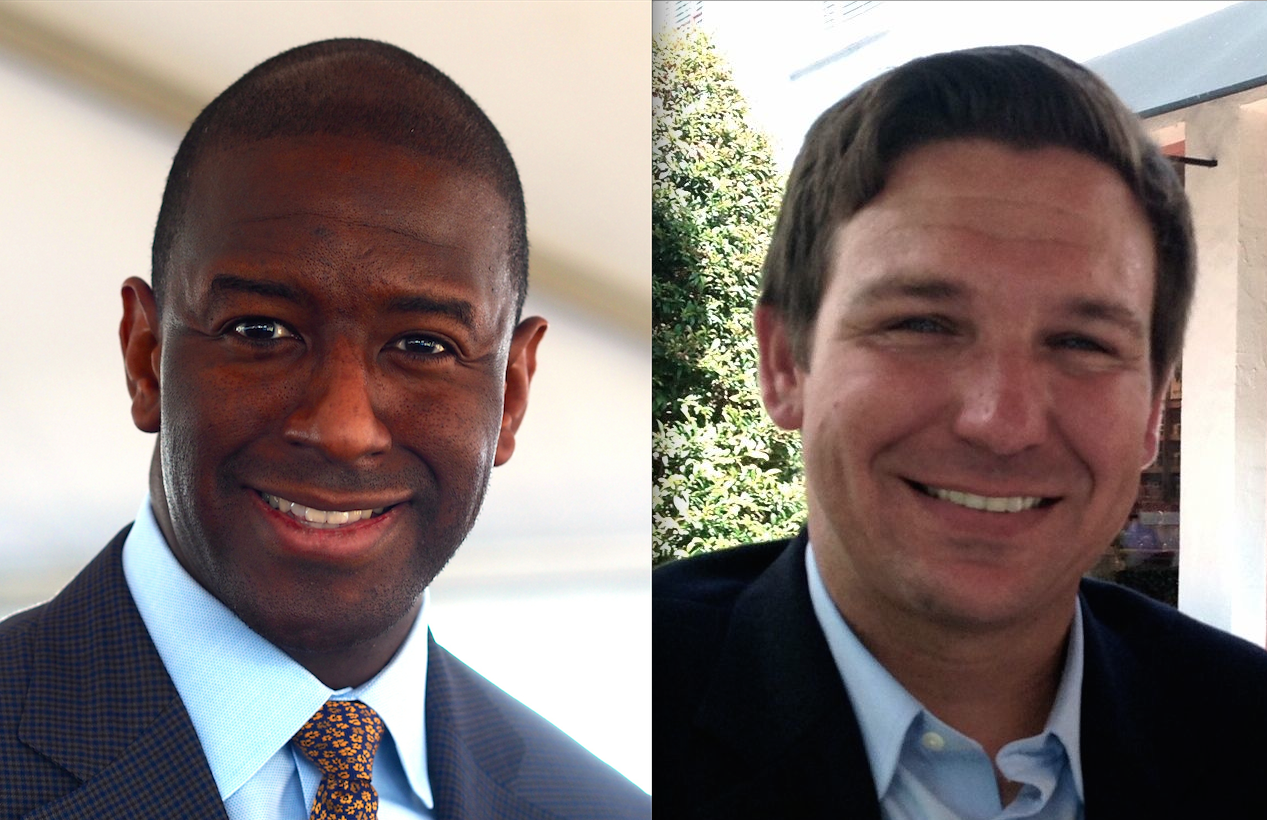 A new poll from Suffolk University is finding a near dead-heat in Florida's gubernatorial election, with Democratic Tallahassee Mayor Andrew Gillum getting 45 percent and Republican former U.S. Rep. Ron DeSantis 44 percent.
With a 4.4 percent margin of error among the likely election voters surveyed, the race is a toss-up a week out from Election Day.
The same poll found similar results in Florida's U.S. Senate race, with Democratic U.S. Sen. Bill Nelson holding 45 percent and Republican Gov. Rick Scott 43 percent.
"Both the U.S. Senate and governor's races will come down to get-out-the-vote operations on Election Day because both races are too close to call," a statement from the Suffolk University/USA TODAY Network poll declared.
The survey used live interviews via cellphones and landlines of 500 voters who said they already have voted or intend to vote, and was conducted from last Thursday through Sunday.
The Suffolk poll continues the running consensus of polls in recent weeks that have the Democrats slightly on top, leading by one or two or three points in almost every survey, but all within the margins of error. RealClearPolitics.com, which tracks more than a dozen Florida polls, is giving Gillum a running 3 point advantage in the poll consensus, and Nelson a 2 point advantage.
As in other polls in recent weeks, the Suffolk poll found both Gillum and Nelson with strong leads among women voters and younger voters, and an overwhelming lead among black voters. DeSantis and Scott have solid advantages among men, older voters, and white voters.
Unlike in most previous polls, DeSantis and Scott also found slight edges among independent voters in the Suffolk poll.
Voters said their top issues in the governor's race are the economy (22 percent), health care (20 percent), education (19 percent), taxes (12 percent), corruption (8 percent), and gun control (7 percent).
As for gun control, the Suffolk poll found a solid majority of voters wanting to see a ban on assault-style rifles such as the AR-15s used in many of the mass shootings, including at Parkland's Marjory Stoneman Douglas High School in February and at Orlando's Pulse nightclub in 2016. The survey found 56 percent want the next governor to move to ban semi-automatic weapons, while 34 percent were opposed and 10 percent undecided. Among gun-owning households in the Sunshine State, 43 percent support the move to ban the weapons, Suffolk reported.