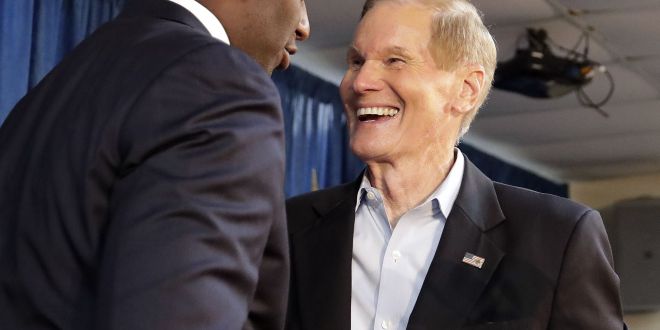 Another public poll brings good news for Democrats running statewide, with gubernatorial hopeful Andrew Gillum and U.S. Sen. Bill Nelson ahead of Republican opponents.
A survey released Wednesday by Ipsos/Reuters/The University of Virginia Center for Politics shows Gillum at the magical 50 percent threshold and Nelson close behind at 49 percent.
Gillum's 50 percent of likely voters, the same as the last Reuters polling a month ago, puts him ahead of his Republican opponent, former U.S. Rep. Ron DeSantis, who has 44 percent.
Gillum and DeSantis both have their bases on lock in this poll, with 95 percent and 90 percent of intraparty support respectively.
While many surveys have shown independent voters strongly backing Gillum, this poll reflects a slender 35 to 33 edge, with the balance undecided or leaning to another candidate.
Nelson likewise holds a meaningful lead in this survey, with 49 percent of likely voters backing him, compared to 44 percent for his Republican opponent, Gov. Rick Scott.
When voters "leaning" to one candidate over the other are added, the tally is 50-45.
Nelson commands the support of 92 percent of Democrats; Scott, 90 percent of Republicans. Independents back Nelson 36 to 29, with the balance undecided or looking elsewhere.
Caveats: The poll, which saw respondents "interviewed online in English," was conducted over an 8-day period (Oct. 17-25).
This calls into question how well it reflects the dynamics of the race, which include bombshells regarding Gillum's interaction with FBI agents that Republicans deem evidence of corruption.
The sample includes 1,069 likely voters: of those, 455 Democrats, 513 Republicans and 71 independents. Compared to some public polls, Republicans are overrepresented (almost 50 percent of the vote in this model); independents (at roughly 7 percent) are underrepresented.
The poll does not use a "margin of error," but rather a "credibility interval" of plus/minus 2.5 percent for each respondent.