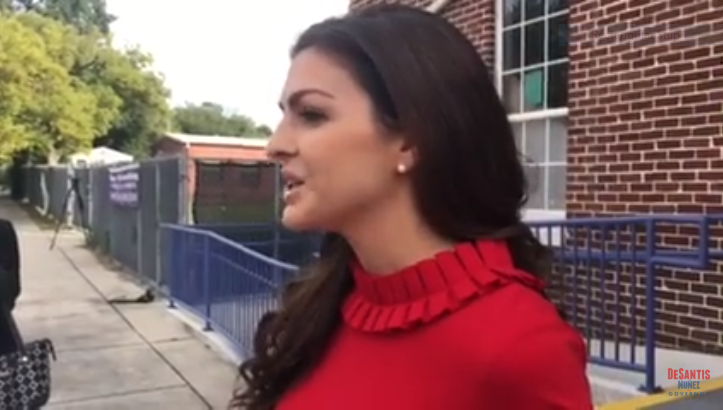 "Shameful and wrong."
That's how Casey DeSantis, the wife of Republican gubernatorial candidate Ron DeSantis, described Democrat Andrew Gillum's opposition to "choice scholarships" after a visit to a Tampa Catholic School Thursday.
"St. Peter Claver Catholic School is a testament to how innovative education policies can truly change the lives of children and their families," said Mrs. DeSantis.
"St. Peter Claver has more than 150 students, many of them African-American and all of them from families with limited means, that are now excelling in a great learning environment thanks to the Florida Tax Credit Scholarship program.  This program empowers low-income parents to choose the best learning environment for their children—just like parents of greater means do," Mrs. DeSantis added.
"My husband, Ron DeSantis, will protect these students' scholarships and defend these parents' right to send their child to a school where they can excel," Mrs. DeSantis asserted.
"Andrew Gillum has said that he will bring this program and others like it 'to a conclusion.' That is shameful and wrong.  He should look these students and parents in the eye and tell them why he thinks they don't deserve the opportunity to choose a learning environment that works for them," Mrs. DeSantis added.
"Public education doesn't exist to serve the interests of bureaucrats and unions – it exists to equip every child with the knowledge and skills they need to pursue their dreams and maximize their own potential. Empowering families will always be the focus of Ron DeSantis as Governor," concluded Casey DeSantis.
Critics have chided Gillum for unclear stances on the school choice issue.
The PolitiFact parsed Gillum's position, asserting that the Democrat "hasn't called for an end to all charter schools — he is targeting those that are managed by for-profit entities."
This is consistent with Gillum's own statements during the primary, which zeroed in on for-profit operators rather than parochial schools like the one Mrs. DeSantis visited.
The DeSantis-friendly Washington Examiner  went further, suggesting Gillum could defund the program.
Charter school advocates back DeSantis, with former House Speaker and one-time gubernatorial pre-candidate Richard Corcoran lauding his education plan as "bold and visionary."