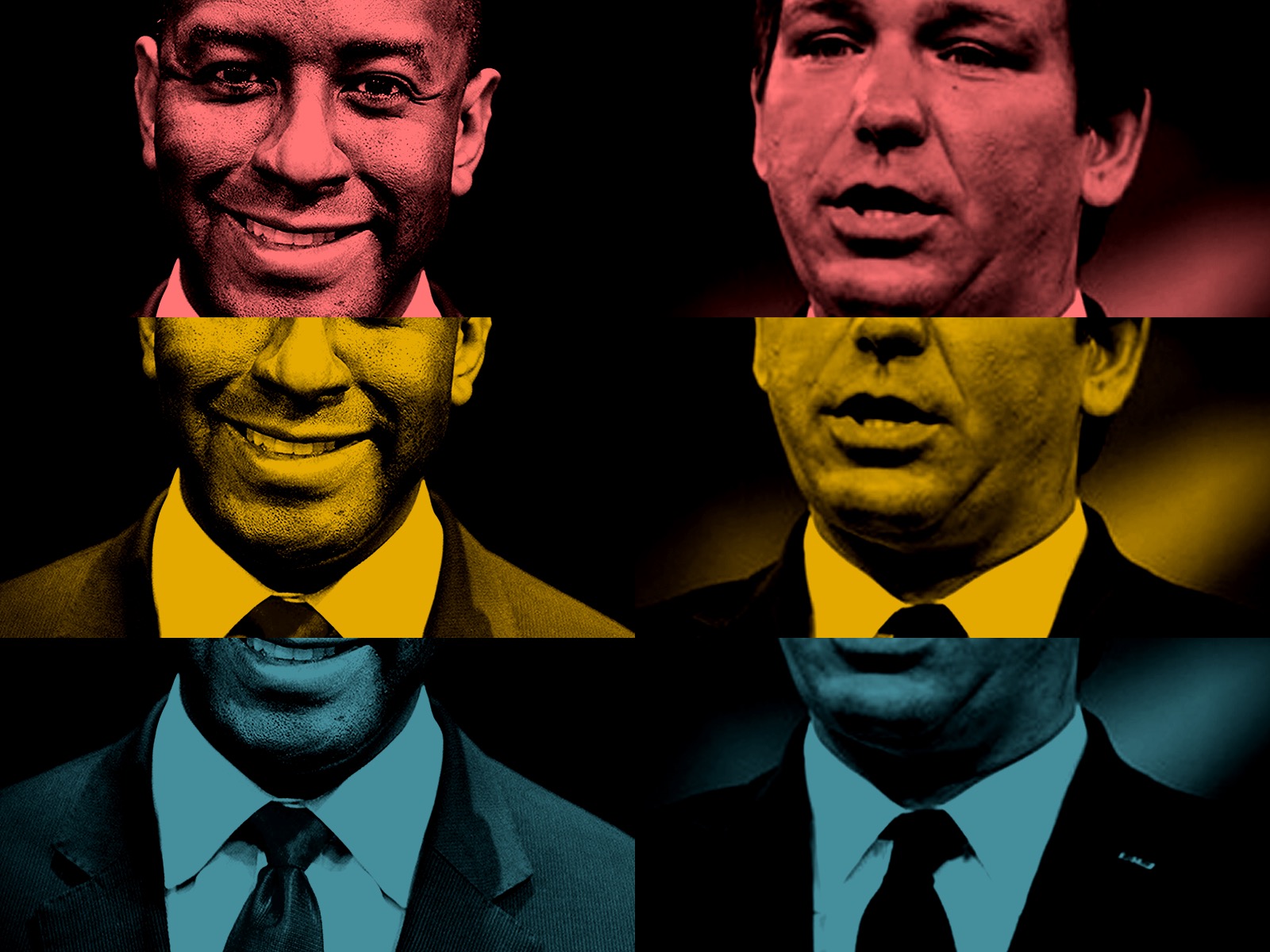 On Friday, nearly three days after ballots began to be counted, we still lack clarity in who the next Governor will be.
We do know there will be a machine recount.
With a vote lead of 36,211 with over 8.2 million ballots counted (rounding up to a 0.46 percent edge) Republican Ron DeSantis, the 40-year-old former three-term Congressman who took the nomination with the President's blessing has seemingly defeated Democrat Andrew Gillum to become the next Governor of Florida.
Seemingly being the key word.
The Governor's race, like the U.S. Senate and Agriculture Commissioner races, has margins under the 0.50 percent threshold that triggers a recount. The world's eyes again are on Florida elections, and this one especially as provisional ballot verification (a typically Democratic stronghold) comes into play.
The Gillum campaign wants every vote counted: "On Tuesday night, the Gillum for Governor campaign operated with the best information available about the number of outstanding ballots left to count. Since that time, it has become clear there are many more uncounted ballots than was originally reported.
"Our campaign, along with our attorney Barry Richard, is monitoring the situation closely and is ready for any outcome, including a state-mandated recount. Mayor Gillum started his campaign for the people, and we are committed to ensuring every single vote in Florida is counted," asserted a campaign spokesperson.
Gillum, addressing supporters during a Facebook Live appearance Thursday, noted that he's still trailing DeSantis.
"I want you to know that in spite of the fact that we're a little bit down in the numbers, we're hopeful that every single vote will be counted in this race," Gillum said.
The narrative has changed from Election Night when Gillum called DeSantis and conceded victory, before the margin dwindled from what was a more than 1 percentage point lead.
DeSantis thumped his chest in victory at the time, delighting his base.
"The pundit class gave us no chance … the political and media class seemed eager to write our obituary … On Election Day, it's the voice of the people that rules," DeSantis said.
And based on available information, he was right. His base prevailed.
But with something less than a mandate, DeSantis even then extended a rhetorical olive branch to opponents.
"I don't care if you were against me in the campaign," DeSantis added, saying that his goal was to work together for the state.
An ameliorating coda to an explosive campaign.
And a campaign that may not be officially over if yet another recount scenario comes into play here.
DeSantis isn't worried about that, though.
"I was honored Tuesday night to be elected 46th Governor of the State of Florida.  The results of the election were clear.  I am now focused on the transition effort and will allow the legal efforts regarding the election to proceed, as is necessary, as the process unfolds," he told us Thursday afternoon.
__
This razor's edge outcome is fitting for a battle of the bases, and a referendum both on President Donald Trump and the burgeoning progressive movement, that unlikely nominee Gillum has become a national leader of in recent months.
DeSantis, thus far, is the "apparent winner." Though that doesn't mean things will be predictable if he is inaugurated as expected.
While DeSantis has promised continuity with the Rick Scott era, those who have covered state government throughout Scott's eight years know that some of the harshest battles were between the populist right in the state House and the more pragmatic Senate.
On the campaign trail and in outreach, DeSantis contrasted himself with Gillum, suggesting the Tallahassee Mayor's policies are too far left for Florida.
The Ponte Vedra Republican pledged to veto any and all tax increases for the next four years, contending that a state's low-tax environment is its greatest asset for expanding the economy. In contrast, Gillum in part ran on a corporate tax rate hike.
DeSantis, who has described himself as a "Teddy Roosevelt-Republican," is outspoken on environmental concerns.
He railed against his primary opponent Adam Putnam for not faulting the state's massive sugar industry for the proliferation of toxic algae blooms plaguing the Treasure Coast. He has promised to expedite the construction of a reservoir south of Lake Okeechobee, expected to help ease the amount of toxic overflow into nearby estuaries.
Adding weight to his environmental policy platform was support from The Everglades Trust.
__
But ultimately, the issues of the day didn't define Florida's race for Governor.
Republicans put forth a candidate hand-picked by President Trump.
Democrats selected a candidate who was once considered a long shot, arguably the most progressive to ever run for statewide office and the only African-American gubernatorial candidate in the state's history.
Accordingly, Trump and race occupied the mind of nearly every voter in the most polarized statewide campaign in the modern era.
DeSantis kicked off his post-primary campaign by claiming that electing Gillum would "monkey this up," before dealing with a number of racial controversies regarding supporters that culminated with Gillum saying in a debate, "I'm not saying you're a racist, but the racists think you're racist."
Identity politics factored into this campaign in a way few expected before the August primary.
Before Tuesday, Trump would visit the state three times to rally for DeSantis. The President would periodically commend DeSantis via his Twitter account, and in the final weeks made a point of condemning Gillum's leadership skills, calling Tallahassee "the most corrupt city" in the country — even suggesting Gillum "is a stone-cold thief."
DeSantis defended Trump as the campaign closed.
"From an economic perspective and a results perspective," DeSantis said, Trump's message is a "good message for folks."
"You people have to decide: if you're more concerned about tweeting than results, I respect that. That's your vote, you can do what you want. To me, it's all about results," DeSantis added.
In the backdrop, ethics scandals involving both candidates drove campaign narrative, though Gillum's was more affected.
A two-year-long investigation into corruption in Tallahassee plagued Gillum's candidacy. The Mayor had vehemently denied being a "target." But DeSantis made it stick, even though Gillum has yet to be subpoenaed by the FBI, and the agency hasn't commented on his vulnerability as a leader.
But eleventh-hour developments in a state ethics investigation separate from the FBI's suggested Gillum is more implicated than previously thought.
A series of records released in late October linked Gillum to the FBI, showing in part that the Mayor may have accepted a ticket to the Broadway musical "Hamilton" from an undercover agent posing as a developer wanting to do deals in the city.
Republicans used the news as attack fodder, while the left countered with questions about $145,000 of taxpayer-funded travel by DeSantis, which included trips to Fox News studios to boost his candidacy.
The election, however, came down to those quintessential Florida constants: Base turnout and the disposition of the No-Party-Affiliated voters.
And in outreach, neither had a tangible advantage.
Fueling each candidate's appeal to voters was a near-even cash race, which ended in excess of $106 million. Each candidate would surpass the $50 million mark in fundraising before Tuesday's showdown.
In trackable money, DeSantis led by just $1 million, meaning cash ultimately wouldn't decide who prevailed.
But if the primary election's principles were any indication, money meant little, to begin with.
Agriculture Commissioner Adam Putnam, DeSantis' primary opponent, put more than $30 million into his race but lost to DeSantis, who spent around $16 million.
Gillum doled out less than $7 million ahead of the Aug. 28 primary and won against the other four Democratic hopefuls — all of which had outspent him.
Because DeSantis and Gillum bucked traditional political wisdom by beating the better-funded establishment favorites in the primary, the race was essentially impossible to forecast. The gubernatorial finalists in 2018 weren't supposed to be there in the first place.
And while polls almost entirely showed Gillum ahead by some margin, even he dismissed them as junk science.
In this case, that appears to be right. But the recount may (repeat, may) change things.
Check back for updates.
__
Tallahassee correspondent Danny McAuliffe and The News Service of Florida contributed to this post.