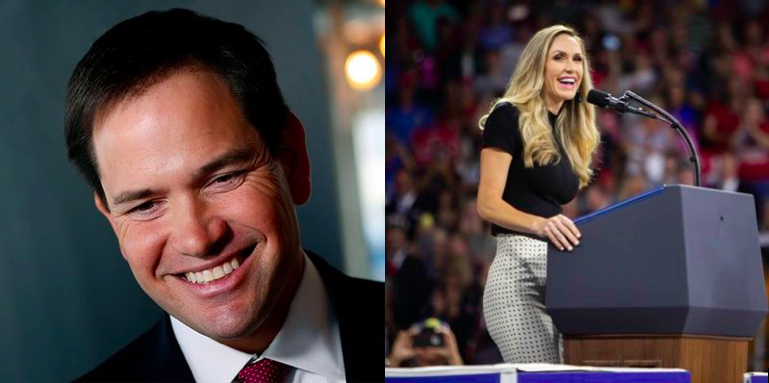 Republican U.S. Sen. Marco Rubio will spend Monday urging voters to support GOP gubernatorial candidate Ron DeSantis at events across the state.
Lara Trump, President Donald Trump's daughter-in-law, also will join the Republican leaders at multiple stops.
Rubio, a former state House Speaker, burst onto the national scene in 2010 with his first run for U.S. Senate, when he rallied conservatives and pushed then-Gov. Charlie Crist out of the Republican primary. Rubio went on to win the Senate seat and re-election in 2016.
Rubio starts the day rallying alongside DeSantis at Bobcat of Jacksonville at 8:30 a.m.
When Rubio won re-election in 2016, he took Duval County by nearly 60,000 votes over Democrat Patrick Murphy.  Republicans hope the second-term U.S. Senator will get voters as excited about the gubernatorial ticket this year.
Rubio and DeSantis then head to Freedom Pharmacy in Orlando to meet with supporters at 11 a.m..
The Republican officials then jet down to Vero Beach, where they will connect with Lara Trump and boost up voters at The Patio Seafood Tavern at 1:30 p.m.
Attendees of "Make America Great Again" rallies will know Lara Trump from video spots played throughout the events. She married Eric Trump, the president's third oldest child, in 2014 at Mar-A-Lago. From 2012 through 2016, she worked as a story coordinator and producer on Inside Edition.
Lara Trump also joins Rubio and DeSantis at a Pinellas County rally at Quarter Steak & Lube in Clearwater at 4 p.m.
DeSantis and Rubio continue on to one more stop in Fort Walton, at AJ's Oyster Shanty, at 7 p.m.
The relationship between Rubio and the Trump clan, of course, has been fraught with ups and downs.
Rubio also ran for President in 2016 against Trump in the primary, but dropped out of the race after Trump defeated Rubio here, in his home state of Florida.
After Trump won the White House, Rubio has been a conservative supporter on some issues and a critic on others, particularly regarding foreign relations.
But he and the Trump campaign both want to see the Governor's Mansion — after eight years of term-limited GOP Gov. Rick Scott — keep a Republican occupant.