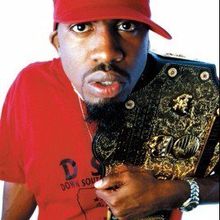 Joe Wicker has a less famous version of Kanye West, minus the racist comments, backing him in his campaign against Democrat Adam Hattersley for Florida House District 59.
Georgia rapper Pastor Troy recorded a 30-second message supporting Wicker for the seat to replace incumbent Ross Spano.
Wicker grew up with the 40-year-old Troy in Atlanta and the two are friends.
Troy, whose real name is Micah LeVar Troy, is the frontman for the rap group D.S.G.B., which stands for Down South Georgia Boys. He also has several solo rap albums and has collaborated with bigger hip-hop stars including Lil John and Young Jeezy.
He also recorded a "beef album," which is basically a rap battle, with Master P in the 90s.
"Hey yo, yo, this is your boy Pastor Troy. On Tuesday, November 6 it's Election Day and we ready," Troy says in the call. "I'm asking you to go vote for my boy, Joe Wicker. He ready and we ready."
Like Kanye West, Troy is a black rapper who supports President Donald Trump and other conservatives.
Asked whether the nod from a popular rapper could help the conservative candidate tap into some of the minority vote, Wicker campaign manager Mike Norris said: "that's the goal."
But the campaign also hopes the call will drum up support from people in their mid-to-late 30s and early 40s who were in high school when Troy was most popular.
"Obviously you've got to be of a certain age to know who he is. His highest selling album was in 2002. It wasn't minority specific. We figured it wasn't something people would be expecting from a conservative candidate," Norris said.
Pastor Troy came up with his stage name as a throwback to his father, who was a pastor. It's also a play on words for Castor Troy, the villainous character from the 1997 John Woo film Face Off.
Wicker is seeking the Democratic-leaning district covering Brandon, Riverview, Bloomingdale and Valrico.
"I think the reason why Republicans have carried it is because they've put a lot of resources and outworked their opponents," Norris said. "We were both combat arms guys in the military. There's not going to be anybody who is going to come into this race and outwork us."