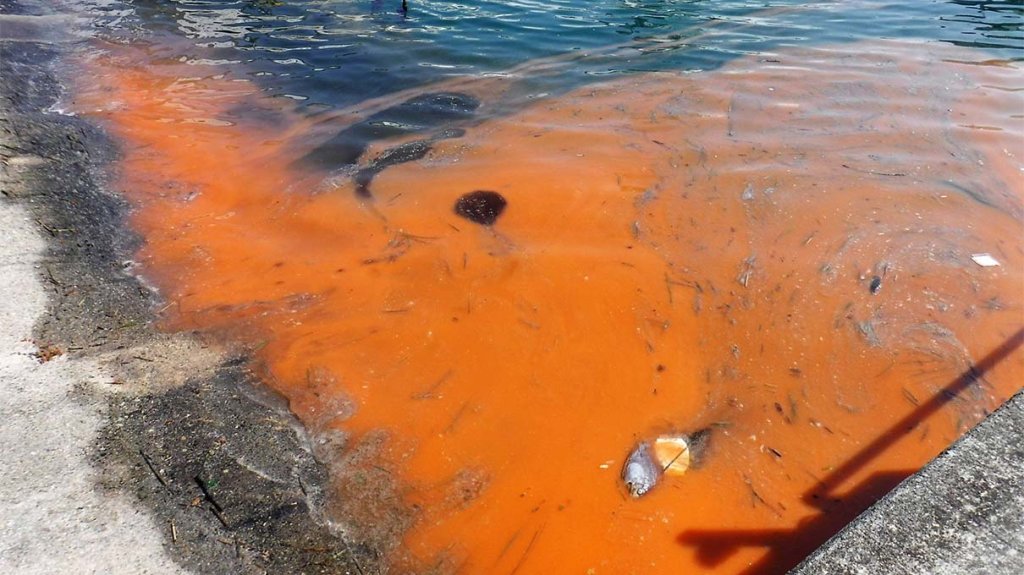 Candidates in Southwest Florida anticipated lengthy debates about Medicaid expansions, gun rights and maybe charter school funding to dominate political discourse this election.
So it seemed illustrative to state Sen. Kathleen Passidomo when a Naples candidate forum contained not one question about health care came up.
"This year," she said, "it's all about the water and our quality of life."
Welcome to red tide politics.
First blue-green algae coursed along the St. Lucie and Caloosahatchee rivers following unpopular discharges from Lake Okeechobee. Then red tide struck beaches on Florida's east and west coasts.
Republican leaders, most especially Gov. Rick Scott, suddenly faced questions over deregulation and the appointment of business leaders instead of scientists on water management district boards in South Florida. The smell of dead fish and the issuance of no-swim advisories turned harmful algal blooms from an academic term to a hot-button issue.
Candidates knocking on doors along both coasts reported the top question, whether politicians ran for the Florida Legislature, county commission or local mosquito board, pertained to red tide.
It seemed quite the shift in conversation after a decade of Tea Party politics in which environmental regulation became anathema to conservative ideology.
Scott's reported ban on the terms "climate change" and "global warming" seemed suddenly counter-productive. Sen. Marco Rubio, a one-time Tea Party hero, lobbied President Donald Trump's administration to adjust discharge schedules.
Democratic gubernatorial candidate Gwen Graham returned donations from the sugar industry, making Republican gubernatorial candidate Adam Putnam the only major candidate running for Florida's highest office this year to keep money from the environmental boogeyman.
Neither Graham nor Putnam made it out of primary season.
In the general election season, Republicans in once safe seats suddenly faced well-funded opponents. Even when a hurricane seemed to draw red tide back out to sea, Democrats like District 73 House candidate Liv Coleman continued to batter the message home running footage of dead fish just in case voters forgot the sight.
At a Tiger Bay debate in Sarasota, Democrats Tracy Pratt and Tony Mowry hammered Republican opponents Will Robinson and James Buchanan for environmental deregulation under the GOP, even though neither of the conservatives had served in the Legislature and both promised to get tough on polluters.
Republican state Rep. Joe Gruters, a state Senate hopeful this year, held a joint town hall with Democratic state Rep. Margaret Good as both candidates showed their commitment to bipartisan solutions to fixing the environment.
And even in major Republican strongholds like Lee County, Democratic gubernatorial candidate Andrew Gillum packed a venue with the promise of taking questions on environmental preservation.
John Capese, Democratic Environmental Caucus of Florida's Southwest Chapter, could be found on the sidelines of that event, excited at the sense of urgency green issues gained during the election cycle.
He wondered if the environment could give life even to longshot Democrats like David Holden, the Democratic challenging U.S. Rep. Francis Rooney in Florida's 19th Congressional District.
It's unclear whether Rooney lost much sleep at that prospect, and no major political prognosticators paid any heed to the race. But a couple days after the Gillum town hall, Rooney took the stage at a Trump rally, and the message he sent to voters was about recent funding approval for a new reservoir south of Lake Okeechobee.
Scott raised the same matter at Trump rallies in Pensacola and Fort Myers. But Sen. Bill Nelson barraged airwaves with ads that put the onus on "Red Tide Rick."
Republican gubernatorial nominee Ron DeSantis, though, avoided such attacks by making enemies with Big Sugar years ago. One of his strongest days of the general election season, and one that sent Democrats into convulsions, came as he secured the endorsement of the Everglades Trust.
Seeing an environmental group back the GOP candidate certainly seemed off, but only through the prism of politics in the year 2018.
In the not-so-distant past, GOP leaders like Gov. Jeb Bush championed Florida Forever funding. Gov. Claude Kirk campaigned during and after his political career on the promise of saving and restoring Florida's waterways.
It used to be a given that Florida politicians, regardless of party, would always champion the environment. That seemed to chip away a decade ago when even Bush entertained opening Florida's shores to oil drilling, once a third rail of Florida politics.
That didn't last long. The 2010 Deepwater Horizon disaster turned once-softening public opinion on petroleum exploration into severe backlash on the idea.
Red tide may once again turn a green platform into a regional requirement for political success in Florida, regardless of hostility between national conservatives and the environmental community.
And in some ways how could that not happen eventually? The Everglades remain a crucial part of Florida's identity, and beach tourism a critical piece of the state economy.
For all the efforts toward diversification in the economy, manufacturing always faces challenges in the Sunshine State thanks to its limited ground access to most of the continental U.S. In a state surrounded by water on three sides, how long could water quality stay out of headlines and political debates?
Algae just helps twist a famous James Carville truism. He helped President Bill Clinton win the White House asking citizens to make a gut check on whether the economy seemed better than when President George W. Bush took office.
It may take more than pictures of dead fish to lead to many Democratic upsets this evening in safe Republican seats. For many GOP candidates who once expected few questions on the environment had to develop a platform darn quick this year.
In Florida, it's always the environment stupid.