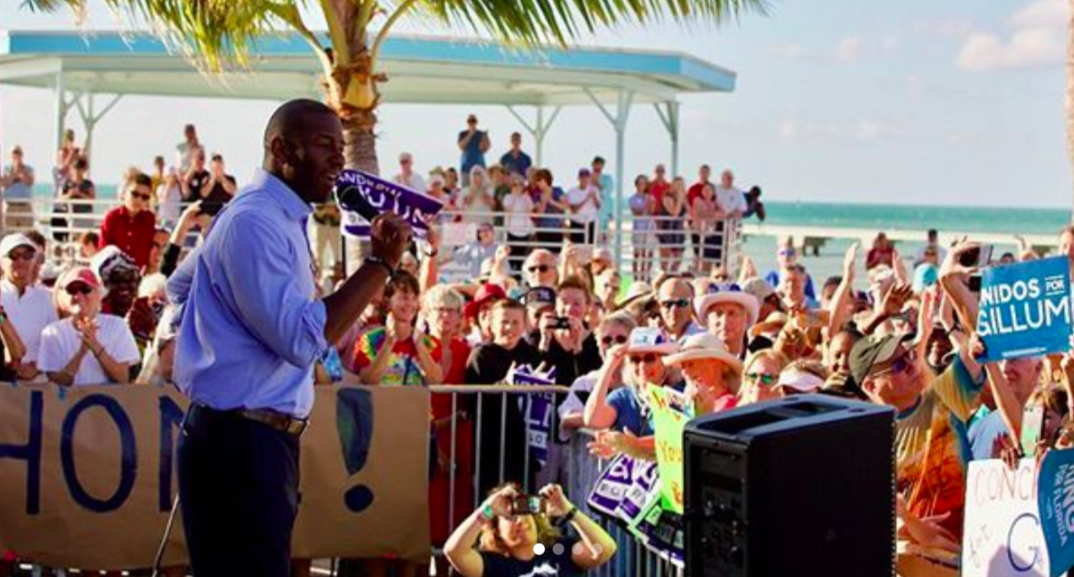 Democratic U.S. Sen. Cory Booker of New Jersey came to the Sunshine State in April to help his colleague, Florida's Bill Nelson, raise money to fight a newly announced but long-expected challenge from Republican Gov. Rick Scott.
At that time, Florida's U.S. Senate race was shaping up to be the marquee midterm matchup, and the state's crowded Democratic gubernatorial primary suggested any outside political support would be premature.
Democrats Philip Levine and Gwen Graham were trading places at the top of the few polls conducted by April. And Andrew Gillum, the Mayor of Tallahassee who had waged a relatively quiet bid so far, was probably the last person on Booker's mind.
But things were different after the primary.
Gillum, the once-longshot candidate, went from relative obscurity to national fame in a matter of weeks after his upset victory in late August. 
Booker, an expected Democratic presidential candidate, had been canvassing the country to boost his party's midterm chances. 
But by September his top concern wasn't any member running for Congress.
"I'm going to tell you right now, [Gillum] is at the top of my list," Booker declared alongside Gillum in a video posted to Gillum's Twitter account in September.  
And late last month, Booker — who had undoubtedly increased his national profile during the contested confirmation hearings of Supreme Court Justice Brett Kavanaugh — came to Jacksonville to campaign alongside Nelson at a parade hosted by Edward Waters College, a historically black institution that had welcomed the African-American Senator for its homecoming festivities.
Also in attendance: Gillum. The guy that every Democrat needs to meet. The guy who has so much buzz, even national Republicans anticipate a presidential run out of the 39-year-old Mayor.  
Booker's rapidly developed and publicized relationship with Gillum is one of many to unfold in the months leading up to Tuesday.
Democrats weighing presidential bids in 2020 have flocked to Gillum's side on the trail and in some cases have contributed to a boost in his fundraising.
Last month, New York City Mayor Michael Bloomberg, also a 2020 potential, accompanied Gillum through a series of political events in South Florida.
Before he left, he would chip in $250,000 to Gillum's candidacy. The Every Town for Gun Safety PAC, largely financed by Bloomberg, had already put another $250,000 behind the Mayor's bid.
California progressive billionaire Tom Steyer, who hasn't ruled out a presidential bid, invested more than $8 million in the Sunshine State this cycle. 
Before Tuesday, Democratic former Vice President Joe Biden would hold three Florida rallies for Nelson, Gillum, and Democrats down the ballot. Massachusetts U.S. Sen. Elizabeth Warren had exerted influence in the Sunshine State for Gillum as early as September. Hillary Clinton would campaign for the Mayor in South Florida. 
U.S. Sen. Kamala Harris and former U.S. Attorney General Eric Holder would similarly make the case for Gillum in Florida before Election Day. Former Virginia Governor Terry McAuliffe made a few Sunshine State appearances on Gillum's behalf in October. Former Maryland Governor Martin O'Malley, who ran for President in 2016, rallied in Tampa for Gillum on Monday. 
The list goes on.
If Gillum hadn't won the primary, the number of national cameos could've been the same. But Florida's bruised welcome mat is a likely combination of both the national significance of the swing state, along with Gillum's popularity.
"Politicians can detect star power a mile off," said Rick Wilson, Republican strategist and author of "Everything Trump Touches Dies."
"Gillum has it."
As far as the candidates who have made the trek south to Florida, Wilson said "they made a bet on the Governor of the third-largest state in the country who will be building a massive political and financial operation. 
"In short they have every reason to be here."
And in a few hours, we'll know if that investment paid off.