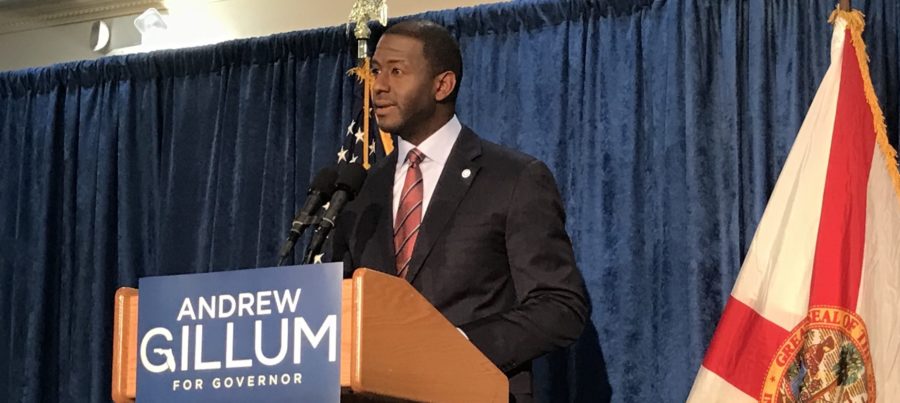 Andrew Gillum is walking back his prior acknowledgment that Florida voters elected Republican Ron DeSantis as Governor.
Gillum, the Mayor of Tallahassee, told news media on Saturday that he conceded the election to DeSantis on Tuesday night because he "had operated with the best information that was available."
"Since that time, more information has come in," he added.
Gillum said there are outstanding votes across the state. He also said there is "uncertainty" in the total number of votes that have been counted.
Secretary of State Ken Detzner earlier on Saturday ordered a recount for six races in the state, including the gubernatorial election. All fell within the 0.5 percent margin needed to trigger a statewide recount.
Gillum, as of 4 p.m. on Saturday, trails DeSantis by 33,684 votes, or 0.41 percent.
Gillum said he is prepared to accept the outcome of the race, so long as "we count every vote."
But that could mean multiple recounts.
Barry Richard, a Tallahassee-based elections lawyer retained by Gillum's campaign, did not rule out the possibility of the race heading to a manual recount after the machine recount is complete.
"Mayor Gillum is not waiving any legal right that he has to ensure that all of the votes are counted — that's one of the reasons that he hired me," Richard said.
A manual recount is triggered when the vote differential falls within 0.25 percent of the total vote.
Richard did not say whether Gillum would contest the final vote tally if he still comes up short.
"When the machine recount is finished, if [Gillum] is satisfied that the system has worked properly and there are no uncounted votes … I imagine he'll be satisfied," he said.