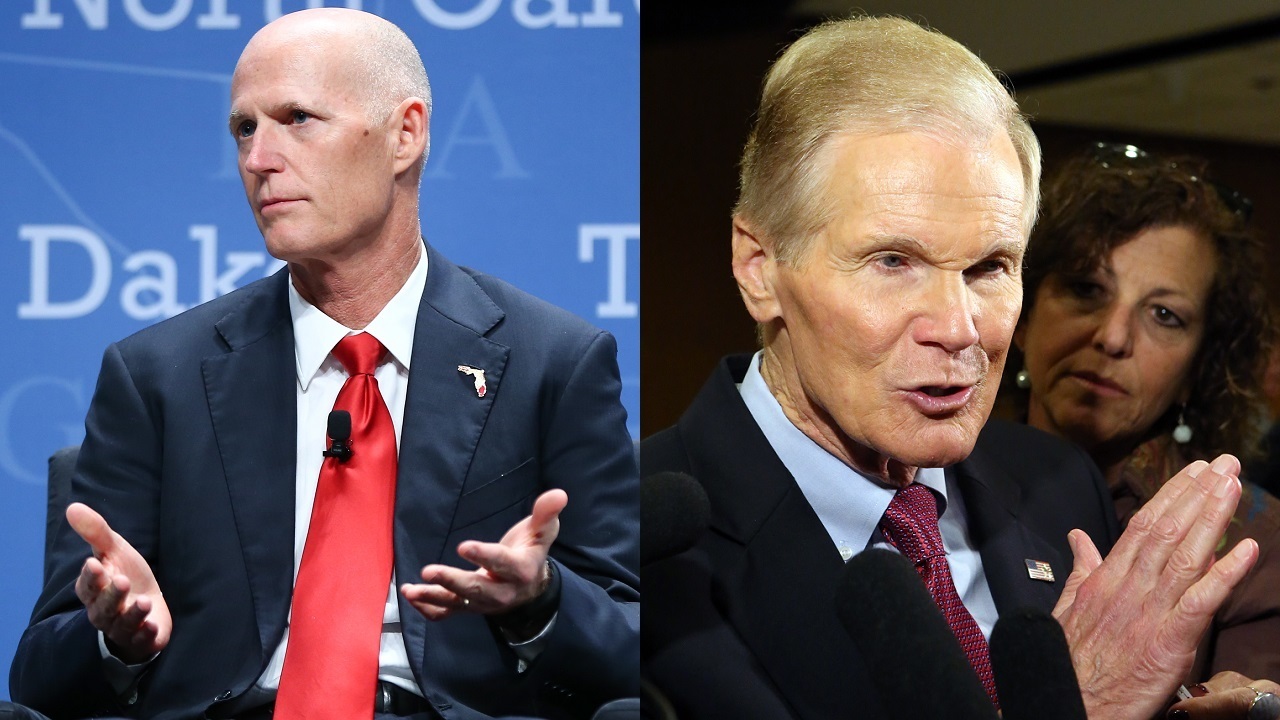 Republican Rick Scott's Senate campaign today called on incumbent Sen. Bill Nelson to call it quits and forgo a statewide recount, but the Democrat remains confident he can still win the election.
A final tabulation of unofficial election results as of Saturday showed Scott holding a 12,562-vote edge on Nelson.
"The voters of Florida have spoken and Rick Scott was elected to the United States Senate in a close but decisive victory," said Scott spokesman Chris Hartline.
"The margin of victory is larger than any recount since 2000 has ever closed, with the average recount changing the outcome by just a few hundred votes. It's time for Senator Nelson to accept reality and spare the state of the Florida the time, expense and discord of a recount."
But Nelson remains girded for battle.
"This process is about one thing: making sure every legal ballot is counted and protecting the right of every Floridian to participate in our democracy," Nelson said.
"Since Tuesday, the gap has shrunk from roughly 60,000 votes to about 12,500 – the margin has reduced by 78 percent and is now roughly 0.15 percent."
Importantly, the tightening of the vote happened as Democratic counties Broward and Palm Beach continued tabulated early voting and vote-by-mail results.
Nelson said there's every reason to believe a recount can still turn around his fortuned.
"We have every expectation the recount will be full and fair and will continue taking action to ensure every vote is counted without interference or efforts to undermine the democratic process," he said.
"We believe when every legal ballot is counted we'll win this election."
Republicans pointed toward statements Nelson attorney Marc Elias has made in different recount fights across the country.
The comments seem to reference when Minnesota Republican Sen. Norm Coleman faced a similar margin of votes in a long recount battle against Democrat Al Franken. U.S. Senate Democratic Leader Harry Reid in January 2009 told Coleman "graciously conceding" would be the best option at a time when Franken held a similar lead to Scott, as reported by the Star-Tribune.
Incidentally, Coleman did not, and on Fox News today, he advised Scott not to be "out-lawyered." He ultimately lost to Franken by 312 votes.
Notably, the Senate race dealt with a large voter pool. The 2008 election between Franken and Coleman deal with approximately 3.5 million votes while the Florida race this year deals with nearly 8.2 million votes.
But Scott's camp also notes with Florida's size, Scott received more votes than any Florida Senate candidate ever has in a midterm election.