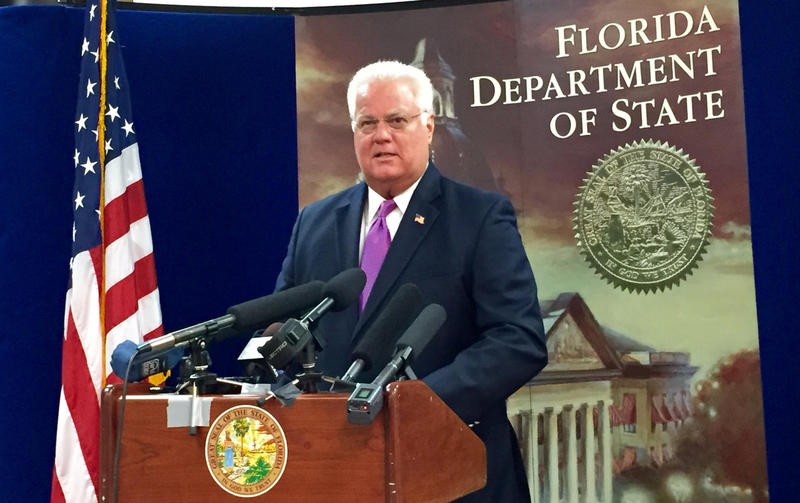 Florida Secretary of State Ken Detzner has formally ordered a machine recount in three statewide races: U.S. Senate, Governor and Agriculture Commissioner.
"I hereby order the canvassing boards responsible for canvassing [the three races] to conduct a machine recount of the votes cast in the race," reads an order from Detzner sent to elections supervisors in all 67 Florida counties. Separate orders were sent for each race subject to a recount.
The Secretary of State's office also sent procedures to be followed for the machine recount.
Totals as of 12:30 on Saturday shows Republican Senate candidate Rick Scott leading incumbent Democrat Bill Nelson by 12,562, Republican Gubernatorial candidate Ron DeSantis beating Democrat Andrew Gillum by 33,684 votes, and Democratic Agriculture Commissioner candidate Nikki Fried ahead of Republican Matt Caldwell by 5,326 votes.
All three races fall within the 0.5 percent margin to trigger a statewide recount.
For now, only a machine recount has been orders and that remains the focus of elections officials.
Sarasota County Supervisor of Elections Ron Turner says in his office, he will count all three statewide races simultaneously during the machine recount.
Two of the races, for U.S. Senate and Agriculture Commissioner, have margins right now that fall with 0.25 percent of total votes cast. If the gap between candidates remains that tight after the machine recount, the law requires Detzner to order a hand recount as well.
Turner says the case of a manual recount, only over- and under-votes will be counted.
With a recount moving forward in Florida's U.S. Senate contest, Democrat Bill Nelson projected confidence totals will still swing his way.
"This process is about one thing: making sure every legal ballot is counted and protecting the right of every Floridian to participate in our democracy," Nelson said in a statement. "Since Tuesday, the gap has shrunk from roughly 60,000 votes to about 12,500 – the margin has reduced by 78 percent and is now roughly .15 percent.
"We have every expectation the recount will be full and fair and will continue taking action to ensure every vote is counted without interference or efforts to undermine the democratic process. We believe when every legal ballot is counted we'll win this election."
But Republican leaders say they are resolved to make sure the count is fair and confident Republicans will come out ahead in all three races.
"Democrats would like nothing more than to rip victories away from Ron DeSantis, Rick Scott & Matt Caldwell," said Christian Ziegler, a member of the Florida GOP Executive Board. "As we've seen in Broward County, they will stop at nothing to win, including possibly violating the law.
"My job is to block any Democrat shenanigans and ensure that every vote is fairly counted and that the proper processes are being executed."