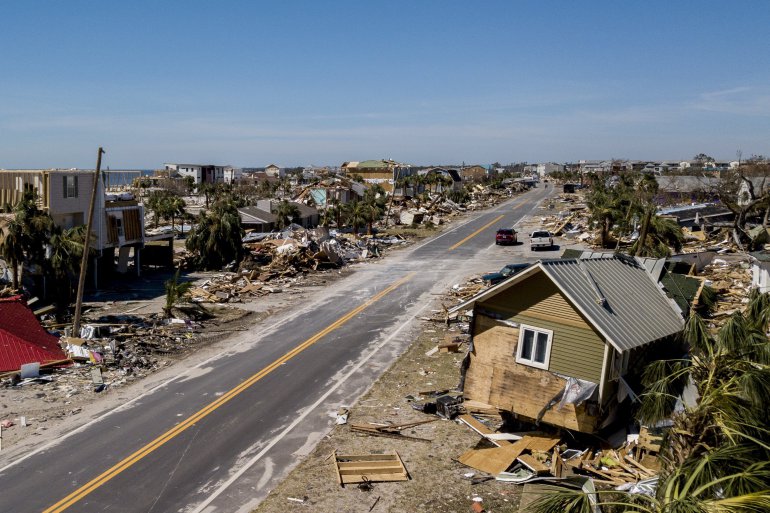 Elections officials in Bay County, a Republican stronghold recently battered by Hurricane Michael, accepted votes via email.
The catch: That's counter to state law.
NBC-7 WJHG interviewed Bay County Supervisor of Elections Mark Andersen about how he dealt with voters displaced by Hurricane Michael.
Andersen said he worked with 147 voters who returned ballots by email using similar protocols to those used for military and overseas ballots to allow voters to sign an oath and verify their identities.
The county supervisor claims to NBC-7 he told Secretary of State Ken Detzner his intentions before Election Day.
"Anyone that feels in the devastation that we experienced and the categories or the limitations that we had on our citizens of Bay County, if you want to turn around and take these votes away from voters because it's not the normal prescribed issue, I would just say you ought to be ashamed of yourselves because what we did is take care of voters," Andersen told NBC-7.
"What we have is a signature for voters and at some point, if they want to come back and reverse that scenario, I can tell you that we have that in a condition that if a court says so, we can correct that. However, that would be a very, very sad thing to do based on what you think your race or your opponent or candidacy or whatever else, because guess what? Elections are for voters. Not for candidates and not for political parties."
Andersen spoke at length on the matter to Florida Politics on Monday.
But state officials seemed displeased at reports of Bay County's procedures.
"The Florida Department of State has received reports that the Bay County Supervisor of Elections allowed some voters to return their ballots via email and fax," said Department of State spokeswoman Sarah Revell.
"Supervisors of Elections are independently elected constitutional officers and it is each Supervisors' responsibility to adhere to the law at all times."
After Michael struck the region, Florida officials eased early voting restrictions for eight counties, including Bay County, recovering from the storm.
Gov. Rick Scott bent some rules through an executive order signed Oct. 10.
But in a release in an election plan for storm-struck areas released by Detzner on Oct. 18, state officials explicitly reminded elections officials that voting by fax or email is not covered by Scott's order.
"In the hardest hit areas, communication via phone, fax and email remains challenging and would be an unreliable method for returning ballots," reads a media release.
"Additionally, past attempts by other states to allow voters impacted by natural disasters to fax or email ballots have been rife with issues. The Department is actively reviewing ways to provide more absentee ballots to those voters in the counties severely impacted by Hurricane Michael."
And Bay County Republican Party Chairman James Waterstradt says he was not aware before the election of email ballots being allowed. He served as an election observer during the recount of votes, which concluded last night, and said the issue of email ballots never came up there.
"I've only heard anything about email in reference to military ballots," Waterstradt said.
Scott, the Republican nominee for Senate, won Bay County with 46,646 votes over incumbent Democrat Bill Nelson's 16,684 in the initial tabulation of votes.
Three statewide races in Florida went to recount after initial tabulation, drawing scrutiny to election irregularities in all counties.
Statewide, Scott leads Nelson by 12,562 votes, or 0.15 percent.
In the gubernatorial election, Republican Ron DeSantis leads Democrat Andrew Gillum by 33,684 votes, or 0.41 percent.
In the Agriculture Commissioner race, Democrat Nikki Fried leads Republican Matt Caldwell by 5,326 votes, or 0.06 percent.
Bay County has already completed its recount of the Senate race, and adjusted totals to report Scott winning 46,647 votes, one more than the initial count, while Nelson's total remained at 16,684.
In the recount totals of the Governor's race, DeSantis also picked up a single vote and won 45,695 votes in Bay County while Gillum's total remained at 16,738.
In the Agriculture Commissioner recount, Fried picked up that one extra vote, and records now show she received 17,011 Bay County votes to Caldwell's 45,730.