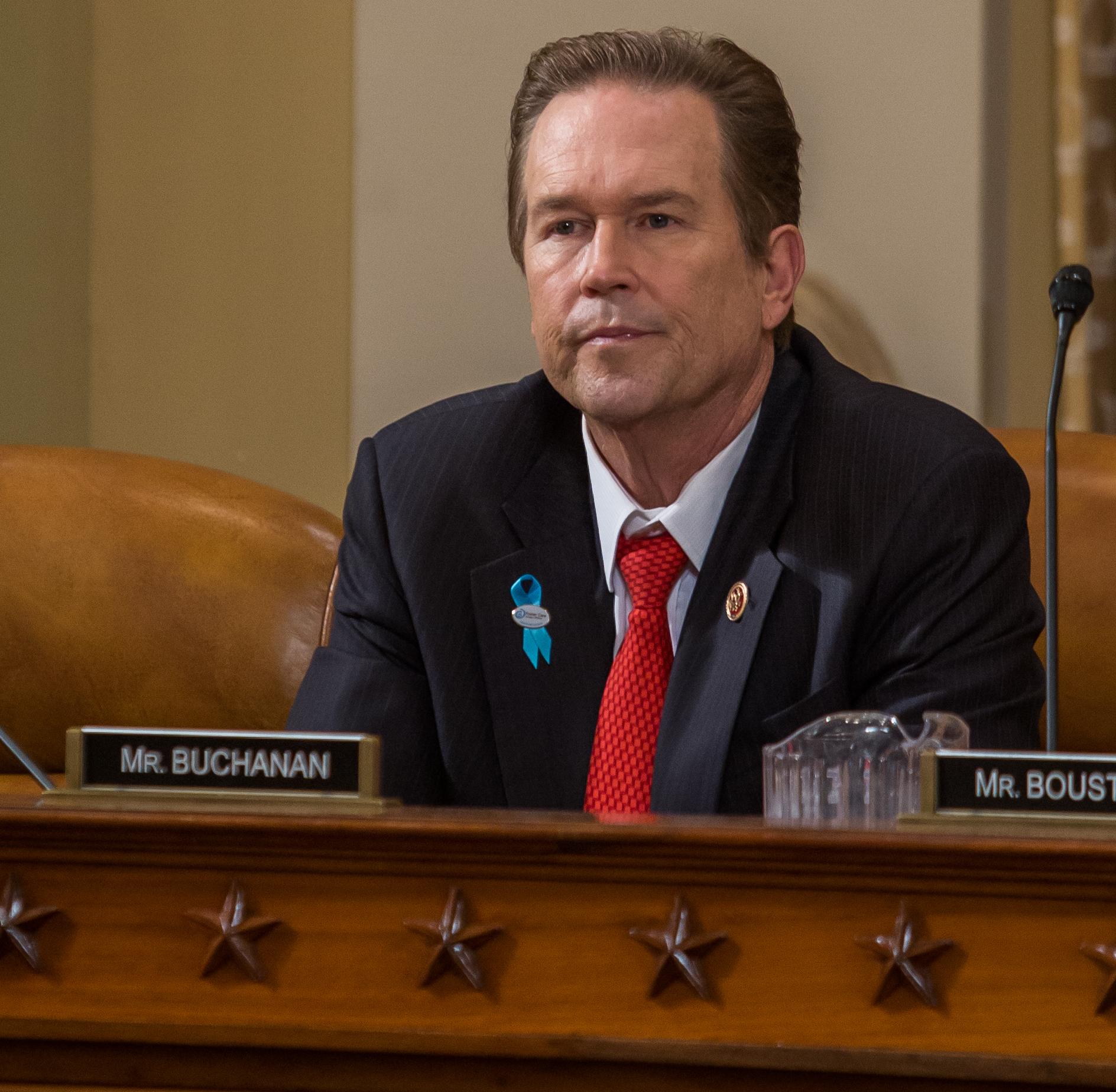 U.S. Rep. Vern Buchanan plans to make the most of this year's lame duck session before being relegated to the House minority.
The Sarasota Republican and Florida Congressional Delegation chairman issued a list of end-of-year priorities, some partisan issues, and others geographic priorities.
"This is going to be a very active lame duck session and I intend to fight for local priorities, including more funding for red tide research, helping start-up small businesses and banning the slaughter of dogs and cats for human consumption," Buchanan said.
Among his priorities?
First, he wants to see a reauthorization of the Land and Water Conservation Trust, which expired at the end of September. Since the expiration of federal funding, the Land and Water Conservation Fund Coalition estimates national parks have lost out on more than $107 million.
Buchanan earlier this year led the delegation in calling for a permanent reauthorization of the Trust. The Sun-Sentinel reports Buchanan worked closely with other South Florida Republicans on the effort, including Brian Mast and Carlos Curbelo.
But Curbelo lost re-election this year to Democrat Debbie Mucarsel-Powell. While the fund will surely maintain bipartisan support, the next few weeks will be Curbelo's last opportunity to help save the fund.
Of course, Buchanan also wants to ensure funding for red tide research, some of which may end up happening in his district at Mote Marine Laboratory. Buchanan and Democratic Delegation co-chair Alcee Hastings backed a $100-million research package earlier this year that would fund red tide study.
That has been signed into law, but Buchanan wants further movement on harmful algal blooms, which plagued both of Florida's coasts this year.
On the more partisan side, Buchanan co-sponsored legislation cutting federal funding for any so-called "sanctuary cities" and toughening penalties on deported individuals who re-enter the U.S. He's likely to see action on the No Sanctuary for Criminals Act and on Kate's Law before Congress breaks.
Buchanan this year sponsored the Thin Blue Line Act, aimed at increasing criminal penalties for cop killers. The bill passed the House but hasn't passed the Senate yet. Buchanan would like the pill to get to the president's desk before a new Congress gets sworn in.
The same goes for the Dog and Cat Meat Prohibition Act, another bill he worked on with Hastings. Buchanan would like the Senate to take up the bill this year. The Sarasota politician this year heavily touted his standing with animal rights groups during his re-election efforts.
But Buchanan's best known for work on commerce, and his end-of-year priorities include movement on the Retirement Security for American Works Act, which aims to make it easier for small businesses to offer retirement benefits at a time when more than a third of workers in the country work at companies without retirement plans.
And he would also like to see some motion on the American Innovation Act, another Buchanan-sponsored bill that passed in the House but not the Senate before the election.
The build would offer more deductions for start-up businesses in an effort to allow more businesses to remain viable. Buchanan's staff notes less than half of small businesses in the U.S. right now survive their first five years, and the congressman hopes a reduction in financial burdens would boost the odds for companies.
Buchanan touted the last two years as the most successful of his 12 years in Congress. But he has been in the majority for eight of those years. He has only been in the majority at the same time as a Republican president occupied the White House for the last two years.
Buchanan won re-election handily this year over Democrat David Shapiro. But nationwide, Democrats flipped at least 31 Republican-held seats and retook the majority. The Wall Street Journal projects Democrats may gain as many as 38 seats once all election results are tabulated.
That won't erase Buchanan's influence within the Florida delegation, where the Sarasota Republican expects to be re-elected alongside Hastings as co-chair of the delegation. And while Florida sends its most narrowly divided coalition in decades to Washington, with 14 Republicans and 13 Democrats, Buchanan's party still also holds the edge there.