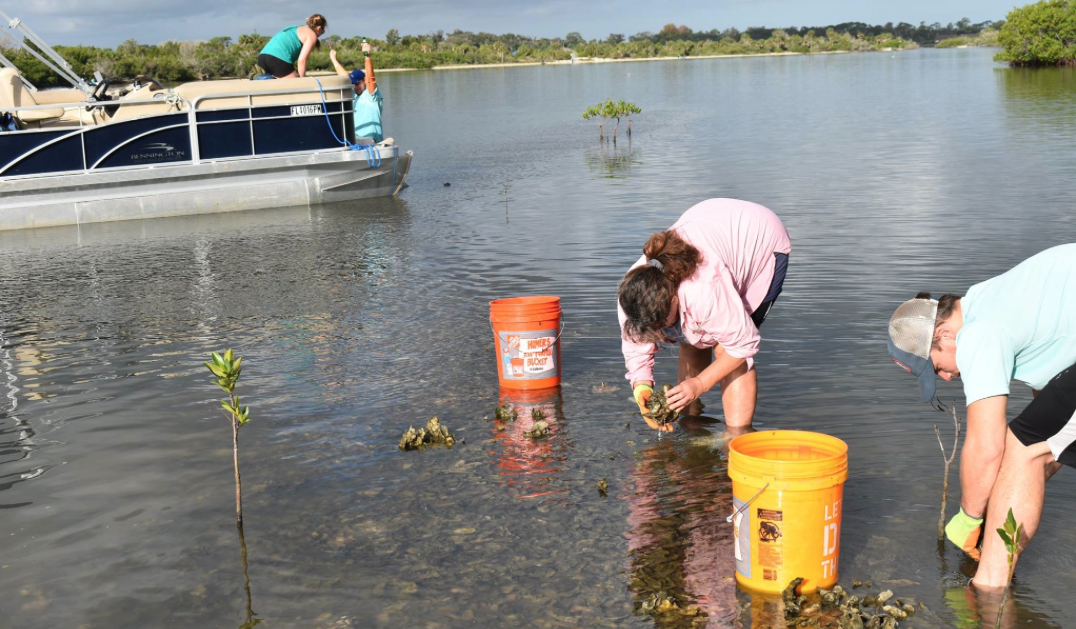 It might be from fraying, old, nylon boat ropes. It might be from clothing. It might be from straws and plastic grocery bags. Whatever the sources, a University of Central Florida research team is investigating an alarming – record – level of pastics discovered in oysters in the northern end of the Indian River Lagoon.
The plastic fibers, known as microplastics, first reported by UCF researchers in a paper published last spring, are at levels higher than seen anywhere else in marine invertebrates.
Add the new concern to the unfortunately growing list of environmental alarms being raised throughout Florida's coastal waters, and particularly in Indian River Lagoon, which already has been hit by high levels of pesticide and septic runoff, red tides, and other algae blooms.
A team from UCF's Coastal & Estuarine Ecology Lab, led by UCF biologist Linda Walters and run by her graduate student Casey Craig, has launched new research into the Indian River Lagoon this fall to determine if the record levels of microplastics seen in shellfish in Mosquito Lagoon last year was an anomaly or if the problem extends southward to Brevard and beyond.
"We don't know. This is all conjecture at this point. The big question: Is Mosquito Lagoon a hot-spot for microplastics? And within the year we'll know. That's why we're testing all up and down the entire [Indian River] Lagoon with all our partners," she said.
The Indian River Lagoon system, running 156 miles from Volusia County through St. Lucie County, is one of the most biodiverse estuaries in North America. But it's also one of the most-landlocked salt-water systems; it flushes very slowly, meaning there's not a big flow of fresh seawater coming through; and it's already sick. Now there are plastics to worry about.
"In the Indian River Lagoon, especially in the Mosquito Lagoon, where we do much of our work … we didn't realize it until we had all of the data that we were one of the worst places in the world for microplastics in oysters, in shellfish in general," Walters said.
Her team is doing monthly water sampling at 38 different spots, and oyster sampling quarterly. Both efforts have begun, as of last Sunday.
The UCF research project is being funded by a $99,797 grant from the federal Indian River Lagoon National Estuary Program, administered through the U.S. Environmental Protection Agency. There also are $36,000 worth of matching in-kind contributions, labor and equipment, from UCF and three partners in the research, the Florida Oceanographic Society, Florida Department of Environmental Protection's Aquatic Preserves Program and the Marine Discovery Center in New Smyrna Beach. The group also is collaborating with Smithsonian Institution researchers in Fort Piece to examine oyster feeding with microplastics. UCF Professor Lei Zhai is also collaborating with the team to determine the chemical identity of plastics found. Zhai is a chemist and director of the UCF NanoScience Technology Center.
At this point, the sources of the microplastics are unknown, but there are alarming clues. But what the researchers are finding are tiny plastic fibers, and they're often bright yellow or bright blue, suggesting they come from nylon boat ropes. The initial research found an average of 20 microfibers in oysters and four in mud crabs. The plastic fibers also could be showing up in fish and other marine life.
Microplastics have been found everywhere in the ocean systems worldwide, but it's not just about floating garbage islands in the South China Sea, or reports of dolphins and other marine life dying with bellies full of plastics.
"It comes back home a lot stronger when it's in something you're eating, or might want to eat, or something local, so it's not a developing country problem anymore," Walters said.
The good news is: generally, oysters are doing better in the lagoon than in the past. They're making a bit of a comeback.
"Through restoration and just a lot of positive efforts in the Indian River Lagoon, oysters are doing better in a lot of places," Walters said. "That fight can't ever stop. As soon as we become complacent, the issues of the past will just become the issues of the future."