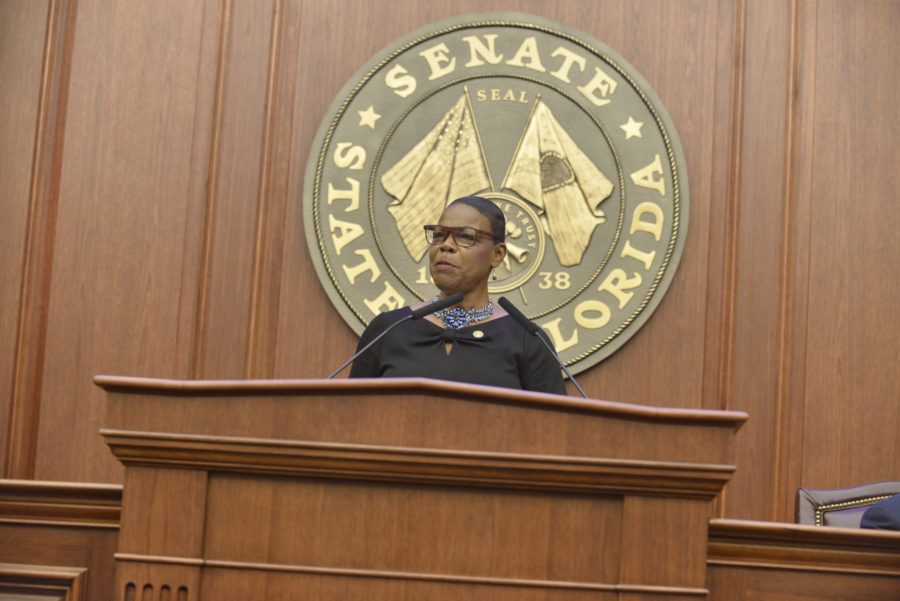 The Senate Democratic Caucus met Monday to select Jacksonville's Audrey Gibson as its 2018-20 Leader.
Members also nominated Tallahassee's Bill Montford as the Leader pro tempore.
Gibson told the caucus she considers "the role more as a bridge builder, for purposes so much larger."
She is now only the third woman to serve in the position, and the second African-American woman to do so, after Arthenia Joyner in 2014-16.
The caucus is growing with Janet Cruz's win after two recounts in Senate District 18.
That's combined with earlier wins by Lori Berman and Jason Pizzo of South Florida.
Absent from the ceremony, however, was any drama over Gary Farmer being tapped early as Gibson's successor.
The Lighthouse Point Democrat created a ruckus earlier this year at what was supposed to be a routine vote for the next Democratic leaders.
As Peter Schorsch previously reported, "an anti-Farmer movement began to develop, members began publicly voicing their disapproval.
"At that point, Randolph Bracy unexpectedly nominated Lauren Book. After she accepted the nomination, that's when things got heated. In an effort to calm down and unify the caucus, Oscar Braynon pulled both Farmer and Book into a private meeting.
"… During the negotiations, Farmer mansplained to Book that she could not possibly fulfill the duties of Leader-designate because she has two young children."
Gibson graduated from Florida State University with a degree in criminology, and works as a paralegal and community liaison with the Terrell Hogan law firm, according to a bio.
She was first elected to the Senate in 2011 and served from 2002-10 in the House.
In the Senate, she most recently chaired the Military and Veterans Affairs, Space and Domestic Security Committee.
"She is the mother of three adult children: Kwanzaa Spells, Amar Madyum and Jamaal Madyun," the bio says. "A devotee of both NASCAR and Formula 1, in her off-time, Gibson can also be found at other sporting events, watching period movies, or tending to her flower garden."
Gibson succeeds Oscar Braynon II of Miami Gardens.