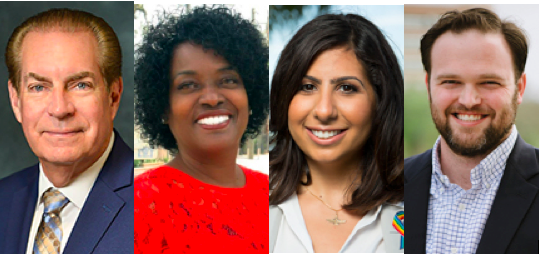 The 2018 campaign season has barely closed, but some freshman lawmakers already their eyes on re-election.
State Sen. Tommy Wright, a New Smyrna Beach Republican, became the first incumbent to already open a campaign account for 2022. He will seek a second term in Florida Senate District 14 after winning his first election over Democrat Mel Martin in November by more than 14 percent.
Republican leaders in Volusia and Brevard counties this year tapped Wright, a long-time donor to local campaigns, to run as the replacement nominee for the late Dorothy Hukill,
In the Florida House, several freshman have filed to run in 2020.
State Rep. Alex Andrade, Pensacola Republican, went ahead and filed for reelection back in September, shortly after winning a primary to succeed Frank White in Florida House District 2.
State Rep. Anna Eskamani, Orlando Democrat, flipped Florida House District 47 in a victory and already has an eye on 2020.
State Rep. Dianne "Ms. Dee" Hart, a Tampa Democrat, one of several black women taking office in Tallahassee this year, has also already filed for reelection.
State Rep. Jennifer Webb, a Gulfport Democrat, flipped a Pinellas County seat in House District 69 and plans to stick around awhile.
State Rep. Tina Polsky, a Boca Raton Democrat, won her race to succeed Joe Abruzzo in Florida House District 81.
State Rep. Joe Casello, a Boynton Beach Democrat, who won in Florida House District 90 without opposition, has his papers in for 2020.
State Rep. Ana Maria Rodriguez, a Doral Republican, held off Democrat Javier Estevez in Florida House District 105, will run again as well.
State Rep. Anthony Rodriguez, Miami Republican, who flipped a blue seat red on Election Day in Florida House District 118, also hopes to keep the seat in GOP hands in 2020.
State Rep. James Bush III, Miami Democrat, who previous served from 1992 to 2000 and again in 2008, plans to stick around as well.
Additionally, two red-shirt freshman have also opened campaign accounts for 2020. State Rep. Daniel Perez, Miami Republican, originally won election in Florida House District 116, in a special election in September 2017. State Rep. Margaret Good, a Sarasota Democrat, won an election to flip State House District 72 in February.