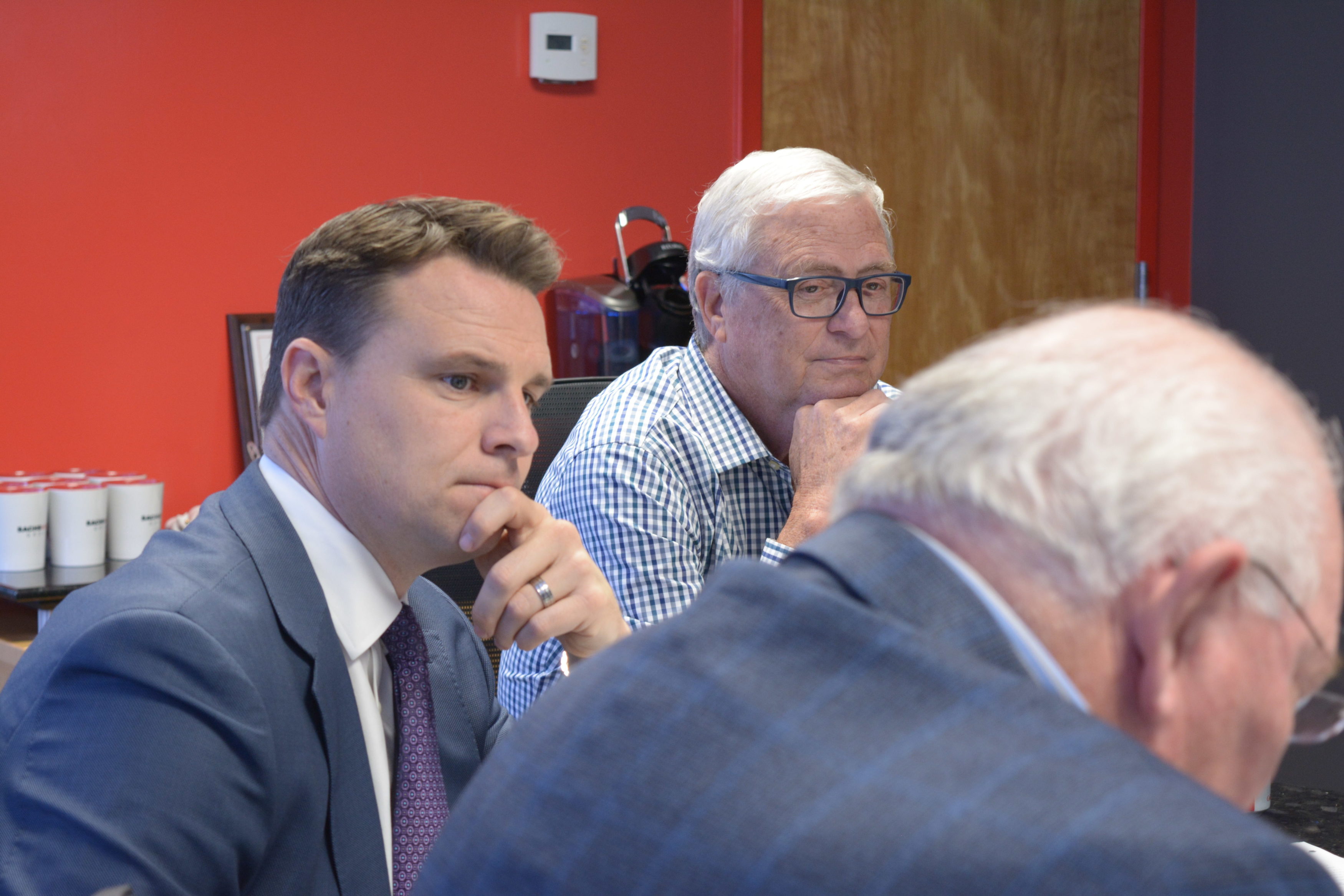 Newly appointed economic advisers for Gov.-elect Ron DeSantis will meet next week in a public session at the University of South Florida.
The Transition Advisory Committee on the Economy, led by former state Speaker of the House Will Weatherford, will gather at the university's Center for Advanced Medical Learning and Simulation at 1 p, m, on Wednesday, Dec. 5. The public may attend.
DeSantis' economic committee includes 46 members from the corporate and political worlds.
Members coming from prominent public sector posts include former Senate President Allen Bense, former state Sen. Locke Burt, Florida Transportation Commissioner Ron Howse, Undersecretary of Defense John Rood, Tampa International Airport CEO Joe Lapano and Jaxport CEO Eric Green.
But top executives also boast a solid showing on the committee.
Those include Tampa Bay Lightning owner Jeff Vinik, Total Military Management co-founder Matt Connell, Calder Casino and Racecourse President Maureen Adams, Barron Collier Companies CEO Blake Gable, Danny G Hospitality Management founder Danny Gaekwad, Tampa Bay Buccaneers chief operating officer Brian Ford, Hamlin and Associates president John Hamlin, SUNZ Insurance President Steve Herrig and Golden Corral owner Eric Holm.
And prominent business advocates will also play a major role, including Council of 100 CEO John Ward, Florida Harbor Pilots Association president Capt. Sam Stephenson, incoming Florida Transportation Builders Association president Ananth Prasad and JAX Chamber CEO Daniel Davis.
The lengthy adviser list includes a diversity of businesses from such companies as Sunshine Gasoline Distributors, Home Depot, AT&T and Dosal Tobacco.
A full list of advisers appears below:
Maureen Adams; President and General Manager, Calder Casino and Racecourse
Kumar Allady; Founder & CEO, Radise International
Max Alvarez; Owner, Founder & President, Sunshine Gasoline Distributors
Joe Anderson; President, Anderson Columbia
The Honorable Locke Burt; Chairman and President, Security First
Tom Barry; Senior Vice President, Atkins
The Honorable Allan Bense; President, Partner, GAC Contractors
Matt Connell; Co-Founder & CEO, Total Military Management
Chris Corr; Senior Vice President, Real Estate, Public Affairs and President of Raydient, Rayonier
Daniel Davis; President & CEO, JAX Chamber
Susan Fernandez; Director of Corporate Communications and Government Relations, Mitsubishi Hitachi Power Systems Americas
Bob Flowers; President, CW Roberts Contracting
Brian Ford; COO, Tampa Bay Buccaneers
Blake Gable; CEO, Barron Collier Companies
Danny Gaekwad; Founder & CEO, NDS USA and Founder, Danny G Hospitality Management
Eric Green; CEO, JAXPORT
Tony Grippa; Former Senior Vice President, Brown and Brown
John Hamlin; President, Hamlin and Associates
Steve Herrig; CEO, SUNZ Insurance
Chuck Hinson; Vice President State and Community Relations, TECO Energy
Eric Holm; Owner, Golden Corral
Capt. Keith Hoskins, USN (Ret); West District General Manager, Gulf Power
Commissioner Ron Howse; President, Real Deal Development Group
Manny Kadre; Chairman & CEO, MBB Auto, and Director, Home Depot
Benny Klepach; Founder, Chairman & CEO, DFASS Group
David Kulik; Retired former CEO, CEVA Logistics
Tom Kuntz; Former CEO, SunTrust Banks, Florida
Robert "Bob" Lloyd; Executive Vice President, Brown and Brown
Joe Lopano; CEO, Tampa International Airport
Rick Murrell; CEO, Tropical Shipping
Yolanda Nader; CEO, Dosal Tobacco Corporation
Lauren Oakley; Co-Owner, Cassidy Development and Homes
Ananth Prasad; President-Designate, Florida Transportation Builders Association
John Ritenour; Co-Founder and Chairman, Insurance Office of America
Fmr. Amb. John Rood; Chairman, The Vestcor Companies
Joel Schleicher; Executive Chairman and Founder, Focal Point Data Risk
Eric Silagy; President and CEO, Florida Power and Light
Rick Sontag; President, Spring Bay Ventures
Jamal Sowell; Chief of Staff, Port Tampa Bay
Bill Spivey; Executive Director, Florida Development Finance Corporation
Capt. Sam Stephenson; President, Florida Harbor Pilots Association
Jeremy Susac; Vice President of Government Affairs, Lennar Homes and SunStreet
Jeff Vinik; Owner, Tampa Bay Lightning and Owner, Strategic Property Partners
Bob Ward; President and CEO, Florida Council of 100
Lenny Wolfe; Owner, Cornerstone Group
Joe York; President, AT&T Florida, Puerto Rico, and U.S. Virgin Islands