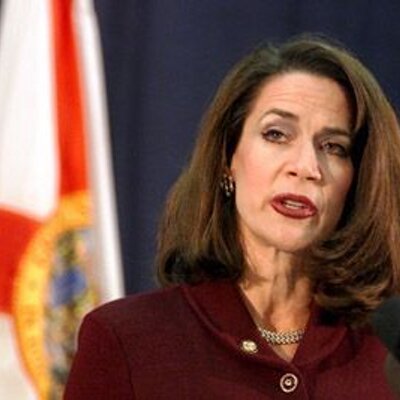 As the question arises anew about whether Florida voters should elect a Secretary of State, Katherine Harris, the last person elected to the office, said it's important to well-define the post.
While she would not weigh in on whether a return to elected secretaries should occur, she did see certain benefits. Those range from board conveniences like having an odd number of Cabinet members to having an elected official dedicated to such critical areas as the arts and — yes — elections.
"That allowed me to focus in," Harris said.
But she says lawmakers —and if it gets to the ballot, voters — should not ignore the reasons Florida turned the Secretary of State position into an appointed office in the first place.
Voters in 1998 approved a constitutional amendment restructuring the Cabinet to eliminate multiple elected positions: Treasurer, Comptroller, Secretary of Education and Secretary of State. The position of Chief Financial Officer came into existence, and most of the duties under former Cabinet positions went under the auspices of the Governor.
Incidentally, voters the same day elected Harris as the final Cabinet-level Secretary of State. While this immediately dashed hopes of seeking re-election to the post, Harris viewed the Cabinet restructuring as at least "well-intended."
"The vast number of people believed it was important to have a strong Governor," she said.
Florida, then the fourth most populous state in the union and about to surpass New York in the next census, had many functions of government kept out of the control of the Governor.
But before her job became relegated to a gubernatorial appointment, Harris took on the task of boosting international trade and arts in the state. Florida became the top funder of the arts in the nation.
What Harris may be best remembered for, however, is the 2000 recount. As an elected Republican official, Harris suffered withering national criticism at the time, especially after denying hand recounts in heavily Democratic counties.
That election ultimately saw court challenges reach all the way to the Supreme Court before Republican George W. Bush was certified the winner by a 537-vote margin.
It's notable that a couple of years later when the Cabinet restructuring went into effect, the Secretary of State was appointed and reported to Gov. Jeb Bush, the presidential candidate's brother, so attention may have been more intense.
Another close election, this time with three statewide recounts for U.S. Senate, Governor and Agriculture Commissioner in 2018, once again has Tallahassee debating the merits of an independent Secretary of State again. Gov. Rick Scott this year won a Senate race against incumbent Sen. Bill Nelson.
Now state Sen. Aaron Bean has revived a proposal for an elected Secretary of State. He wants an odd number of Cabinet members for one thing, which Harris calls a small but positive change.
But she pushes back a little at the notion this year's recounts faced significant problems at the state level.
She boasts that after 2000, Florida passed the "No. 1 election reform package in the nation" while she served as Secretary of State. This year turned into the biggest test of that bill, but not, she says, because of problems with the law.
"We didn't have a bad election, we had a close election," she said. "You never have these problems in California or New York, but that's because we're a purple state. We will always have close elections."
One element of any change she does feel strongly about, though, is that the Secretary of State should remain a partisan position. While people tout the need for independence, it's better to know the political values of the person in charge, even if that draws later critiques.
"Everyone has a preference when it comes to an election," she said. "With an elected Secretary of State, if it's still a partisan office at least it's transparent.
"Someone either has integrity or they don't. If someone doesn't have integrity that the issue, then that's the issue."