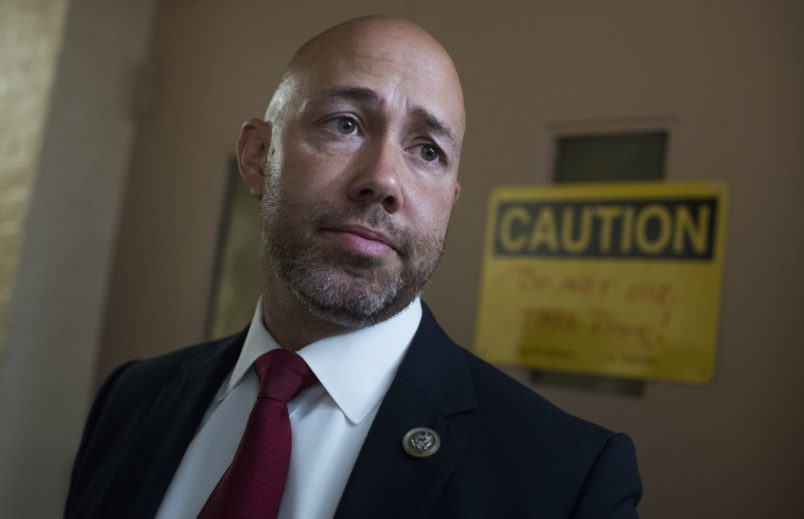 Leading up to the election, Ron DeSantis campaigned heavily on curbing the recurring blue-green algae that plague southern coastal waterways.
Will the Governor-elect follow through after his Inauguration in January? Absolutely, according to Republican Congressman Brian Mast, who chairs DeSantis' agriculture and environment advisory panel that met Monday in Tallahassee to preview Florida's water quality and supply.
And change could come soon.
One priority voiced by DeSantis is expediting the Everglades Agricultural Area Storage Reservoir Project, authorized in October with the passage of America's Water Infrastructure Act. But federal lethargy could mean years before any tangible benefits from the reservoir are realized.
In the interim, Mast, whose Treasure Coast district suffers from the near-annual and toxic algae outbreaks, said DeSantis' immediate actions as the state's chief executive will likely be to "reweigh the scales" of the parties involved in and affected by water in Lake Okeechobee.
Discharges of nutrient-rich water in Okeechobee have been faulted for the outbreaks in southeastern waterways. According to Mast, DeSantis could wield his influence to change when and why those discharges occur.
"Water is hoarded on the lake for the people that want to use it," Mast told reporters after the advisory panel's meeting. "And that's what reweighing the scales is all about."
Mast said the DeSantis administration could soon begin to have conversations with the Army Corps of Engineers, which controls discharges from Okeechobee, and the South Florida Water Management District about how much water actually needs to be stored in Okeechobee. 
The Corps discharges more frequently during the hurricane season, as water levels rise from rainfall and concerns surface over dike breaches. A federal entity, the Corps releases water in accordance with the Lake Okeechobee Regulation Schedule.
This year the releases prompted Gov. Rick Scott to declare an emergency in a number of southeastern counties in July "to help combat algal blooms caused by Lake Okeechobee water discharges from the Army Corps of Engineers."
Mast said the "buffer" level, or the amount of water that's kept in the lake when discharges aren't occurring or are less frequent, could be changed to hopefully lead to fewer discharges during the next hurricane season, which begins June 1. 
That could mean amending the amount of water kept in Okeechobee for agricultural purposes, like irrigation.
"The buffer right now isn't doing the job, which is why we're getting these discharges," Mast said.
Mast's hand in DeSantis' forthcoming environmental policy actions could lead to finding a more-balanced agreement of what the water level in Okeechobee should be. 
In his district, Floridians don't use a "lick of the water" from Okeechobee, Mast said, but still share a disproportionate amount of "adversity" in the form of seasonal algae outbreaks in nearby estuaries. 
"Our water is the lifeblood of our environment and the environment is the lifeblood of our economy here," Mast said. "[DeSantis] recognizes that."