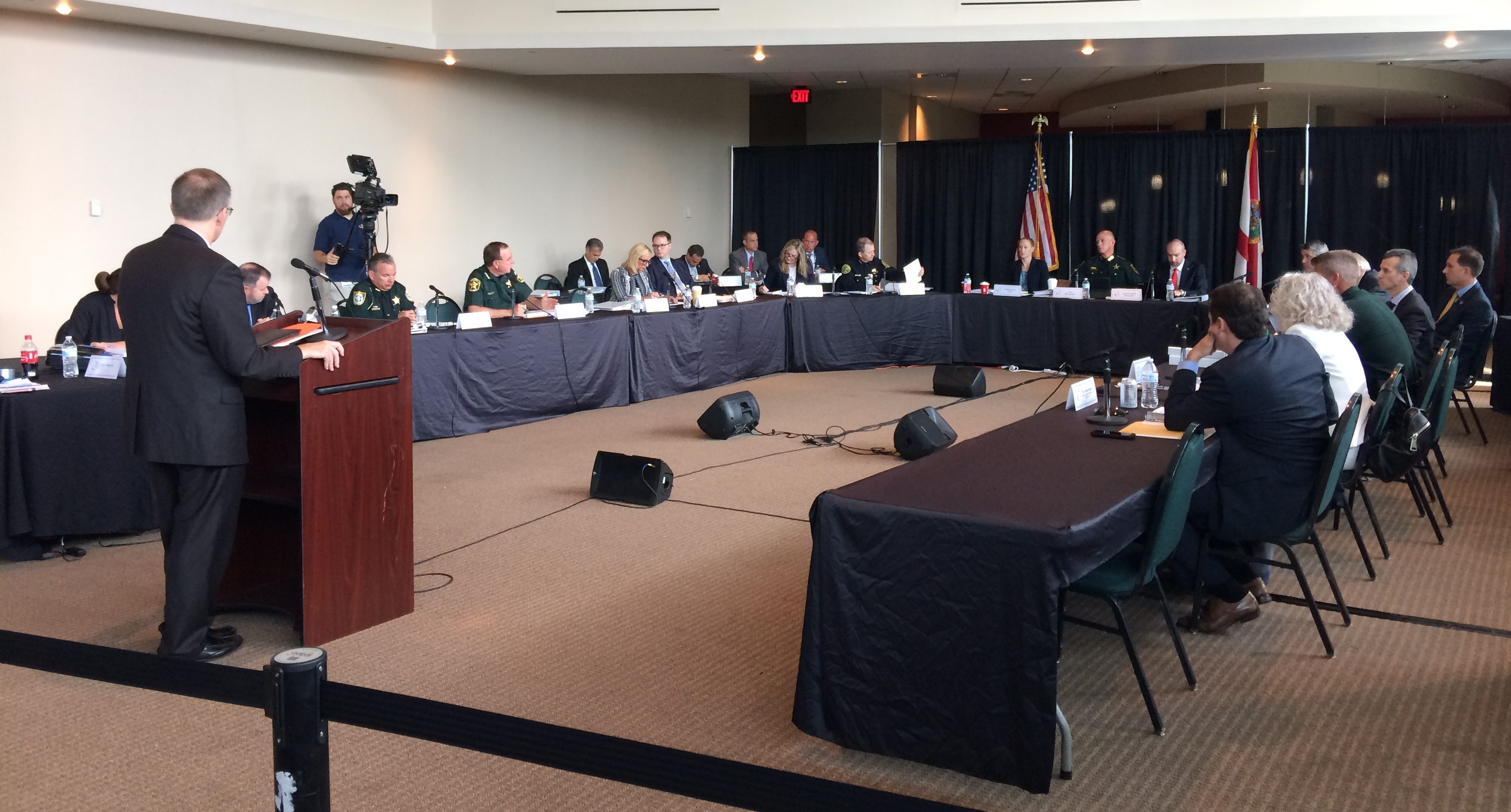 The commission impaneled to investigate February's fatal shooting in Parkland has released the final version of its initial report, recapping the events leading up to the tragedy as well as laying out proposed safety measures for schools across the state.
The Marjory Stoneman Douglas High School Public Safety Commission, chaired by Pinellas County Sheriff Bob Gualtieri, released a draft report last month after holding a series of detailed meetings since April.
"This has been an ongoing, day-and-night effort over the last few weeks to get this [report] to the point where it is," Gualtieri said.
The latest version of the report echoes much of what was visible in last month's draft, including the recommendation that trained staff, including teachers, be allowed to carry firearms on campus. The report also recommends enhanced surveillance technology which would be accessible to law enforcement in the event of an attack, as well as various design recommendations for schools to help increase student safety.
Gualtieri said the report would be sent to Gov. Rick Scott, Gov.-elect Ron DeSantis, Senate President Bill Galvano and Speaker of the House Jose Oliva by the end of the day Wednesday.
Among the report's criticism of the law enforcement response to the attack were comments directed at the Stoneman Douglas School Resource Officer Scot Peterson. The report called out Peterson's "inadequate response," saying he should have actively sought out the shooter rather than set up a perimeter to contain him.
The Broward Sheriff's Office has already changed its protocol in response. Its policy now states that deputies "shall" intervene in an active shooter scenario.
The commission is set to continue its investigation into 2019. Gualtieri says members are attempting to schedule another meeting for March to continue probing any unresolved issues.
Max Schachter, who lost his son, Alex, in the shooting and served on the commission, said that he's proud of the report produced by the commission. But he also believes they still have work to do.
"The 17 families wanted to get to the bottom of wanted happened on Feb. 14 and I think that we've done that," Schacter said.
"There are some issues that I still want to go into more detail. And I know that we'll do that in the coming year."
Gualtieri echoed those remarks. While not going into detail about precise areas the commission still needs to explore, Gualtieri promised there would be more to come while praising the work the commission has done to this point.
"Know that it is meaningful and it will be meaningful and that this will make a difference as far as the kids in Florida are concerned," Gualtieri said.
"Our work is not done. We have a lot to do ahead of us. This was just the beginning and the initial product. But we all hope that is has an impact and helps to move the needle where it needs to go."