Ron DeSantis announced Wednesday that Simone Marstiller, a former appellate judge and veteran of the Jeb Bush administration, would lead the state's Department of Juvenile Justice (DJJ).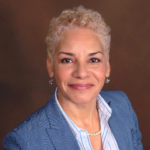 Most recently, Marstiller worked at the Gunster law firm on issues including government affairs, ethics and elections. DeSantis released a statement on why he selected Marstiller to serve as DJJ Secretary.
"Few people have the leadership experience and government expertise to match Simone Marstiller," he said. "Simone is among the most talented and experienced professionals that our state has to offer and I am proud to have her join the administration…
"She's established an exceptional record of professional accomplishment and I look forward to working with her to further improve our state's juvenile justice system."
Some of that experience includes multiple roles within the administration of former Gov. Bush.
She became Bush's Assistant General Counsel in 2001. The next year, she took on the role of General Counsel for the Department of Management Services, and also served as interim Secretary of the agency.
In 2003, Bush named her Deputy Chief of Staff. Bush then appointed Marstiller the state's Chief Information Officer in 2004 before tapping her as Secretary of the Department of Business and Professional Regulation in 2005.
After stints at the Attorney General's office and Florida Elections Commission, Marstiller was appointed to be a judge on the 1st District Court of Appeal. She held that role for six years before joining Gunster.
In 2017, the Liberian-born Republican briefly considered running for Attorney General but ultimately decided not to, with the office eventually being won by fellow Republican Ashley Moody.
She'll now take over the DJJ from Timothy Niermann, who has served as interim Secretary since August. Niermann replaced Christy Daly Brodeur after she resigned to accept a role at Ballard Partners.