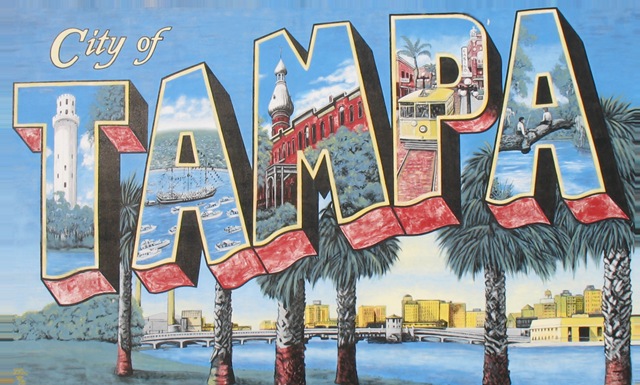 We are now officially on the clock for the 2019 Tampa Mayor election, where eight candidates have joined the fray to succeed Bob Buckhorn, who is leaving the job only because the law gives him no other option.
Term limits can be so, um, limiting, you know?
Anyway, the candidates have been running hither and yon for months now, mostly with the recognition of someone in witness protection.
They were shielded by a cloaking device that rendered them basically invisible. The midterm elections meant no one was paying attention to much of what was being said. Then came the holidays and a necessary break between the insanity of the midterms and the unofficial launch of the 2020 U.S. presidential sweepstakes.
But it's 2019, which means it is time for Tampa mayoral candidates to be ready for their close-ups.
Let's see how this bad boy looks as we head to the March 5 election. A runoff will be held April 23 if no one gets more than 50 percent of the vote. Count on it.
The presumed front-runner: That would be former Police Chief Jane Castor, who has never held elective office but did serve honorably for six years as the top cop in charge of more than 1,000 officers and several hundred more support personnel.
She helped guide the city through the 2012 Republican National Convention and a Super Bowl before retiring after 31 years in the Tampa Police Department. She has been meeting with civic groups since announcing her candidacy last April.
Notable quote: "I am running for Mayor because our city needs a proven leader who will maintain our progress while building a new foundation for shared prosperity. A foundation created with participation from all neighborhoods, so that every one of us has a voice in building Tampa's future."
Betting odds: 4-5 favorite.
The wildcard: That would be billionaire philanthropist David A. Straz Jr. He, too, has never held elective office. At age 75, he up and decided to run for Mayor. The announcement evoked some upraised eyebrows and a few quiet smirks, but no one should underestimate this candidate.
He has a steep learning curve, but he grabbed four big endorsements early — The Northwest Florida Chapter of Black Women in Construction, United Food and Commercial Workers 1625, International Union of Operating Engineers Local 487, District 925, and Plumbers and Pipefitters Local Union 123.
And money is no object. He loaned his campaign $800,000 last June and listed nearly $1.6 million in total contributions. By contrast, Castor lists about $184,000.
Notable quote: "I've been meeting with groups across the city … When I meet with these groups, I speak from the heart about my desire to make Tampa a better, stronger place to live, start and run a business and raise a family."
Betting odds: 4-1 to make the runoff.
The Group of Three: These candidates offer voters familiar names with considerable political experience.
Former Hillsborough County Commissioner Ed Turanchik joins Tampa City Council members Harry Cohen and Mike Suarez.
Of these, Turanchik has raised the most cash — more than $197,000. Cohen has about $113,000 while Suarez has pulled in nearly $51,000. Turanchik is well-known for his association with the Cross Bay Ferry.
Cohen drew contributions from Hillsborough Clerk of Courts Pat Frank and former Mayor Sandy Freedman. Suarez has been all over neighborhoods like Forest Hills, West Tampa, and East Tampa.
These candidates stress their deep Tampa roots, their commitment to the city's neighborhoods, and their determination to attack traffic congestion.
They are well-known and personable, which will count for a lot in the general election where a few votes here and there can make the difference between making the runoff or going home. Each has solid pockets of support, so — alert: sage words of wisdom about to spew here — it depends on the turnout.
Betting odds that one of them makes the runoff: 7-1.
Wildcard 2.0: Christopher "Topher" Morrison. I don't think he gets into the runoff, but he is a whiz at social media and could come stomping out of the weeds with progressive support. Fun fact: Morrison has pulled in more than $59,000 — a higher total than Suarez. His mantra: He wants to be your small business Mayor.
Betting odds that he makes the runoff: 50-1.
Also receiving votes (maybe): LaVaughn R. King and Michael Anthony Hazard, who lists $292.60 in contributions. That's $292.60 more than King. Thanks for playing.
Betting odds either makes the runoff: Put it this way: There's a better chance Bill Belichick decides he wants to coach the Tampa Bay Buccaneers.