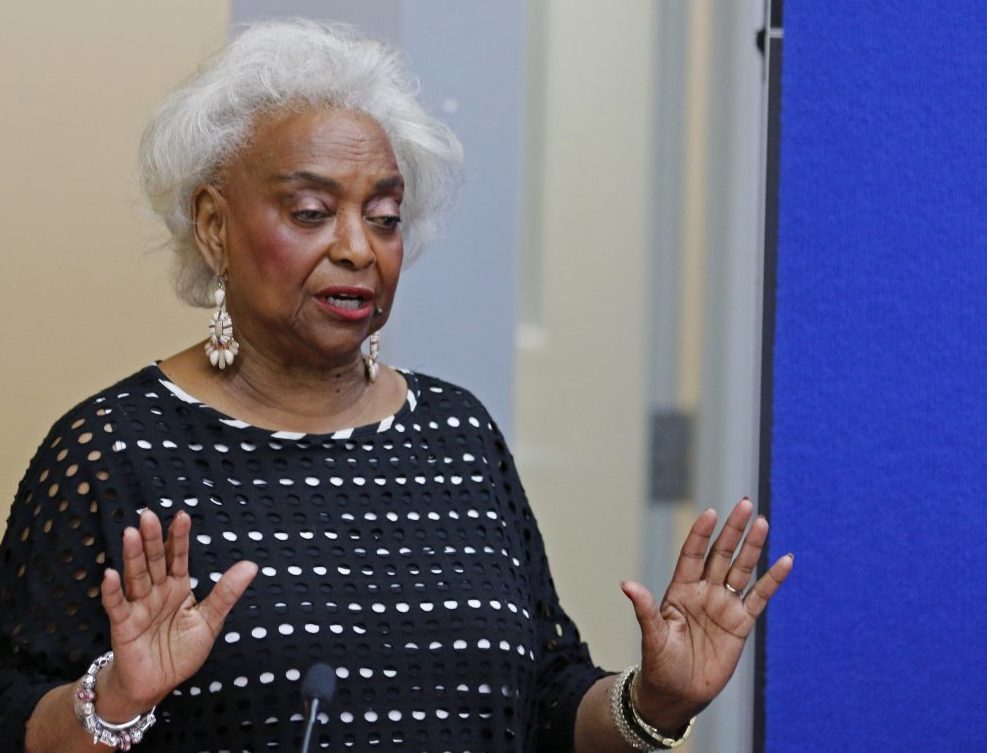 Former Broward County Supervisor of Elections Brenda Snipes won a partial court victory late Wednesday after a federal judge decided she must have a hearing on her suspension by former Gov. Rick Scott.
That hearing must be held before March 31, according to North Florida Chief U.S. District Judge Mark Walker.
Snipes filed a lawsuit against Scott and Senate President Bill Galvano regarding Scott's decision to suspend and replace Snipes as Elections Supervisor.
After Scott's decision, the Senate declined to either terminate or reinstate Snipes due to a lack of time. That triggered her lawsuit.
While Walker sided with the Senate, he also said Snipes' request for an injunction against the Governor was valid.
"The issue here is whether Scott could suspend and publicly vilify a constitutional officer without a meaningful opportunity for her to be heard," Walker wrote. "The answer is no."
Snipes initially offered her resignation in mid-November, which was set to take effect on Jan. 4.
But, on Nov. 30, Scott announced he was suspending Snipes for the duration of her tenure and named Pete Antonacci as her replacement.
Snipes then tried to withdraw her resignation in protest of Scott's move.
Walker says it's not that simple.
"Snipes could not withdraw her resignation after her replacement had been appointed and sworn in because hers was an unconditional resignation," Walker wrote.
That is, her resignation was in effect on the day she issued it, not on the announced "effective date" of Jan. 4. Thus, there was technically a vacancy on Nov. 18, the day Snipes resigned, making the appointment of Antonacci permissible, according to Walker.
However, because Snipes was suspended and harshly criticized by Scott on her way out the door, and because the Senate was not in session to review whether that decision was warranted, "Scott's suspension of Snipes was an effective termination," Walker said.
Walker added that "rather than accept the resignation quietly and avoid trampling on Snipes' due process rights, Scott suspended Snipes and vilified her without giving her a meaningful opportunity to be heard."
The court said Snipes' request for an injunction against the Senate was improper, as the Senate was out of session during the period of Nov. 30 to Jan. 4 and could not have reasonably held a hearing on the termination.
Galvano issued a statement on Walker's ruling shortly thereafter.
"The ruling by Judge Walker affirms the Senate's position that the unconditional resignation of Dr. Snipes was valid and cannot be rescinded; therefore, the Senate could not have a timely hearing," Galvano wrote.
"I would like to thank our General Counsel Jeremiah Hawkes and Deputy General Counsel Ashley Istler for their sound legal judgment and effective representation of the Senate in this proceeding, which is noted by Judge Walker in his order."
But Walker granted Snipes' request as to the Governor.
"Snipes has had and will have zero opportunity to tell her side of the story in any official forum. At the preliminary injunction hearing, Scott's counsel suggested Snipes could write letters or air her grievances in the news media. This is not a meaningful opportunity to be heard."
Walker made clear he is not ruling on whether Scott's decision to suspend Snipes was or was not proper. Instead, he merely mandated that Snipes be given some sort of hearing regarding the suspension and "effective termination," as Walker called it.
The responsibility to arrange that hearing will fall on current Gov. Ron DeSantis.
"This Court also emphasizes that, although Governor DeSantis has been substituted as a party, he has been accused of no wrongdoing but must, by law, inherit what his predecessor has left him," Walker wrote.
"By January 31, 2019, the Governor must provide Snipes notice," Walker concluded.
"A meaningful opportunity to be heard must occur on or before March 31, 2019. Notice must involve specific allegations and if it includes broad catch-all phrases like 'misfeasance' and 'incompetence' the notice must identify what specific conduct those kinds of phrases refer to.
Further, "a meaningful opportunity to be heard means an opportunity to present evidence to the Governor, either in writing or through witnesses, and an opportunity to present argument to the Governor, either in writing or orally."