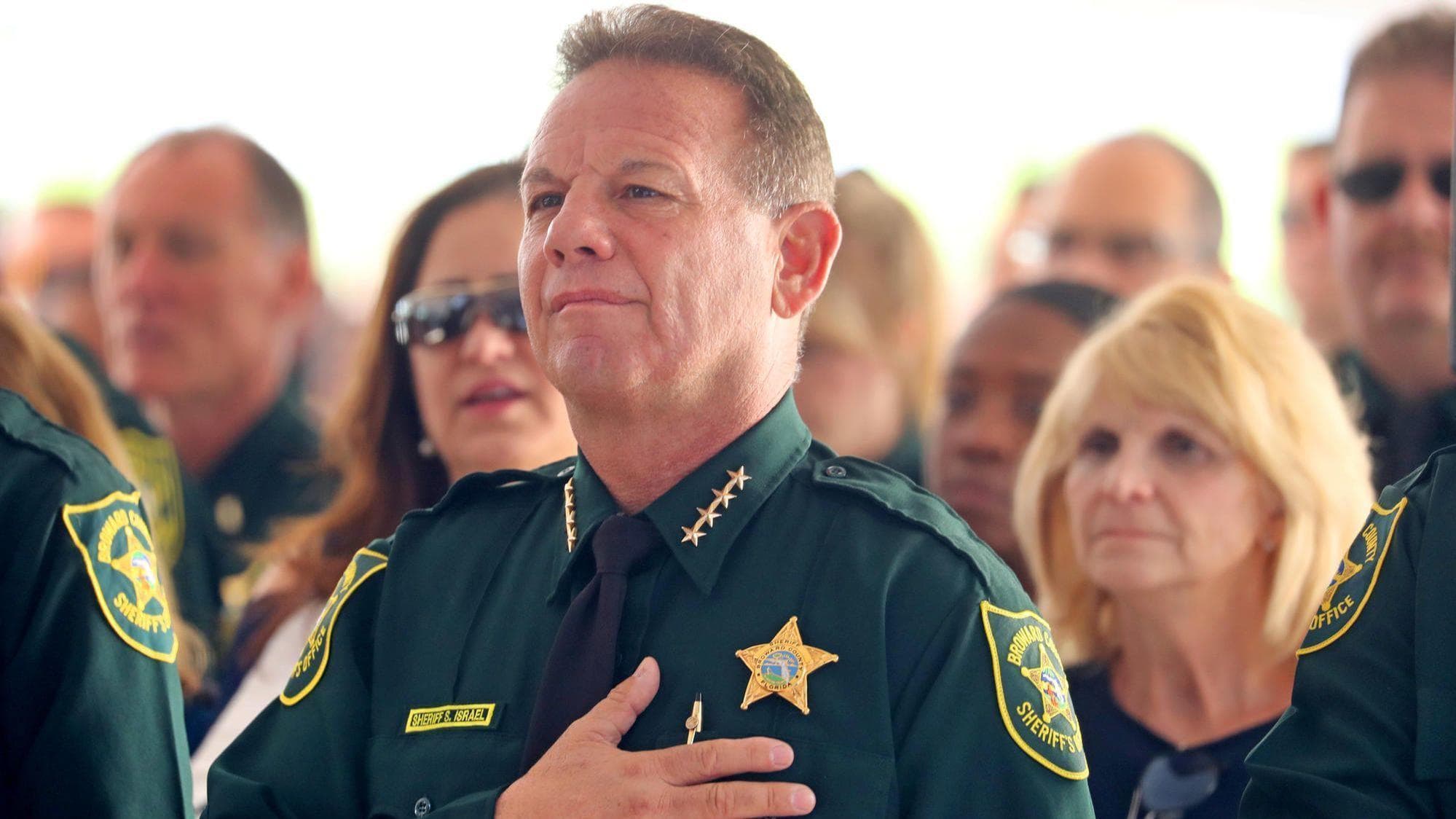 DeSantis named former Coral Springs Police Sgt. Gregory Tony as Israel's replacement.
Gov. Ron DeSantis on Friday suspended Broward Sheriff Scott Israel because of his office's handling of last year's shooting at Marjory Stoneman Douglas High School in Parkland.
DeSantis named former Coral Springs Police Sgt. Gregory Tony as Israel's replacement. Tony will be the first black Sheriff of Broward County.
DeSantis made the move after lengthy speculation regarding Israel's future at the Broward Sheriff's Office (BSO).
The Miami New Times reported this week that Israel had already told his staff he was preparing to be ousted.
The announcement took place at a news conference Friday afternoon outside the BSO's Ron Cochran Public Safety Complex Courtyard.
"The neglect of duty and the incompetence that was connected to the massacre at Marjory Stoneman Douglas High School has been well documented, and I have no interest in dancing on Scott Israel's political grave," DeSantis said.
"But suffice it to say that the massacre might never had happened had Broward had better leadership in its Sheriff's department."
Tony also spoke about his agenda as head of BSO.
"I am not here for any type of political agenda," Tony said. "I am here to serve. I am here to provide you with the best leadership I can provide."
DeSantis cited Israel's alleged "neglect of duty and incompetence" as the motivation for the suspension. But Israel has already pushed back on that framing in a lengthy Facebook post responding to his suspension.
"Let me be clear: I wholeheartedly reject the statements in the Governor's executive order as lacking both legal merit and a valid factual basis. There was no wrongdoing on my part," Israel wrote.
"I intend to vigorously fight this unjustified suspension both in court and before the Florida Senate."
Israel framed himself as a fall guy for the attack, accusing DeSantis of using the move as a distraction to avoid strengthening the state's gun control laws.
"The National Rifle Association controls the Governor's actions — and is trying to control law enforcement in Broward County," Israel alleged.
"I understand it is easier to say, 'Suspend Sheriff Israel' than it is to address the real problem of gun violence. No one was suspended after the Pulse shooting. No one was suspended after the 2013 mass shooting at an apartment complex in Miami-Dade County. And no one was suspended after the 2017 mass shooting at an Orlando factory.
"The only difference is that I spoke out about gun violence."
Israel's leadership of BSO came under fire almost immediately after the shooting.
Scot Peterson, a deputy with the office and school resource officer at MSD High, was forced to resign after he remained outside the building while the shooter gunned down his victims.
Israel also earned criticism for his office's handling of numerous calls about the shooter's abnormal behavior well before he attacked the school. Two deputies within BSO received minor punishments for failing to write official incident reports regarding some of those interactions.
The Sheriff's Office was further taken to task by the Marjory Stoneman Douglas High School Public Safety Commission, which was created to investigate the shooting.
A report from the commission found that eight different deputies remained outside the building during the course of the shooting.
That finding called into question the BSO's active shooter training. Several deputies said they hadn't undergone training in months.
Meanwhile, officers from the Coral Springs Police Department were found to have entered the building immediately.
Israel, has defended his work as Sheriff, telling CNN's Jake Tapper in the aftermath of the shooting, "I've given amazing leadership to this agency."
And Israel did recently make changes to the department's active shooter policy. That policy now mandates that "Deputies responding to active threat(s) incidents shall attempt to protect the life of innocent persons" (emphasis ours). That's a change from BSO's previous policy, which stated that deputies "may" intervene.
Multiple parents of Parkland victims have called for Israel's ouster.
"If you had one deputy that doesn't go in, it could be easily called a lack of courage, or a mistake, or a fluke," said Ryan Petty, as reported by the New York Times. Petty lost his 14-year-old daughter, Alaina, in the shooting.
"But when you have eight deputies that don't go in when they're hearing gunshots inside of a school, that's a systemic failure.
"Systemic failures point in one direction: They point to the leader."
And in previewing DeSantis' speech, Andrew Pollack said on Twitter, "Accountability is coming." Pollack's daughter, Meadow, was also slain in the attack.
Both Pollack and Petty were on hand Friday as DeSantis announced the move. They joined several other family members of Parkland victims who spoke at the news conference in support of DeSantis' decision.
"Sorry the Governor was a little late," Pollack said, referencing a delay in DeSantis' arrival caused by a malfunction of his plane on the flight down to Broward.
"But we've been waiting nine months for this day."
Max Schachter, who lost his son, Alex, in the shooting, spoke out in favor of the selection of Tony to head BSO.
"I know that Gregory Tony's vast active shooter experience and knowledge will enable him to make the necessary changes so that Broward Sheriff's Office is the shining example of law enforcement that all citizens want and believe they can be."
"Sheriff Tony: I love the way that sounds," added Ryan Petty, whose daughter, Alaina, was killed.
Shortly after the suspension was announced U.S. Rep. Matt Gaetz, one of DeSantis' most outspoken allies during his gubernatorial campaign, praised Israel's suspension as well as the suspension of Okaloosa Schools Superintendent Mary Beth Jackson, which was announced earlier Friday.
"Today Governor DeSantis sent a clear message: politicians of either party who endanger children will be suspended pending removal," he said. "Sheriff Israel went on television praising his own leadership as parents eulogized their children.
"An independent investigator found the Broward Sheriff's Office inadequately trained and incompetent or untruthful. Following the physical abuse of a special needs child, a grand jury found Mary Beth Jackson failed to fulfill her obligation to keep children safe.
"Governor DeSantis promised a new era of accountability, and he is delivering with bold action."
Attorney General Ashley Moody also released a statement backing the move by DeSantis: "There is ample support in the Marjory Stoneman Douglas High School Public Safety Commission Report to remove Sheriff Scott Israel.
"It is time for new leadership to implement the Commission's recommendations and I fully support Governor DeSantis's decision to suspend Sheriff Israel."
The Governor has the authority to remove officers for neglect of duty, incompetence or malfeasance. Stuart Kaplan, Israel's attorney, has seconded his client's comments that he would fight the suspension.
Suspended officials are granted a review by the Florida Senate, tasked with making a final decision to either terminate or reinstate the official.
Senate President Bill Galvano, a Bradenton Republican, released a memo and flow chart he sent to members Friday on the process his chamber will follow.
"The first step in addressing a suspension is to inform the suspended official of the Senate's receipt of the Governor's suspension action and to inquire whether it is the intention of the suspended official to resign from office or request a hearing," he said. "Once a response is received, the suspension will be referred to an appropriate committee or to a special master.
Galvano added: "In my view, since we are tasked by Florida's Constitution to sit in judgment of the merits of a suspension, Senators should refrain from speaking publicly about the merits or substance of any executive suspension."
DeSantis does need to tread lightly after a decision by his predecessor, Rick Scott, to suspend Broward Supervisor of Elections Brenda Snipes was rebuked by a federal court earlier this week.
Scott's decision was not reviewed by the Senate because the chamber was in recess. That caused Chief U.S. District Judge Mark Walker to call Scott's suspension an "effective termination."
Walker ordered Snipes be given a hearing regarding that decision, which must now be scheduled by DeSantis.
But DeSantis made clear Friday that the Senate would be granted an opportunity to provide a hearing to Israel regarding the suspension.
The Governor's executive order and Galvano's full memo is below.