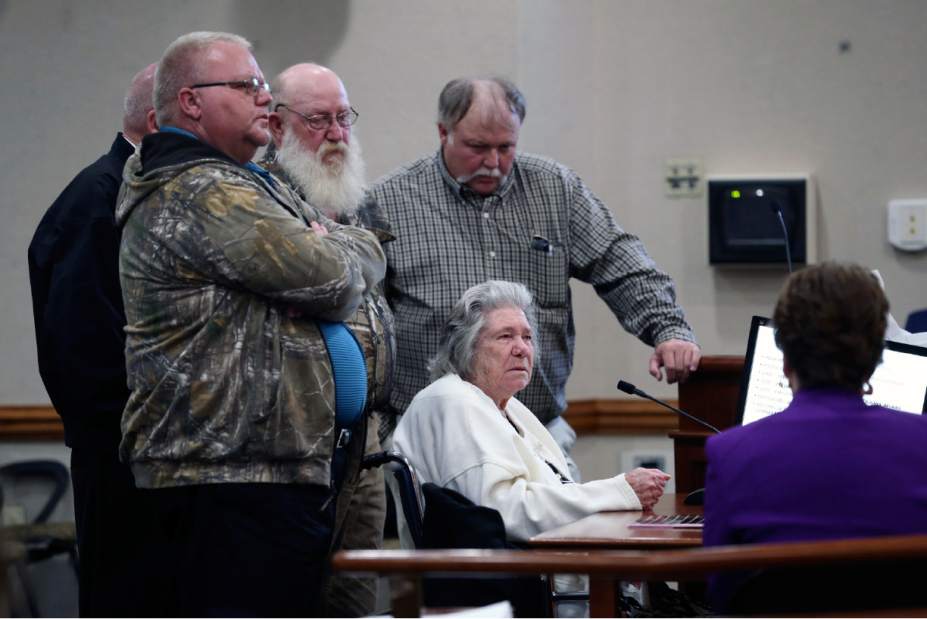 When all four of Florida's statewide officials granted full pardons to the Groveland Four on Friday, many heralded a righting of injustice.
But for the family of Norma Padgett Upshaw, the news felt like a decades-old crime had been condoned.
Charlene Padgett, Upshaw's daughter-in-law, told Florida Politics on Saturday "that case was decided before we walked in them doors."
In recent years, the cause of the Groveland Four became an infamous story of racial injustice, the most notorious of numerous high-profile acts by longtime Lake County Sheriff Willis McCall at the height of the Jim Crow era.
Four black men — Ernest Thomas, Samuel Shepherd, Walter Irvin, and Charles Greenlee — were accused of raping a 17-year-old white girl on a county road in 1949.
After news of the crime went public, Thomas died in a subsequent manhunt. Shepherd later died at McCall's hand, supposedly during an escape attempt on the way to a court hearing.
Irvin and Greenlee went to prison until the 1960s. They lived to see a shift in public opinion, one that prompted former Gov. Leroy Collins to commute Irvin's death sentence. But neither survived long enough to see the pardons approved Friday.
Padgett Upshaw, though, testified Friday at a state Clemency Board hearing, and maintained her story. She and her husband's car broke down, she said, and the men knocked her husband out. She was then raped by the men at gunpoint in the woods.
"I'm not no liar," she told the board.
But there's little evidence the crime took place. A doctor at the time said her injuries were not consistent with those of someone who had been raped. The FBI found much of the investigation into the crime was based on coerced and recanted testimony.
But it was 1949, long before DNA testing, standard rape kits or the #MeToo movement.
Under different circumstances, Padgett Upshaw could be the sympathetic figure in a story of a woman raped and her accusations ignored, not the catalyst for a notorious tale of injustice in the Old South.
Charlene Padgett said the family does not question that the Groveland Four did not receive fair treatment.
"I understand totally the injustice that they faced," she said. "But that was not Norma's fault that all that injustice was brought on them guys."
Despite that, family members of the pardoned men publicly scolded Padgett Upshaw at the clemency hearing.
Beverly Robinson, a cousin to Irvin, at one point turned to Padgett Upshaw and her family and said, "You are all liars."
Padgett, though, believes her mother-in-law. She dismissed concerns about the doctor, saying a 17-year-old would not put up a struggle when being raped at gunpoint.
"She would not be tore up and bruised from that sexual experience," she said. "Even four of them."
But she said Padgett Upshaw faced fresh injustice of her own on Friday.
"Norma was raped, and she's lived with that for 70 years," Padgett said. "She didn't have nothing to do with the way the sheriff acted."
Gov. Ron DeSantis stressed the pardon process narrowly focused on the injustice against the four men, and there was no doubt in his eyes the justice system did not treat the Groveland Four fairly.
Agriculture Commissioner Nikki Fried said she believed the men to be innocent. She suggested the state go a step further and pursue exonerating the Groveland Four. (Whereas a pardon is executive-branch forgiveness for a crime, exoneration means later proof of innocence after a person is convicted of a crime.)
Charlene Padgett said she just wants to close the book on the long story of the Groveland Four.
"What I'd like to see going forward is for them to leave Norma alone."