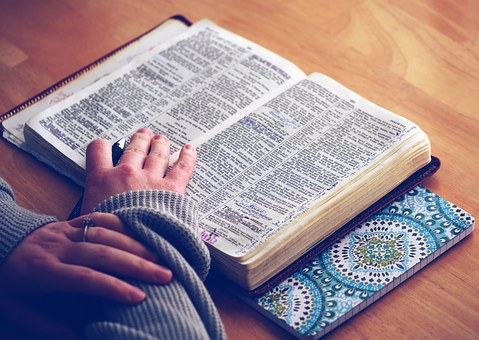 HB 195 to establish what would be "an objective study of religion" won't pass.
A bill authored by state Rep. Kim Daniels would require public high schools to offer Bible-study electives.
HB 195, to establish what Daniels says would be "an objective study of religion," won't pass. My first reaction was to wonder why she bothered. Her bill won't even get out of committee.
However, for today's discussion let's pretend it will.
I am sure Rep. Daniels is a fine, God-fearing, Christian woman. You can bet she believes Florida would be a better place if more people studied the Bible. However, I don't think she has considered the unholy mess this bill could cause.
For example, it estimated that more than 100,000 Muslims live in South Florida. The Orlando Muslim population also is growing rapidly. If the study of the Hebrew scripture becomes part of the state's public school curriculum, what would Rep. Daniels say when a Muslim said they want equal class time to study the Quran?
Then Buddhists could say hey, what about us?
Atheists would demand a class to get their point across.
You also can be confident we would hear from, wait for it … Satanists.
You think not?
In 2014, a group called the Satanic Temple got permission to erect a display in the state capitol building. It was to counter the Nativity scene that the Florida Prayer Network had displayed on Capitol grounds to celebrate Christmas.
The Temple people said they don't worship the devil but were trying to make a point about separating church and state.
Rep. Daniels' bill calls for the study of Hebrew scriptures, including Old and New Testaments. She would counter that her proposal makes the course an elective, not a requirement.
She was careful to write that the class could not show partiality to any particular religion. It would have to maintain neutrality and couldn't promote any one faith, but that caveat doesn't help. Focusing on Hebrew scriptures eliminates neutrality.
There also are practical questions.
There are about 700 high schools in Florida. School budgets are already stressed with mandates from Tallahassee. Where would officials find that many qualified teachers for this subject? Who would design the courses? How would the state set standards for success?
And then there is the case of Cambridge Christian High School in Tampa. The school's football team advanced to the 2015 state championship game at Camping World Stadium in Orlando. The Florida High School Athletic Association was in charge that day.
Cambridge and its opponent, a Christian school from Jacksonville, asked to pray over the stadium loudspeaker before the game. The FHSAA said no because that would be using a state-run event to promote prayer.
You know what happened next. A Christian advocacy group got involved, and the inevitable lawsuit was filed. That was followed by inevitable decision: case dismissed.
That doesn't mean a course like this wouldn't be fascinating. I took a similar one in college, although the class focused on religions of the world.
But there are lines in public schools that cannot be crossed. Everyone's tax dollars support them, and that makes all the difference.
Many parents choose to send their kids to private Christian schools, where the Bible is part of the curriculum. That's perfectly fine. Private schools can make whatever rules they want.
Also, religious groups often rent public schools for various events, including church services. That's OK because those groups are in charge of that event and they're paying for the privilege. That's a big difference.
Besides, there are plenty of opportunities to study the Good Book that don't involve lawyers and politicians.
Students can form home groups. They can organize clubs after school (without adult leadership). Or there is this tried and true Bible study method: Sunday school.
But a Bible study bill for Florida high schools?
Thou shalt not.