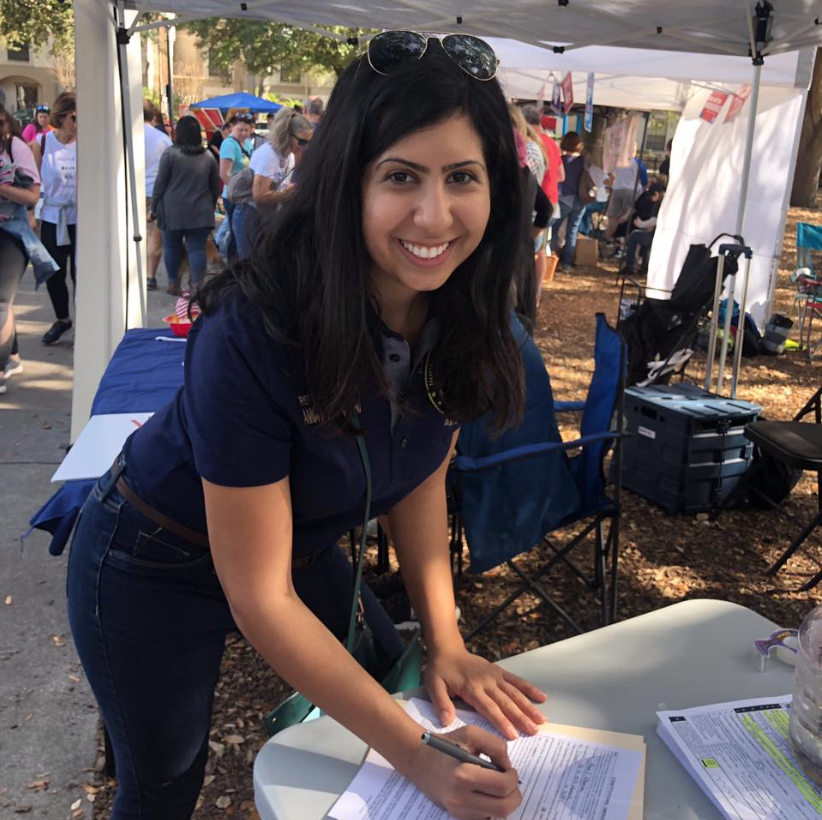 "I always say that for every act of intimdation, our courage only rises," Eskamani said.
Traitor. B*tch. C*nt. Treasonous politician. Clueless. Ugly. Socialist. Nazi. Dimwit. Uneducated fool. Embarrassing. P*ssy. Disgrace. Sheep. Iranian who needs to go back to the sh*thole you came from. Sorry ass snowflake. Stupid. Anti-American. Evil. Racist Democrat. Someone with ugly eyebrows.
Quite a few people didn't like it when Democratic state Rep. Anna Eskamani posted a Facebook picture Saturday afternoon of herself signing the proposed "Ban Assault Weapons Now" amendment to the Florida Constitution.
"So much vitriol," she said Monday.
Eskamani posted the item Saturday afternoon with the caption, "Signing the Ban Assault Weapons Now (#BAWN) ballot amendment petition! ‬‪#HD47 is home to #Pulse nightclub — we know that military style assault weapons have no place in the hands of everyday civilians. #NeverAgain."
She's gotten quite a response.
More than 1,200 comments had arrived on the Facebook post by Monday mid-afternoon. Her post was shared more than 430 times. She also received more than 70 direct messages via Facebook.
The vast majority of the comments and direct messages — clearly more than 1,000 of the comments — were intended to tell Eskamani what she could do with such a proposal. More than a few spared no profanity in drawing that picture.
"Despite the fact that the Republican Party of Florida thinks I'm vulgar [an issue brought up in the 2018 election campaign], some of these words are even hard for me to say," she said.
Eskamani is no stranger to taking stands on controversial issues, or using social media to promote her positions, or dropping the occasional swear word. And she said she's always seen the gun issue as something that attracts plenty attention.
But she said she's never seen a reaction like this.
"It was quite instantaneous, and it was very focused on Facebook. I posted the same photo on Instagram and on Twitter and it was very unique that it got this type of attention on Facebook," she said.
Many of the commenters offered points of debate, principally arguing that the Second Amendment protects sales and possession of weapons such as AR-15s and AK-47s; or that they don't kill as many people as other guns, or cars, or drugs, or booze or bicycles; or that there's no legally practical way to ban them without opening bans of other weapons.
At one point Eskamani added her own comment, trying to clarify that all she was doing was adding her signature to a proposed Florida constitutional amendment petition that needs about 800,000 signatures to appear on the statewide ballot, and then would need 60 percent statewide voter approval to become law.
She pointed out that the amendment is being pushed by a bipartisan group. But by that time it was like throwing a bucket of water at a wildfire. The commentary backlash was out of control.
Some were hostile. Quite a few offered subtle tough-guy threats, as in suggesting she personally try to come get their guns, or telling her what they'd like to do to her if they met her. More than a few predicted another civil war was on the way in America, and they assured her that she would be on the losing side. Others promised to buy more guns and ammunition in her honor, or to make "ghost guns" [guns without serial numbers for her sake], and more than one even promised to name one after her.
Eskamani occasionally responded to the comments, as with the guy who promised to name his next ghost gun after her. "Great name!" she replied. "Make sure you pronounce it with a soft A."
Others belittled her looks. The guy who insulted her eyebrows got a response from Eskamani: "Wow, calling me names and insulting my eyebrows. Well done."
Other insults, she said, were racist [going after her for being the daughter of Iranian immigrants] and many were misogynist, belittling her for being a woman, or making fun of her body or face. Generally, she did not respond directly to those.
"I am reminded that for generations women who are bold and unapologetic are always facing backlash. I always say that for every act of intimidation, our courage only rises," she said. "This is a reminder to me to be prepared for backlash, and to make sure our team is safe."
Her office attempted to trace a few of the comments and found a few aliases. A large percentage came from outside Florida, she said.
Eskamani is a progressive Democrat and an avowed feminist, and her position on guns isn't likely to change. She said her commitment is grounded as her response to the 2016 massacre at Orlando's Pulse nightclub, which is in the district she was elected to represent in November.
It's a result of "knowing there are 49 people who are no longer here because it was a military style assault weapon that took their lives," Eskamani said. "Plus 17 in Parkland, and many, many more."
While proclaiming she will not be intimidated, Eskamani said she fears that many other lawmakers likely are.
"I hope we can have real dialogue on this issue this session, but I will say the response on my Facebook post speaks to the challenge that Democrats and Republicans face when we talk about gun safety. It is so polarizing. There are those around us who go out of their way to intimidate and harass, which squashes the opportunity for conversation," Eskamani said. "I won't let it happen to us. But I can only imagine for some lawmakers who wish to avoid that kind of attention try to avoid even breaching the conversation."