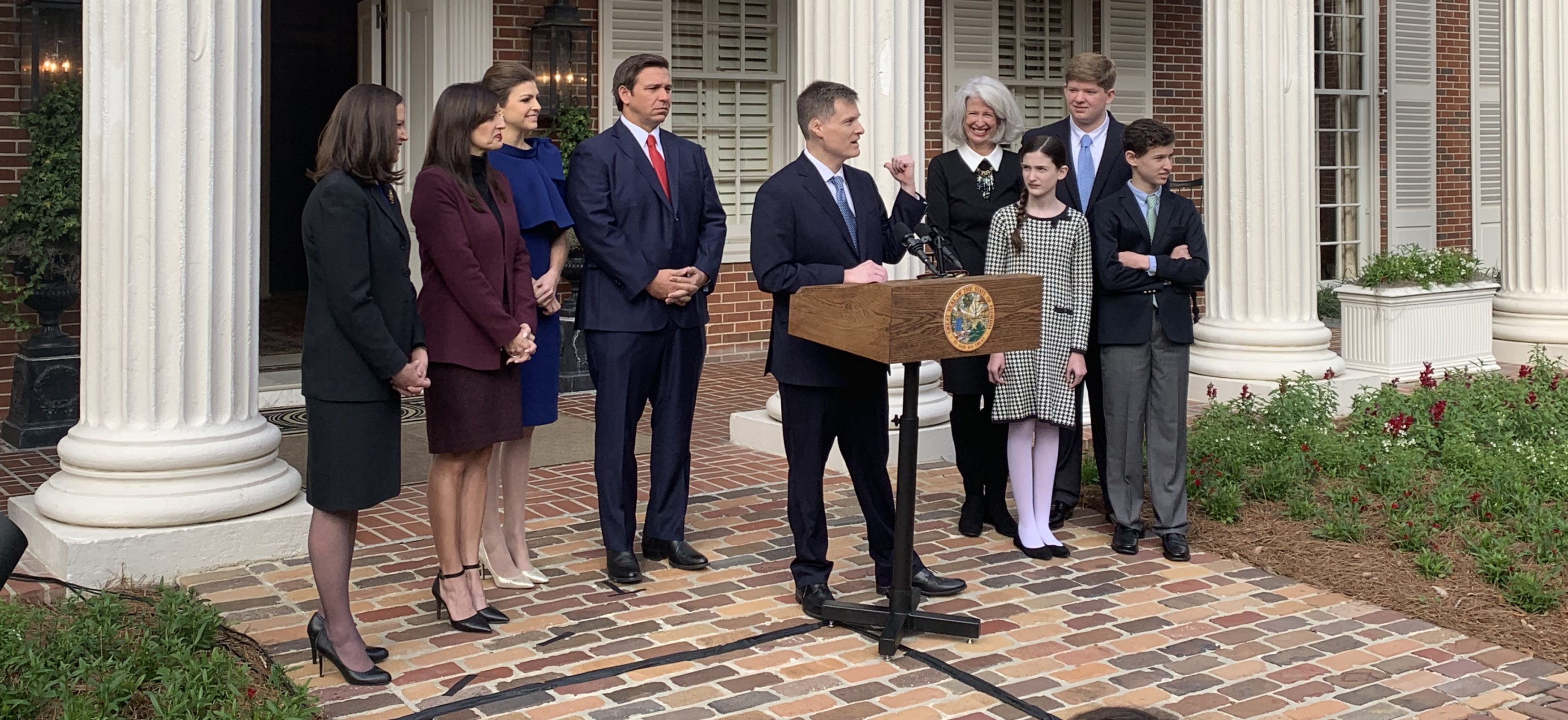 He served, among other posts, as chief of staff to former Attorney General Pam Bondi.
In the final step in reshaping the Florida Supreme Court, Republican Gov. Ron DeSantis on Tuesday named Carlos Muñiz  — a top aide to both former Gov. Jeb Bush and former Attorney General Pam Bondi — as the state's newest justice.
"One of the things I look for in a justice is … someone with a top-flight intellect," DeSantis said at a morning press conference in front of the Governor's Mansion. "With Carlos, we have found that justice."
Muñiz most recently has been the general counsel to the U.S. Department of Education under Secretary Betsy DeVos and President Donald Trump, and was one of the two non-judge finalists nominated by the Supreme Court Judicial Nominating Commission (JNC) out of 59 applicants.
DeSantis spoke with Bush, and said the former Governor "maybe even said he was the smartest guy that ever worked for him in eight years, and that's saying something."
Muñiz was Bush's Deputy General Counsel in 2001-03, according to his application, having been recruited by General Counsel Charles Canady, now the state's chief justice. More recently, Muñiz was Bondi's Deputy Attorney General and Chief of Staff 2011-14.
"Pam Bondi says, 'off the charts brilliant.' She sings his praises," DeSantis told reporters. "The other thing is, he really understands the separation of powers. He understands the proper role of the courts."
DeSantis now has appointed three justices since taking office Jan. 8, all of which are expected to shift the court to the right. He earlier appointed South Florida appellate judges Barbara Lagoa and Robert J. Luck to the Supreme Court.
Lagoa, Luck and Muñiz replace longtime justices Barbara Pariente, R. Fred Lewis and Peggy Quince, who were required to step down this month because of mandatory retirement age. They were regarded as the court's liberal wing.
Muñiz's state experience also includes being General Counsel at the Department of Financial Services, and General Counsel to then-Florida House Speaker Marco Rubio.
Back in private practice after leaving Bondi's office, he also represented Florida State University against a lawsuit that claimed the school didn't properly investigate a sexual assault allegation against Jameis Winston, its former standout quarterback now with the Tampa Bay Buccaneers.
Muñiz — a Yale Law School graduate — thanked the Governor, and said he "wholeheartedly" shared DeSantis' judicial philosophy: "I've always wanted to work for principled leaders that sought to promote the common good through restrained government, a commitment to the rule of law, and a belief in the God-given dignity and worth of every human life."
He then made three commitments: "To excellence, to humility, and to liberty."
"… The role of a judge is to preserve the Constitution, not to add to it or subtract from it," he said. "Everything in our constitutional system is a means to the end of protecting liberty … I promise never to lose sight of that fundamental truth."
___
Senior Editor Jim Rosica and The News Service of Florida contributed to this post, republished with permission.