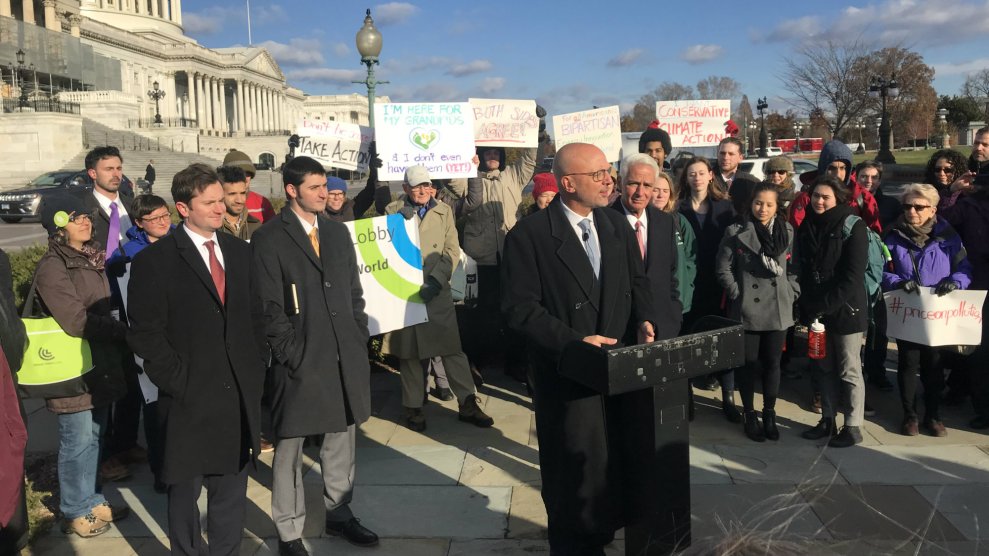 That fee money would go toward a monthly rebate to taxpayers.
The U.S. House is once again attempting to combat climate change by regulating carbon emissions. This time, they're aiming to beef up the bank accounts of American families as well.
The Energy Innovation and Carbon Dividend Act would institute a fee on carbon emissions. But instead of the U.S. Treasury keeping the cash, any fee money left over after administrative expenses are covered would go directly to taxpayers in the form of a monthly rebate.
"Climate change is an urgent threat that demands urgent bipartisan action," said U.S. Rep. Ted Deutch, who represents Florida's 22nd Congressional District.
"With this legislation, we are making clear to our colleagues that bipartisanship is possible — even necessary — to address climate change in this Congress."
The Democratic congressman and his co-sponsors first discussed the bill back in November. He says his fellow Democrats made an effort to reach out to Republicans, who have been hesitant to move forward with regulations of carbon emissions in the past.
"Our plan, to put a price on carbon and return the net revenue back to the American people, offers our Democratic and Republican colleagues an effective approach to significantly reduce carbon emissions without shifting the burden to the American people," Deutch said.
The legislation would create a $15 fee per metric ton of carbon dioxide emitted. That fee would be increased by $10 per metric ton in each subsequent year until greenhouse gas emissions are held under 10 percent of their 2016 levels.
As Deutch noted, the rebate was included as an olive branch to Republicans, such as U.S. Rep. Francis Rooney of Florida's 19th Congressional District.
"I am supportive of a carbon fee as a non-regulatory, revenue-neutral and market-driven incentive to move toward natural gas and away from coal, and to support emerging alternate sources of energy," Rooney said.
"There are many proposals being suggested as to utilizing moneys a carbon tax might generate, each with its own strengths and weaknesses — there are several favorable options, and this bill provides a method of ensuring that any fees are rebated back to the public."
Democratic U.S. Rep. Charlie Crist, who represents Florida's 13th Congressional District, said the "bipartisan bill takes historic steps toward reducing carbon dependency — key to addressing the climate crisis — while using the revenue generated to cut a monthly check to every American. A win-win solution!"
Having a Republican sign off on carbon legislation hasn't meant much in the past, however. Former U.S. Rep. Carlos Curbelo introduced a carbon tax bill last summer. That bill failed due to widespread opposition within the GOP to any sort of new tax that could hamper businesses and economic growth.
But Democrats say they're pushing forward with the bill in an effort to tackle climate change.
"Congress must act with the urgency the climate crisis demands," Crist said. "Nowhere is this more clear than in Florida where rising sea levels are impacting our communities."
Climate Citizens' Lobby, a nonprofit in favor of environmental reform, has also launched a website to help promote the legislation.
"We think there are two major requirements for any climate solution: It has to be effective in bringing down carbon pollution, and it has to be good for people," said Mark Reynolds, the group's executive director.
"The Energy Innovation and Carbon Dividend Act is strong on both counts. It sets a price high enough to drive significant emissions reductions, and by giving the revenue to households, it helps people financially as America transitions to a clean energy economy," he continued.
U.S. Rep. Daniel Lipinski of Illinois and U.S. Reps. Judy Chu, Anna G. Eshoo and Scott Peters of California are also co-sponsoring the bill. All four are Democrats.