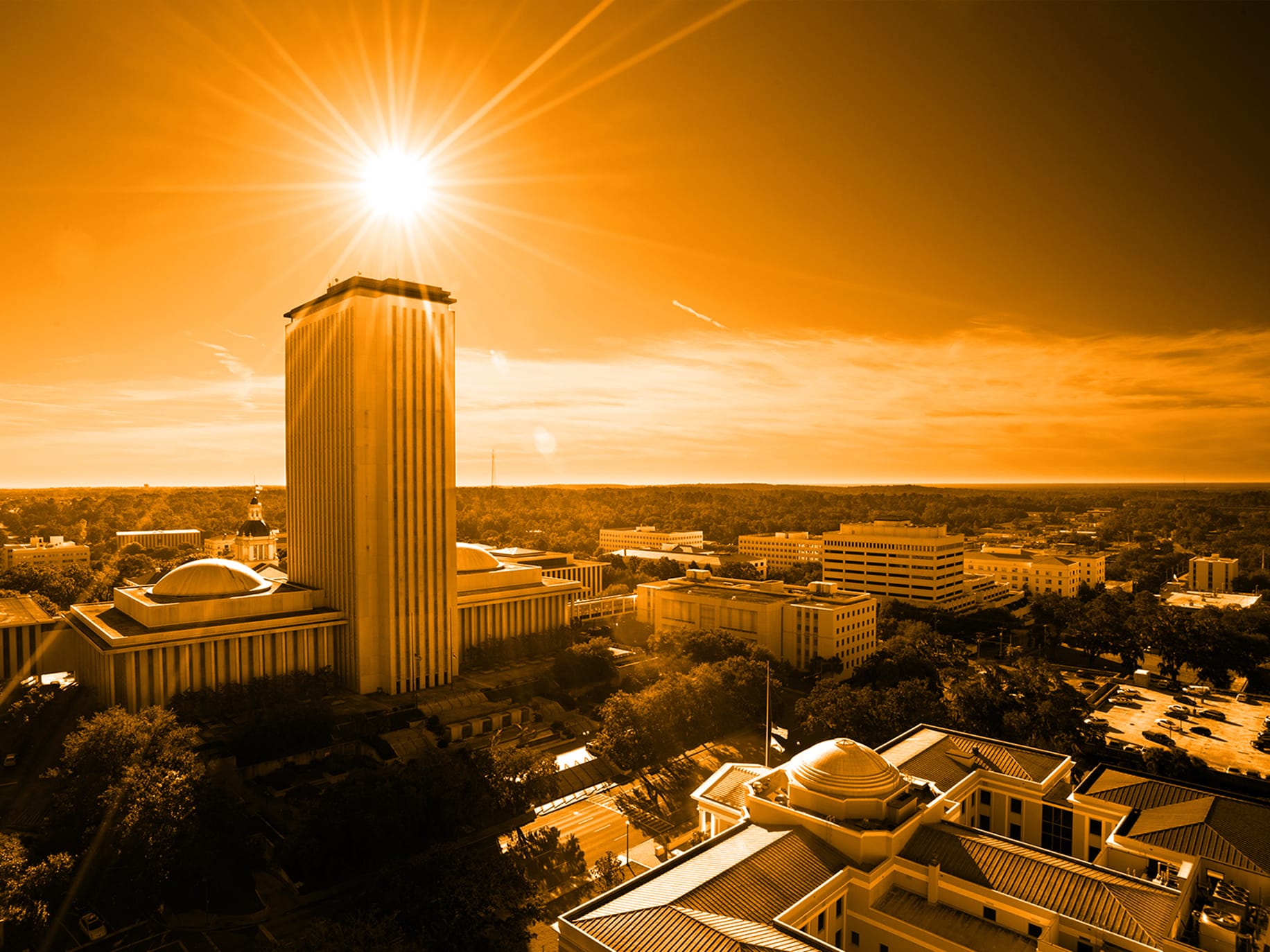 Good morning: Here's your first look at the issues behind today's Florida politics.
Sunburn — The morning read of what's hot in Florida politics.
By Peter Schorsch, Phil Ammann, Daniel McAuliffe, Jim Rosica, and Drew Wilson.
Yesterday was Adam Smith's final day at the Tampa Bay Times.
Meanwhile, Gary Fineout is joining POLITICO Florida, per an announcement in Florida Playbook.
—
Give me a box of ziti on the Rams +2.5. It's not that I doubt Tom Brady and the Patriots, I just think this game could come down to a point or two in either direction.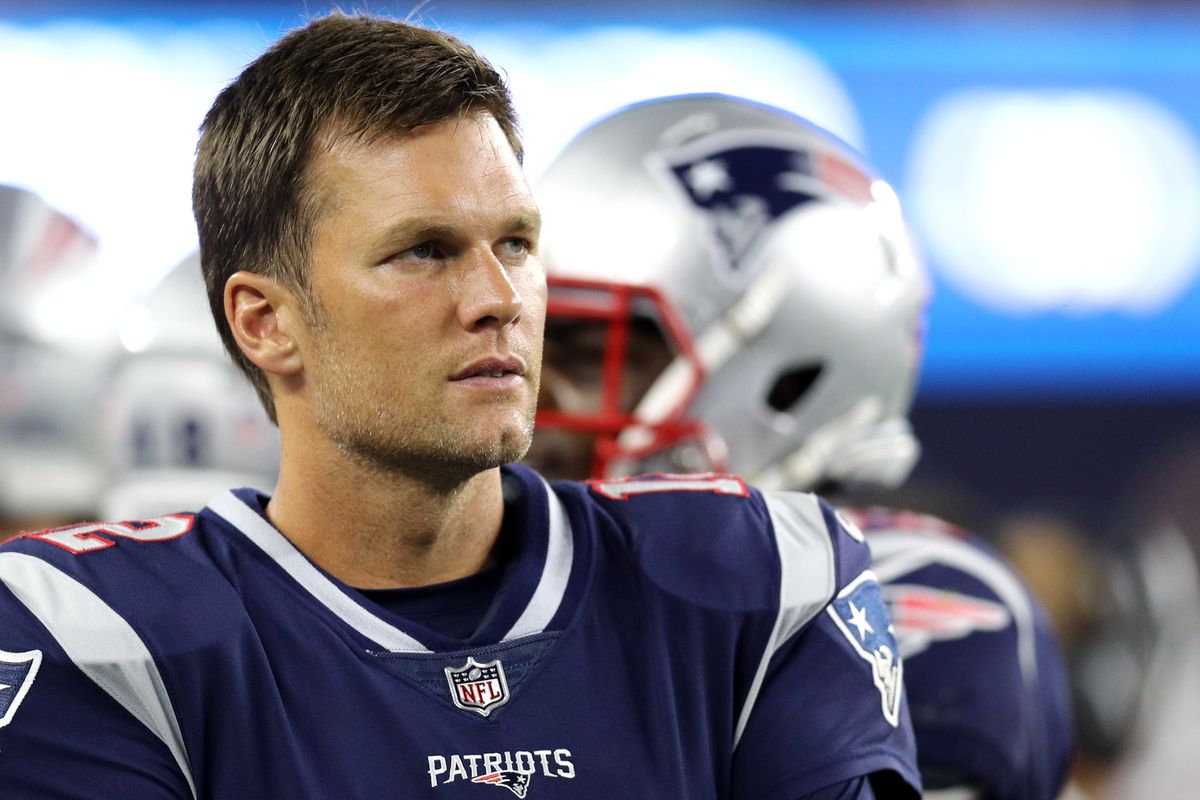 Axios Sports's Kendall Baker compared the Elo ratings between the competing teams in all 9 Super Bowls that the Patriots have played in this century and found that this year's matchup is the closest by far. Why do I put stock in the Elo system? Because in Week 8, the only teams with double-digit Super Bowl odds according to Elo were the Patriots, Rams, Chiefs and Saints — all of whom made the conference championship game.
This also leads me to believe that the over, even at 56.5, is a solid bet. Listen, the Rams are going to score. And then score some more. And the Pats can keep up with them. This game has all the makings of a 31-30 shootout.
And with Gladys Knight singing the national anthem, I'm going heavy on the prop bet that she goes longer than 1:47 to sing the Star Spangled Banner. She certainly has the vocals to stretch the song out if she chooses.
— SITUATIONAL AWARENESS —
—@RealDonaldTrump: Republicans on the Homeland Security Committee are wasting their time. Democrats, despite all of the evidence, proof and Caravans coming, are not going to give money to build the DESPERATELY needed WALL. I've got you covered. Wall is already being built, I don't expect much help!
—@ShimonPro: DOJ: The evidence collected against Roger Stone includes: Apple iCloud accounts, email accounts, financial records, cellular phones, computers, and hard drives. The information in iCloud accounts, email accounts and on hardware 'span several years.
—@RepMcCaul: The #SuperBowl is one of the largest human trafficking events of the year. The @DHSBlueCampaign provides important public awareness campaigns, and that is why my legislation to authorize this program and codify their efforts was signed into law last year.
—@RonDeSantis: Common Core has failed teachers, parents, and our children. That's why I am issuing an Executive Order to eliminate Common Core in Florida. We will streamline standardized testing, make civics a priority in schools and increase the literacy rate.
—@NewsBySmiley: If I were paid a dollar for every time Florida changed its education standards, I'd be … a vendor
—@EveSamples: Also: Can someone tell me how @richardcorcoran is qualified to overhaul public education standards for the country's third most populous state?
—@SenMannyDiazJr: It will be interesting to see the results of the review, a methodical look at standards & even testing could provide the legislature an opportunity to improve on our existing system. I am particularly interested in the findings as it pertains to content & testing.
—@WMNF: This is great — State Rep. Jackie Toledo (@ToledoForTampa) nominates the gorgeous, beloved, wonderful @Tampatheatre to be designated a State Treasured Landmark. Say yes, state!
—@SunshineEmpire: I think it's a mistake to frame the issue of crime in Jacksonville as something Boss Curry "ignored." They had a plan, they implemented a plan, and their plan failed
— DAYS UNTIL —
Super Bowl LIII — 2; State of the Union address — 4; 'Hamilton' comes to the Straz Center — 11; Pitchers and catchers begin reporting for MLB Spring Training — 11; Valentine's Day — 13; Federal government runs out of funding (again) — 14; 2019 Legislative Session starts — 32; Tampa mayoral election — 32; 'Captain Marvel' release — 35; St. Patrick's Day — 44; 2019 Major League Baseball season begins — 56; Final season of 'Game of Thrones' begins — 72; Easter — 79; 2019 Legislative Session ends (maybe) — 91; 2020 Democratic presidential primary debates begin — 126; 2019 General Election — 277; Iowa Caucuses — 364; 2020 General Election — 641.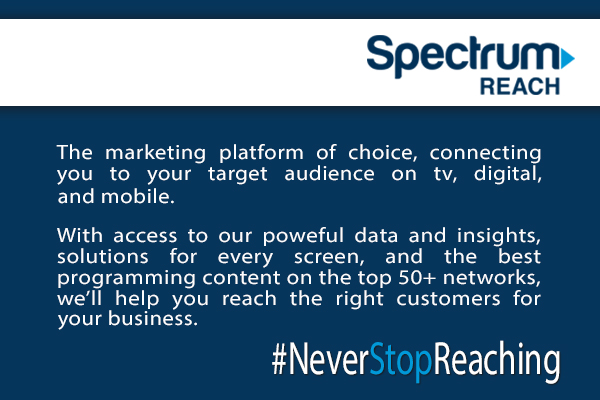 — HAPPENING THIS WEEKEND —
If you're looking for an event that features stars of Florida politics, policy and the law, look no further than this upcoming weekend's 2019 Florida Chapters Conference of The Federalist Society.
It's being held Friday and Saturday at Disney's Yacht and Beach Club Resort in Lake Buena Vista.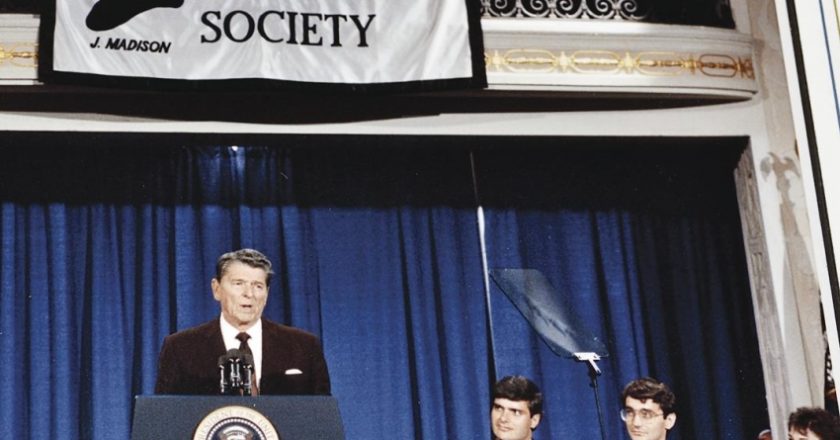 The organization calls itself a "conservative and libertarian intellectual network that extends to all levels of the legal community." The Tampa Bay Times recently declared it a "winner of the week," saying it "has almost completed its transformation of Florida's Supreme Court into one that would make Antonin Scalia cheer."
All the justices appointed by Gov. Ron DeSantis — who'll also be there — "are Federalist Society endorsed and allied, as is the governor himself."
Those new justices — Barbara Lagoa, Robert Luck and Carlos Muñiz — are scheduled to attend a "V.I.P. Dessert and Cocktail Reception and Fireworks Viewing," to be held at EPCOT's America Adventure Pavilion, as part of the conference. They'll be joined by Chief Justice Charles Canady and Justice Alan Lawson.
Three Federalist Society members — Ben Gibson, Jason Gonzalez and Daniel Nordby — started a decade ago "working to get strict textualist judges appointed to Florida's courts," the Times also noted.
"They took turns serving as general counsels to three governors, serving as chief advisers on the appointment of 292 of the 991 judges now serving in Florida. The three Republicans just reunited at the Shutts & Bowen law firm…."
Nordby, general counsel to former Gov. Rick Scott, and Joe Jacquot, DeSantis' current chief legal adviser, will speak at a panel on "Election Law and Redistricting."
New Attorney General Ashley Moody is slated to attend, as well as Kenneth Starr, a former federal appellate judge and U.S. Solicitor General, who will speak at a luncheon. You might remember Starr as the independent counsel behind the investigation that led to the impeachment of President Bill Clinton.
The full agenda is here.
— THE NEW ADMINISTRATION —
Assignment editors — DeSantis is expected to roll out his proposed 2019–20 state budget to reporters at the Capitol, 8:30 a.m., Governor's Large Conference Room. All credentialed media are welcome to attend.
"Ron DeSantis takes aim at Common Core in executive order" via Emily Mahoney of the Tampa Bay Times — "We stuck with Common Core then we re-branded it … it's all the same. It all needs to be looked at, it all needs to be scrutinized," the Governor said during an announcement in Cape Coral, flanked by Education Commissioner Richard Corcoran and local school administrators. DeSantis announced an executive order asking Corcoran to spend a year creating new state curriculum standards, which would then be presented to the Legislature for the 2020 session. Today, Florida's standards are like Common Core but not identical. State officials, urged on by conservative groups, tweaked and renamed them in 2014. Despite criticism by some that Common Core is a federal mandate, the standards were developed by private nonprofit groups and state education departments and then adopted by 45 states. Local districts then altered their lesson plans to meet those standards. But DeSantis said Common Core-inspired concerns by parents who felt they were "imposed federally."
Day 2 of education roll outs with the boldest, #1 education Governor in the nation @GovRonDeSantis. Florida will have the best standards, best civics education, and be the most literate state in the nation! https://t.co/Yk2hRS44te

— Richard Corcoran (@richardcorcoran) January 31, 2019
The FEA's Fedrick Ingram's reaction: "A deliberate look at what students must know is always appropriate, and it's very encouraging to hear that Gov. DeSantis and Commissioner Corcoran plan to bring teachers and parents to the table as they go about reshaping Florida's standards. We're also pleased to hear that the administration will look at streamlining testing. Parents and our members cite time spent on testing —  versus genuine teaching and learning — as one of their top concerns. If all stakeholders are heard, we have confidence that this effort can improve public education in Florida."
Ouch, tweet:
Maybe they should have waited another hour to edit the EO before releasing.

Spelling mistakes are going to happen, but it's especially bad to

1. Misspell United States and
2. Do so immediately before stating the goal of making Florida the 'most literate state in the nation.' pic.twitter.com/NGA4hCwiUj

— Luke A Flynt (@laflynt) February 1, 2019
"DeSantis kicks off 'Deregathon' in Orlando, state Rep. Carlos Guillermo Smith calls for allowing Puerto Rico licenses" via Steven Lemongello of the Orlando Sentinel — The event included members of Florida's professional licensing boards and aimed to find ways the state could cut what the governor's office called "harmful regulations facing Floridians to strengthen the state's economy." Halsey Beshears, the secretary of Business and Professional Regulation, decried "needless regulations [that] make it difficult for Floridians to enter the profession, start new businesses and stay in the profession of their choosing." The "Deregathon," he said, "is an important first step toward developing a reasonable regulatory approach that gives more Floridians access to a stable job and clear career path." State Rep. Smith said that while he appreciated DeSantis visiting his district to discuss deregulation, he had his own suggestion: a two-year temporary endorsement of Puerto Rico licenses and certifications for social workers, mental health providers, teachers, engineers, barbers and cosmetologists.
Waiving burdensome fees & regulations for those relocating from Puerto Rico is a GREAT idea! Solid work @CarlosGSmith & @AnnaForFlorida! Secretary @HalseyBeshears should add this to the DBPR legislative package & @GovRonDeSantis should sign it. #Bipartisan #Deregathon #sayfie https://t.co/MfJlLLh0f3

— Matt Gaetz (@mattgaetz) January 31, 2019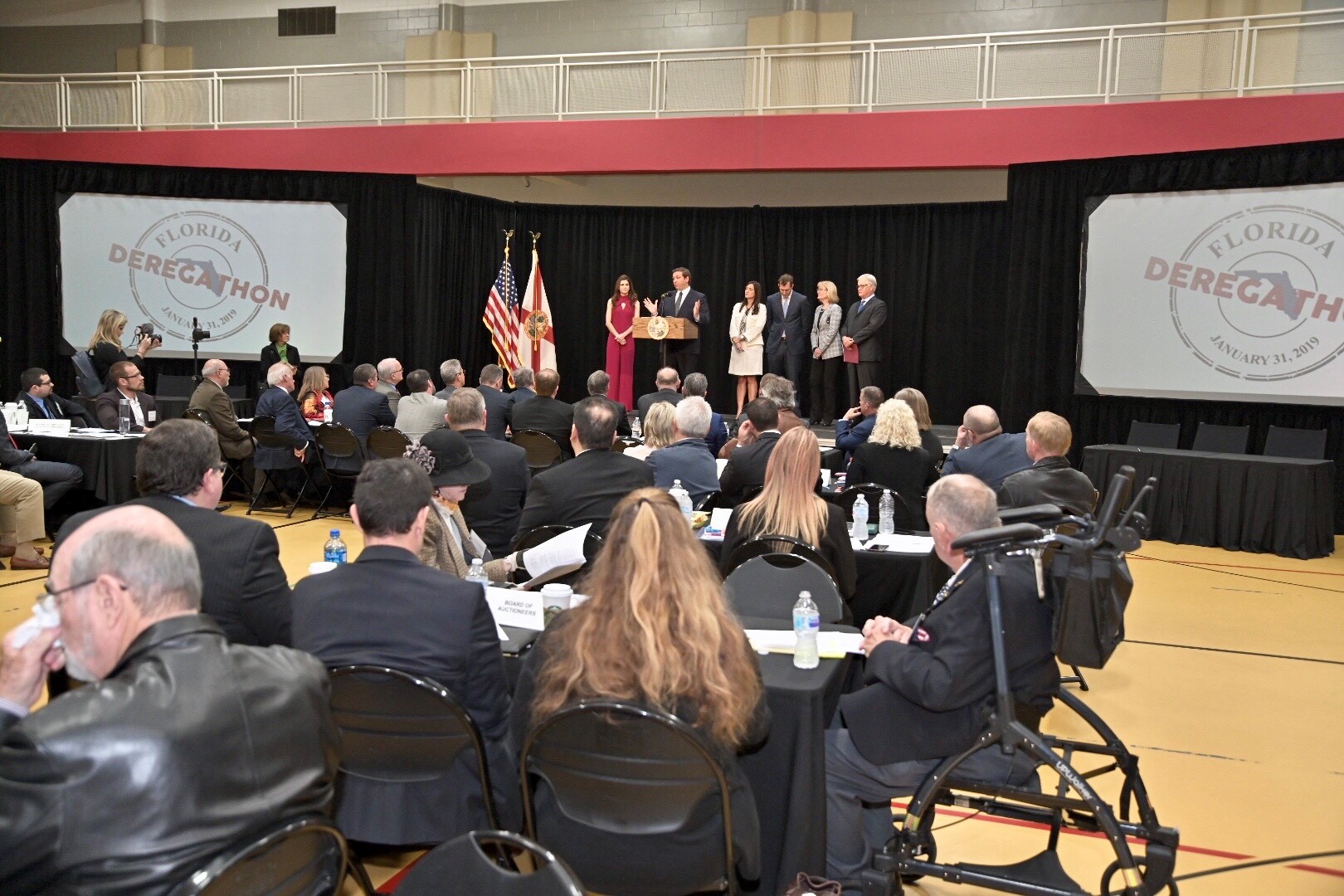 "'Rick is acting badly': Corcoran's thumbs did the talking while DeSantis kept quiet" via Matt Dixon of POLITICO Florida — When former Gov. Rick Scott made dozens of last-minute appointments on his way out of town, he was condemned for elbowing in on his successor … and the new governor's ability to shape his own administration. It was a clear breach of political etiquette, but DeSantis took the slight in stride, publicly remaining silent. Privately, though, his transition team was brooding even as they urged him to take the high road.

— ROAD TO SESSION —
"Lawmakers spending requests pile up" via the News Service of Florida — House members have already filed nearly 130 proposals, worth about $250 million, for local and regional projects to be considered during the 2019 Legislative Session. The House, unlike the Senate, requires members to file separate bills for spending proposals ahead of Session. The proposed projects range from a $30,000 request for the Okaloosa County Historical Museum Cooperative (HB 2019) by Rep. Mel Ponder to a $30 million proposal (HB 2087) by Rep. James Bush for the New African Heritage Cultural Arts Center. With nine projects worth a total of more than $57.7 million, Bush also has the most requests on the table.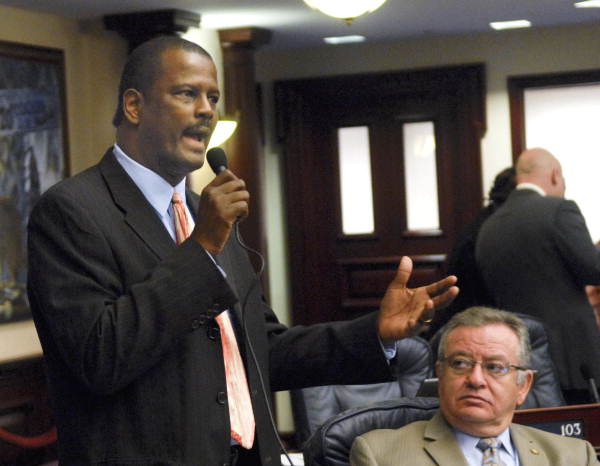 "Lawmakers clash on smoking ban on medical pot" via Samantha Gross of the Tampa Bay Times — Gov. DeSantis, who tasked the Legislature with changing Florida law to allow smoking medical marijuana, is facing a rift between chambers: The Senate is confident in its support, but the House is not so eager. Senate President Bill Galvano echoed DeSantis and said he is confident the Legislature will get something to the governor's desk by the March 15 deadline. Two bills have already been filed in the Senate to reverse the smoking ban — SB 182 and SB 372. In the other chamber, there's less urgency to repeal the ban on smokable medical marijuana. No bills have yet been filed, and House Speaker José Oliva criticized smoking medicinal marijuana as an option. He said smoking wasn't on the ballot, and that efforts to legalize smokable medical marijuana are just "some cover" for getting access to recreational marijuana. He pointed out that the drug is still illegal under federal law, and is still a concern because of its "highly marketable" quality.
"Florida First Step Act promises moderate reforms to prison system" via Andrew Pantazi and Ben Conarck of the Florida Times-Union — State Sen. Jeff Brandes' new bill, the Florida First Step Act, will allow judges to depart from mandatory minimums for drug trafficking charges — current law requires judges to apply mandatory minimums if certain drug weight thresholds are met; something Brandes has criticized as unfairly capturing users, not kingpins. The bill also calls for a series of changes to the prison system, including allowing inmates to earn more time off their sentence if they earn a diploma or participate in a new entrepreneurship program. The bill would require each judicial circuit to come up with alternatives to prison for people who commit technical violations of probation for things like not reporting to a probation officer when they move. Brandes has long said the prison system is overcrowded and underfunded. "I can't look any mothers in their eye and tell them their son or daughter is going to come out of the system reformed or be safe in the prison system today. That's unacceptable."
"Is health care the top reason for bankruptcies, as a Florida GOP leader said?" via Amy Sherman of PolitiFact Florida — "The two issues that Floridians and Americans are most controlled by nowadays financially are their health care, No. 1 reason for bankruptcy, and student loans, No. 1 debt for young people," Oliva told reporters during The Associated Press's legislative day. Research in 2009 found that in 62 percent of cases, medical illnesses or bills contributed to bankruptcy, based on surveys of the people who declared bankruptcy. But other academics have disagreed with that conclusion, particularly those who are wary that people tend to blame financial problems on illness when there are other reasons as well. A paper published in 2018 concluded that only 4 percent of adult hospitalizations resulted in bankruptcy, but that data also has limitations. It is difficult to pinpoint a top reason for bankruptcies because multiple factors could collide, causing someone's debt to mount and leading to bankruptcy. Researchers are still debating how different issues contribute. We rate this claim Half True.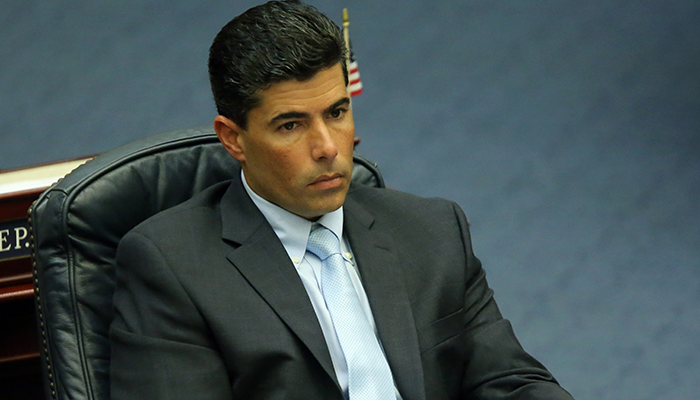 "Compromise aimed at insurance insolvencies" via the News Service of Florida — Compromise legislation hammered out between life- and health-insurance companies over liability for long-term care costs has been filed for the upcoming Session. Sen. Jeff Brandes filed SB 626, which would expand the lines of insurance subject to assessments to cover the liability of insurance companies that become insolvent. Long-term care insurance helps pay for such things as nursing home care or home health care. As policyholders lived longer, insurers saw claims skyrocket. Life insurance companies have generally written long-term care policies as a rider to health-insurance policies. Currently, though, only health-insurance companies face potential assessments in situations of insolvency. Under the compromise, life-insurance companies agreed to pay assessments. But the companies required that HMOs — some of which are owned by health insurance companies — also were liable for assessments.
"Legislation would allow patients to say 'no thanks' to pain pills" via Florida Politics — Legislation filed Thursday would give patients "the right to decide … whether to refuse an opioid drug in a doctor's office or hospital." The bills (SB 630, HB 451) are sponsored by Sen. Keith Perry of Gainesville and Rep. Scott Plakon of Longwood, both Republicans. The measures would authorize the use of a document called an advanced directive, similar to those that spell out people's wishes about their end-of-life care. "Far too many Floridians are struggling with addiction, and we must continue to look for ways to address the problem," Perry said in a statement.
What Chelsea Murphy is reading — "Byron Donalds wants grand theft laws loosened" via Jacob Ogles of Florida Politics — Stealing a new iPad mini will land you a grand theft charge in Florida, even though most states call that a misdemeanor. But a new bill filed by state Rep. Byron Donalds could bring the threshold for a felony theft charge in line with other states. … The legislation (HB 589) raises the limit for a petit theft charge from $300 up to $1,000. … The change will put Florida more in line with most other states. A 2018 study by The Pew Charitable Trusts shows only one other state, New Jersey, implements a lower threshold than Florida for grand theft. There, the limit for petit theft remains at $200. … A news release from Donalds' team notes the last time Florida lawmakers reviewed its thresholds, "websites did not exist, VCRs cost $300, and Ronald Reagan was our president." … The legislation also removes juvenile offenses as priors for repeat offenders potentially facing felony charges for petit theft third offenses.
Save the date: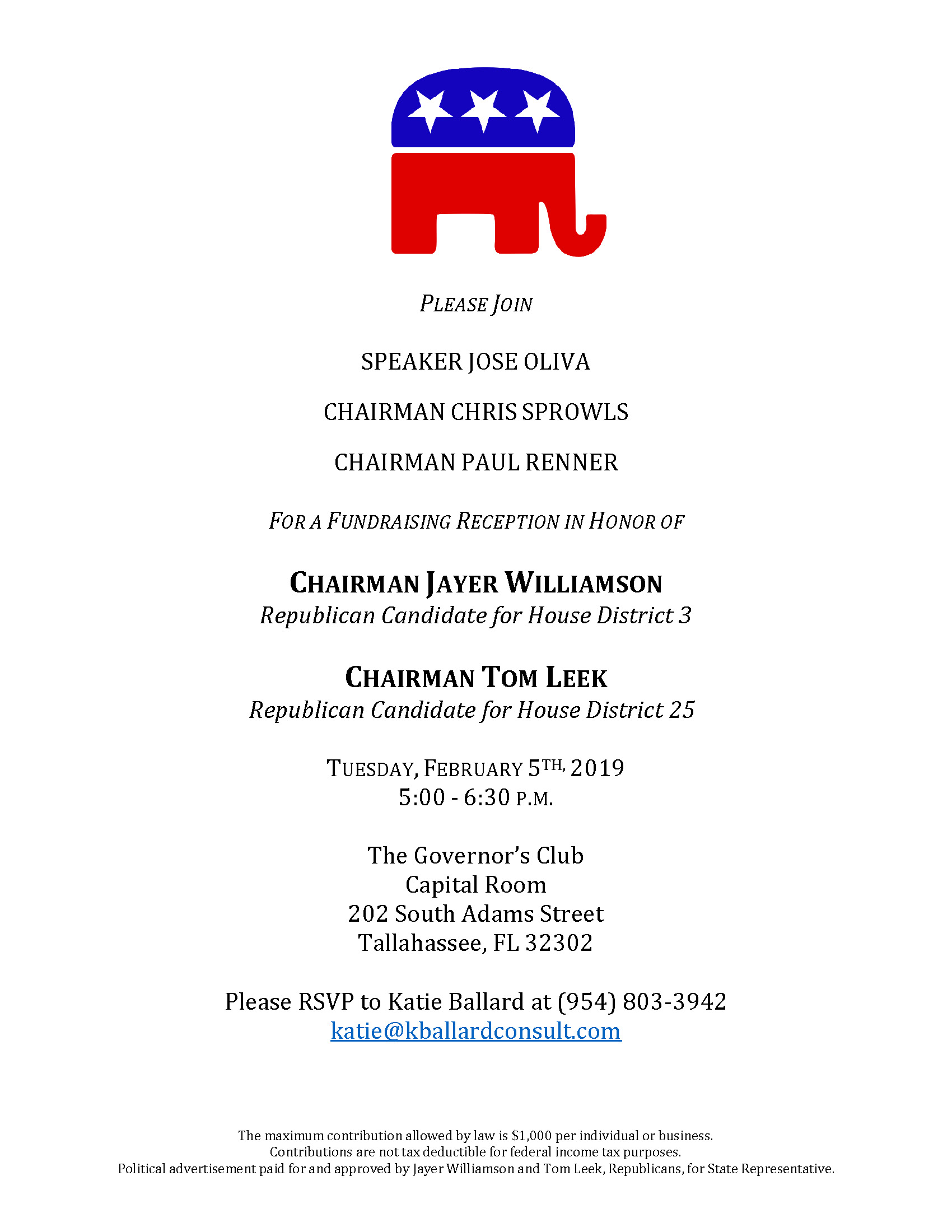 — STATEWIDE —
"Toxic masculinity is killing us" via Shannon Watts of Vogue — Last week, a 21-year-old man, armed with a 9mm handgun and ammunition he had legally purchased just five days prior, walked into a SunTrust bank in Sebring, Florida. He then forced the five women inside to lie down on the lobby floor before shooting them each in the back of the head. Police—who are still trying to determine the gunman's motive—say he wasn't planning to rob the bank. It appears he had a different and straightforward motive—simply to kill women.
"Air Force commits $3 billion to rebuild Tyndall after Hurricane Michael" via Ed Offley of the Panama City News-Herald — That Includes an initial investment of at least $40 million by the end of 2019, senior service officials announced at a community forum. Bay County officials said the ambitious reconstruction effort likely would create between 4,000 and 5,000 jobs, a major economic boon to the hard-pressed civilian community. "We are fully committed to the rebuilding of Tyndall Air Force Base," said John Henderson, assistant secretary of the Air Force for installations, environment and energy. A formal master plan for the base's recovery from Hurricane Michael will be sent to Congress this spring that will guide the Air Force's funding requests, he said.
"Jimmy Patronis: Hurricane Michael created a 'fresh start' for Air Force Base" via Blaise Gainey of WFSU — The base hosted it's first "Industry Day" since Hurricane Michael severely damaged it in October. "The fence at Tyndall air force base was blown away," Patronis said. "Now you can sit back and look — do we need a redesign the fence line in order to complement the public a little more? To allow some of the access and amenities that were not accessible due to security needs, now you've got a little bit of a blank canvas to work with. But what's important to me is that we act fast." Patronis says the faster base housing is built, the quicker the surrounding community can return to normal. The federal government has promised to rebuild the base, which was severely damaged during the storm.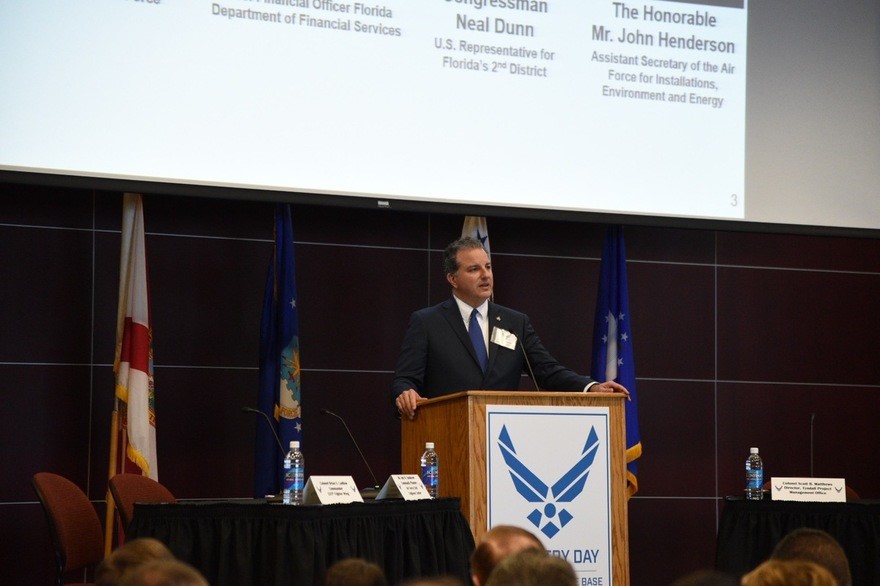 "Triumph chair Don Gaetz signals support for using some BP money for Hurricane Michael recovery" via Lynn Hatter of WFSU — Former state Senate President Gaetz presently heads the Triumph Gulf Coast Consortium, which controls $300 million in settlement money from the BP Oil Spill "We're looking for ways to stretch the impact of Triumph dollars to make sure we can make sure we can help communities that have been doubly-affected by two disasters get back on their feet," he says. A recent editorial in the Panama City News Herald argues against oil spill money for hurricane recovery, but Gaetz says there are places — such as economic development — where the fund could pitch in.
"Florida fails to reduce tobacco consumption" via Bruno Halpern of WGCU — A new report from the American Lung Association shows Florida must do more to prevent and reduce tobacco use, according to "The State of Tobacco Control." The report states that more than 480,000 people die every year in the U.S. due to tobacco usage. Tobacco remains the nation's leading cause of preventable death and disease. Florida earned failing grades in its effort to reduce tobacco consumption. One of the main reasons was the epidemic-level rise of e-cigarette use among high school students. From 2017 to 2018, it increased by 78 percent. That means more than a million kids are smoking e-cigarettes. The American Lung Association is calling on the Florida Legislature to enact Amendment 9, approved by voters last year, which expands current smoke-free protections to include e-cigarettes or vaping.

— LOCAL —
"UCF chairman Marcos Marchena steps down as fallout continues over misspent $38 million" via Annie Martin of the Orlando Sentinel — It wasn't immediately clear if Marchena would still have a role with UCF. The announcement came at a Board of Governors meeting. Just last week, President Dale Whittaker and former Chief Financial Officer Bill Merck were stripped by trustees of two years of bonuses worth tens of thousands of dollars because of their involvement in the funding controversy. Marchena, an Orlando lawyer, has been on the board since 2011.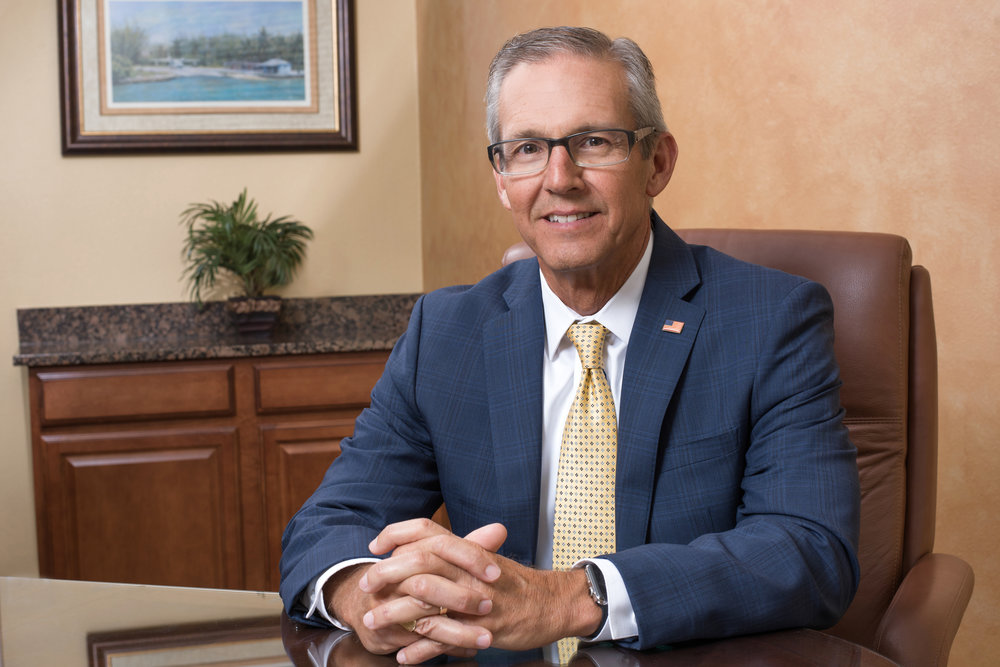 "Dozens file to assert property rights in Walton County beach access suit" via Florida Politics — More than 100 individual landowners and nearly two dozen condominium and homeowners' associations are seeking to intervene in a lawsuit by Walton County seeking a ruling that "recreational use" exists "on all private beachfront property in the county." … "It is no surprise that so many private beachfront property owners have chosen to intervene in the county's suit requesting a declaration to affirm customary use," said Tammy Alford, president of FlaCPR, in a statement … Beachfront property owners fear that if Walton County succeeds in getting a judicial determination that people can use beaches on what's legally private property, owners will have no say over who can use their property, putting that decision in the hands of county officials instead.
"Mote Marine Laboratory a step closer to building new aquarium" via Nicole Rodriguez of the Sarasota Herald-Tribune — Mote Marine Laboratory's plan to build a $130 million multilevel aquarium just west of Interstate 75 progressed with a key vote by the Sarasota County Commission. The commission unanimously approved an overall agreement with the laboratory, allowing Mote to begin due diligence on nearly 12 acres of county-owned land at Nathan Benderson Park, where the marine research giant plans to construct a state-of-the-art aquarium. The commission also authorized the county administrator to execute a short-term, two-year lease agreement with Mote Marine once the due diligence period — a six-month window that could be extended to as long as 15 months by Mote's request — is complete. "This is definitely a memorable day for Sarasota County," Commission Vice Chairman Mike Moran said.
— D.C. MATTERS —
"U.S. push to oust Venezuela's Nicholás Maduro marks first shot in plan to reshape Latin America" via Jessica Donati, Vivian Salama and Ian Talley of The Wall Street Journal — In sight isn't just Venezuela's Maduro, but also Cuba, an antagonist that has dominated American attention in the region for more than 50 years, as well as recent inroads made by Russia, China and Iran. The goal, the administration's thinking goes, is to sever ties that bind Venezuela to Cuba and sink regimes in both countries. The emerging U.S. assertiveness stems from the desire of the White House to reverse a partial rapprochement with Havana by the Obama administration through the easing of sanctions and the island's opening to U.S. investment. The Donald Trump administration's policy, developed over the past two years, has been driven in part by the ascent of Cuba critics including Mauricio Claver-Carone, a National Security Council official who had devoted much of his life to depose Fidel Castro.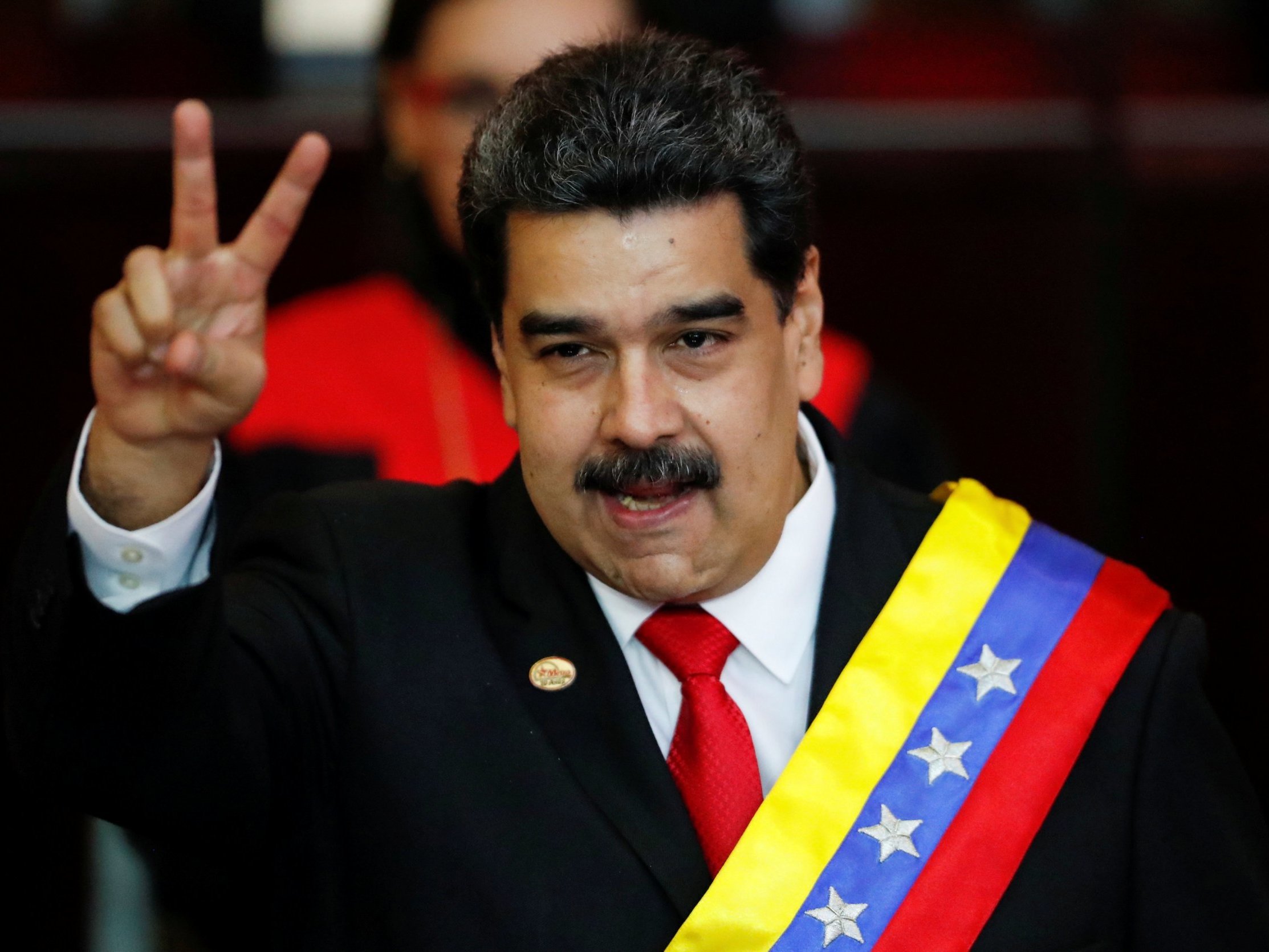 "Rick Scott says Donald Trump should use emergency powers to pay for a border wall" via Alex Daugherty of the Miami Herald — Scott said the president should bypass Congress and use Department of Defense dollars to pay for a border wall, after House Speaker Nancy Pelosi declared that there would be "no wall money" in a bill to fund the government beyond February 15. "If the Democrats refuse to work with him, then the president needs to use his emergency powers to fund border security and include a permanent solution for DACA and TPS," Scott said in a statement. Scott's position is new. He did not explicitly endorse a move that could divert Department of Defense funds from ongoing disaster relief projects to build a wall during the previous shutdown. An emergency declaration by Trump would almost certainly be challenged in the courts, though it would allow the president to sign spending bills to keep the government open without reneging on a campaign promise to build the wall.
"Roger Stone says he may fight a court muzzling" via Darren Samuelson of POLITICO —Roger Stone said Thursday he may appeal if he is hit with a gag order before his criminal trial for lying to Congress and obstructing lawmakers' Russia probe. Appearing at a wide-ranging news conference in Washington, D.C., the longtime Donald Trump associate said his legal team would try to make the case in federal court that silencing him could hurt his ability to make a living as a commentator while he fights back against the charges lodged by special counsel Robert Mueller.
"Scott gets Senate Homeland Security Subcommittee seats" via Scott Powers of Florida Politics — On the Senate Homeland Security Committee Scott will serve on the subcommittees on Federal Spending Oversight and Emergency Management, and Regulatory Affairs and Federal Management. On the Senate Committee on Commerce, Science, and Transportation he'll be seated at the Subcommittee on Communications, Technology, Innovation and the Internet, the Subcommittee on Science, Oceans, Fisheries, and Weather, the Subcommittee on Security, and the Subcommittee on Transportation and Safety. On the Senate Armed Services Committee, he'll be seated at the Subcommittee on AirLand, the Subcommittee on Cybersecurity, and the Subcommittee on Personnel. Scott also serves on the Senate Special Committee on Aging and the Senate Committee on the Budget, but neither has subcommittees.
"Marco Rubio introduces plan to prevent mass casualty attacks" via Anthony Man of the Sun Sentinel — The proposed Threat Assessment, Prevention and Safety Act would involve setting up a group of experts to provide recommendations to develop strategies to keep communities safe from target violence. They'd be charged with coming up with methods of assessing and managing threats using "evidence-based behavioral threat assessment and management processes." The goal is to create a uniform program to identify threats, provide training for combating threats and establish a grant program to help pay for local threat assessments efforts. One element would specify a specific threat assessment program for educational entities.
"ACLU tells Marco Rubio he doesn't understand how the First Amendment works" via Jerry Iannelli of the Miami New Times — Rubio is running this massive wing of America's foreign-policy programs despite the fact he seemingly does not understand how his own country's Bill of Rights works. She For years, Rubio has been pushing a series of bills aimed at cracking down on the so-called Israeli "Boycott, Divestment, and Sanctions" (BDS) movement — an activist boycott against Israeli companies that illegally conduct business in the occupied Palestinian West Bank and Gaza Strip. The problem with that plan, however, is that it is blatantly unconstitutional — the First Amendment clearly gives Americans the right to boycott whatever they want. So the ACLU was forced to explain to a sitting U.S. Senator how the First Amendment works. The group stated: "Your bill violates the core principle of the First Amendment: The government cannot dictate to its citizens which causes they can and cannot support."
"Michael Waltz leads Florida delegation seeking to keep drug task force in Florida" via Scott Powers of Florida Politics — Waltz, the Flagler County Republican and lieutenant colonel in the Army National Guard who serves on the House Armed Services Committee, led an effort that drew in the other 26 members of Florida's House delegation, in all 14 Republicans and 13 Democrats, a rarity. They co-signed a letter to Admiral Craig S. Faller, commander of the U.S. Southern Command, expressing full support to keep the task force in the Sunshine State. They joined Florida's two Republican U.S. Sens. Rubio and Scott who sent a similar letter last week, making it a unanimous push by Florida's members of Congress. The task force is a hub for coordinating drug interdiction efforts, not only between several American law enforcement agencies but also among partner nations in the region, dedicated to stopping the trafficking of illicit drugs and dismantling illicit and converging threat networks in support of national and hemispheric security.
"FEC complaints filed against Ross Spano" via William March of the Tampa Bay Times — Jan Barrow, president of the Lakeland Democratic Women's Club, filed complaints against Spano and two individuals who gave him personal loans totaling $180,000 during his campaign, Karen Hunt and Cary Carreno. Spano then loaned $167,000 to his campaign, saying on campaign finance reports the money came from his personal funds. Barrow's alleges that Spano's loans to his campaign came from the proceeds of the personal loans, and therefore violated campaign contributions limits. She also alleges that he purposely delayed filing a personal financial disclosure that would have disclosed the personal loans. "I feel strongly about this," Barrow said. "To me, it's not a partisan issue; it's an ethics and integrity situation."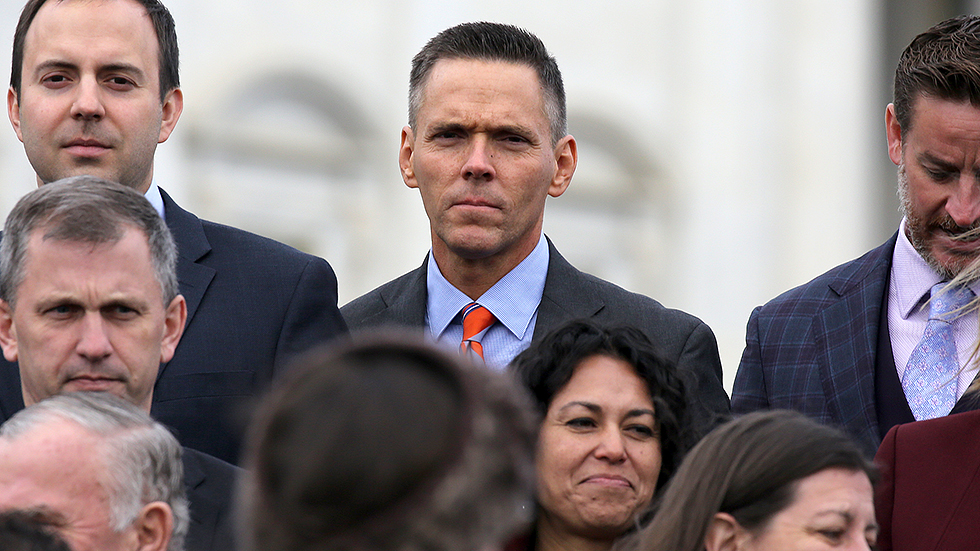 Sheila Griffin makes 'major announcement' Friday — Griffin, president of the Suncoast Black Republican Club and secretary of the Pinellas County Republican Executive Committee, will make a "major announcement" in Clearwater at 3 p.m. Smart money says she's laying the groundwork for a run against Democratic U.S. Rep. Charlie Crist in 2020. Crist recently earned a second term in the purple district with a convincing win over Republican George Buck. Griffin's event will be held at 10300 49th St N.
Lindsey Graham comes to the capital — The senior U.S. Senator from South Carolina is in Tallahassee for a fundraiser at the private Governor's Club downtown. Tickets for the event are going for $1,000 each. Graham, chairman of the Judiciary Committee, also sits on the Defense Appropriations and Armed Forces committees. He's seeking re-election to a fourth term in 2020.
— OPINIONS —
"Don't forget Hurricane Michael's victims" via the Tampa Bay Times editorial board — The Panhandle's low profile meant the media attention came and went, so the disaster never drew the major corporate donations that other storms did. Hurricane Irma, which caused less property damage than Michael, prompted $100 million in corporate donations through the U.S. Chamber of Commerce Foundation. Hurricane Michael: $27 million. That's a harsh reality — just like the conditions in which thousands of Floridians still find themselves living more than three months after the storm struck. Tarps on roofs. Families still in shelters. People taking refuge in their cars. The country and the state may have largely moved on from Hurricane Michael, but the Panhandle can't without a lot more support. Florida's big companies should give places like Bay County another look to see how they can help. Elected leaders should keep recovery efforts on the front burner. And ordinary citizens should not forget that fellow Floridians still need our help.
"Midtown must welcome customers or businesses won't survive" via Sally Bradshaw for the Tallahassee Democrat — Midtown is a welcoming, walkable, shop-able, eat-able and quirky neighborhood. Many neighborhood residents frequent my bookstore, and I'm so grateful for their support. Unfortunately, neighborhood residents alone cannot keep my bookstore, or the other local businesses, open for the long term. We have to welcome customers from outside Midtown. Few would disagree there is a significant lack of parking in Midtown. Just last week a gentleman told me he had attempted to stop by twice, only to ultimately leave because of the lack of parking. His story is repeated to Midtown merchants every day. The 331 spaces proposed by the city and private developers would exist as part of a centrally-located structure that would make walking to Midtown businesses a snap. It would not infringe on residential neighborhoods but instead sit squarely in the center of the busy commercial district.

— MOVEMENTS —
"Pam Bondi registers as federal lobbyist" via Florida Politics — Former Attorney General Bondi has signed up to lobby for the U.S. Institute Against Human Trafficking in Washington. Bondi, who now works at Ballard Partners, registered to lobby the U.S. House and U.S. Senate on behalf of the faith-based human trafficking prevention group. The lobbying registration form states she, firm founder Brian Ballard and fellow lobbyist Syl Lukis will advocate for "human trafficking awareness" and "federal financial participation."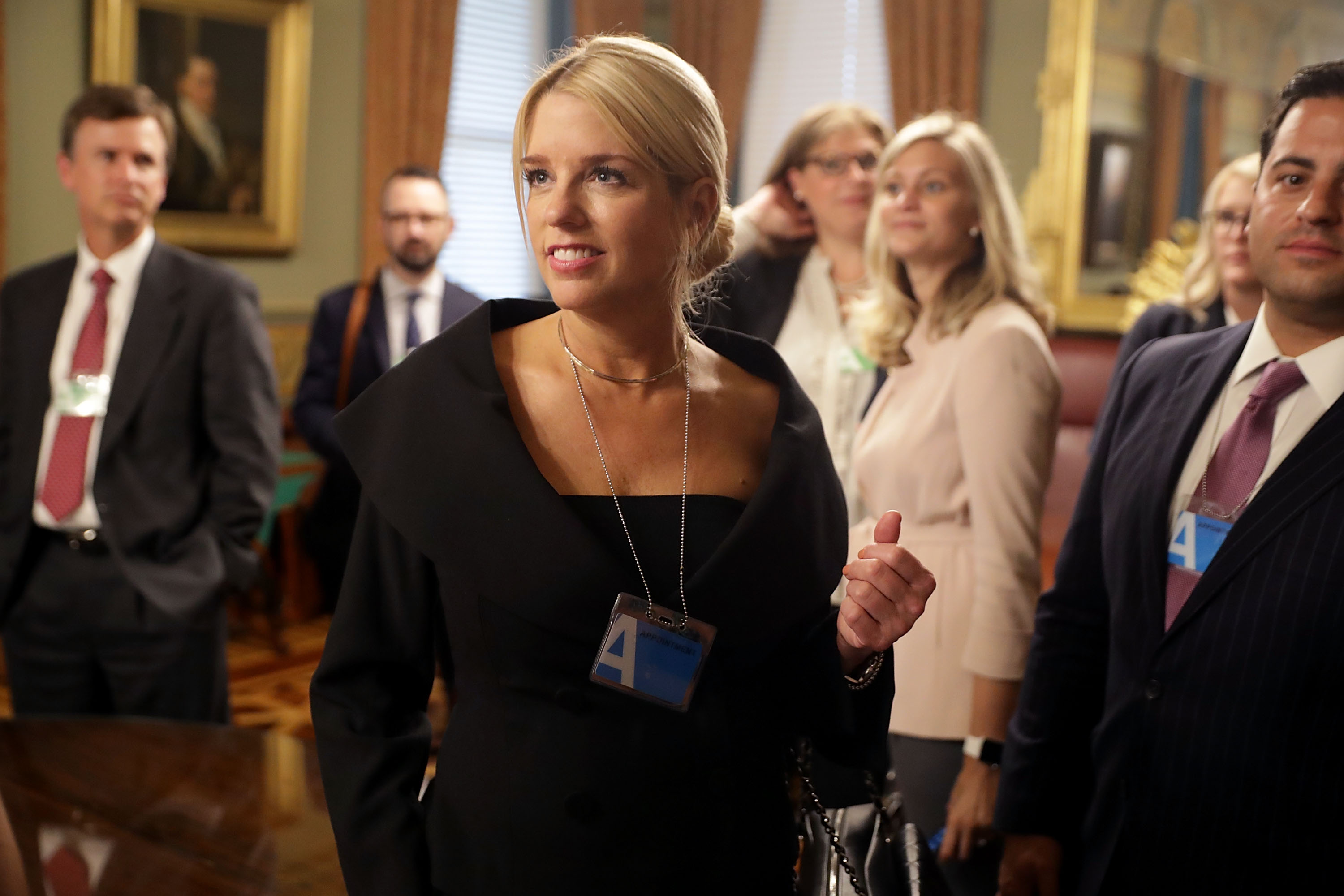 "Ex-Florida prisons chief lands New Mexico job" via Dara Kam of the News Service of Florida — Former Florida Department of Corrections Secretary Julie Jones will take a similar post on the other side of the country, after being hired by Gov. Michelle Lujan Grisham to head New Mexico's prison system. "Julie Jones had one of the toughest jobs in the country, and I'm thrilled she's agreed to come to New Mexico," Lujan Grisham said in a release announcing Jones' appointment. "Our Corrections Department needs assertive, proactive leadership, and Julie has demonstrated her ability to enact change in a statewide prison system." Jones led Florida's corrections agency for four years after being appointed by former Gov. Scott in January 2015. Before that, Jones had spent three decades in law enforcement at the Florida Fish and Wildlife Conservation Commission and the Department of Highway Safety and Motor Vehicles.
"Tom Rooney joins family firm" via Alex Gangitano of The Hill — Former Republican Rep. Rooney will be a principal at the federal and Florida state government relations practice Buchanan Ingersoll & Rooney. Art Rooney II, the congressman's first cousin, is the named partner in the firm's title. The new firm was formed in 2006 after Buchanan Ingersoll merged with Klett Rooney. "Joining Buchanan feels like coming home. I am excited about this next chapter of my career and the opportunity to still be of service to my community and continue to work on behalf of industries and causes close to my heart and of vital importance to Florida and the U.S. as a whole," Rooney said.
Florida Medical Association expands Washington presence with Anway Long Group engagement — The Florida Medical Association (FMA) announced it hired the Anway Long Group, a policy and government relations firm with offices in Washington, D.C., and Tallahassee to represent them on federal policy issues before Congress and the Trump Administration. "With the continued intense focus on health care issues, and on Medicare in particular, and given the Association's unique position as the representative organization for physicians in Medicare's second-largest state, it makes a great deal of sense for us to enhance our outreach efforts in D.C." CEO Tim Stapleton said. The FMA will engage in policy issues such as Graduate Medical Education funding, the development of alternative payment models in Medicare, and other issues impacting physicians in Florida and their patients.
New and renewed lobbying registrations:
Matt Bryan, David Daniel, Thomas Griffin, Jeff Hartley, Lisa Hurley, Jim Naff, Teye Reeves, Smith Bryan & Myers: Voice of Freedom d/b/a Florigrown
Dean Cannon, Rheb Harbison, Jessica Love, Mary McDougal, Joseph Salzverg, Jason Unger, GrayRobinson: Florida Academy of Physician Assistants, National Lightning Protection Corporation
Allison Carvajal, Ramba Consulting Group: Enviro-Cat
Carlos Cruz, Lauren DePriest, Cesar Fernandez, Converge Government Affairs of Florida: Walgreen Company
Carole Duncan, CLD & Associates: Safety Net Hospital Alliance of Florida
Candice Ericks, Ericks Consultants: 3 Boys Farm, Biotechnology Innovation Organization
Thomas Hobbs, Ramba Consulting Group: Enviro-Cat
Kelly Mallette, Ronald L. Book PA: City of North Bay Village
Douglas Mannheimer, Nelson Mullins Riley & Scarborough: U.S. Submergent Technologies
Bill Rubin, Heather Turnbull, Rubin Turnbull & Associates: Charter Communications
Paul Wharton, Paul W. Wharton Ph.D. Consulting: Verbatim Candle Co
"Personnel note: Sean Shaw joins Vanguard Attorneys in Tampa" via Florida Politics — Former state Rep. Sean Shaw, who came up short in last year's race for Attorney General, has joined Tampa's Vanguard Attorneys, which bills itself as "a boutique personal injury law firm." There, Shaw will work with former state Sen. Arthenia Joyner, who last served as the chamber's Democratic Leader. She was term-limited out of the Senate in 2016. Shaw, previously with Tampa's Merlin Law Group, was the first African-American nominee in Florida's history for Attorney General, the state's chief legal officer.
— WEEKEND TV —
Facing South Florida with Jim DeFede on CBS 4 in Miami: The Sunday show provides viewers with an in-depth look at politics in South Florida, along with other issues affecting the region.
Florida This Week on Tampa Bay's WEDU: Moderator Rob Lorei hosts a roundtable with Tampa Bay Times reporter Caitlin Johnson; Pinellas County Democratic chair Barbara Scott; Pasco County Republican Party chair Randy Evans; and Tampa Bay Times columnist Ernest Hooper.
In Focus with Allison Walker-Torres on Bay News 9: A discussion of DeSantis' funding requests to advance his clean water agenda in the fight against algae blooms and red tide. Joining Walker-Torres are Florida State Rep. Will Robinson; Charlie Hunsicker, Director, Manatee County Parks & Natural Resources Department; Traci Deen, Executive Director, Conservation Florida; and Marty Sullivan, League of Women Voters Florida.
Political Connections on CF 13 in Orlando and Bay News 9 in Tampa/St. Pete: This week's show will a have an update on the latest from Tallahassee; a preview of Trump's State of the Union Address; former Senator and Gov. Bob Graham will discuss how his experience in politics led him to become an author. (Show lineup subject to last-minute changes)
Politics on Your Side with Evan Donovan on News Channel 8 WFLA (NBC): Donovan continues his one-on-one interviews with candidates for Tampa Mayor. This week's guest is Mike Suarez.
The Usual Suspects on WCTV-Tallahassee/Thomasville (CBS) and WJHG-Panama City (NBC): Gary Yordon will speak with Florida Politics publisher Peter Schorsch and Bob McClure of The James Madison Institute.
This Week in Jacksonville with Kent Justice on Channel 4 WJXT: This week's guests are state Sen. Aaron Bean of Fernandina Beach, Jacksonville City Councilman Bill Gulliford, and Clay County Sheriff Darryl Daniels.
— ALOE —
"The mysterious career of Matthew Slater, special-teams superstar" via Roger Sherman of TheRinger.com — Slater has become a near-mythical figure in New England football lore. He embodies the Patriot Way by keeping quiet, doing his job, and putting the team's needs in front of his own. He's credited as the heart of the dynasty, a leader both on and off the field, and an inspiration to new players who need to learn how to fit in with the most successful franchise in modern sports history. Slater is a Patriots icon, known among fans for his coin-flip heroics, his pep talks, and his philanthropy. But I have never seen an explanation of what makes him worthy of being the most decorated special teamer in the NFL. So what, exactly, does Slater do? And more importantly: Is he good at it? Slater is listed on New England's roster as a wide receiver, but that's just a technicality. According to Pro Football Focus, Slater hasn't even run a route on a pass play since 2016. He played 19 offensive snaps during the 2018 regular season, and from the best that I can tell, 17 of them came because Slater has an honorary spot in the team victory formation. Slater's specialty has always been special teams.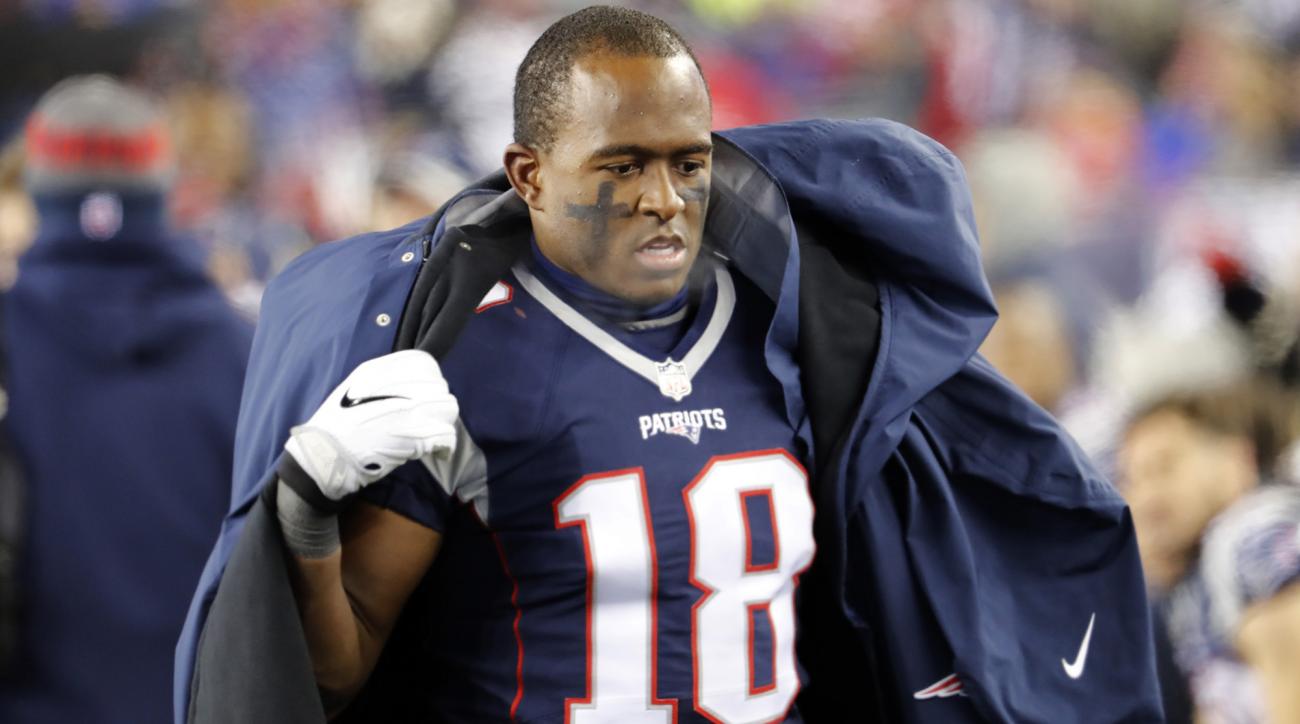 "Trump boosts Super Bowl betting" via Mike Synan of Florida Daily — Scott Cooley with Bet DSI says there are seven bets on his company's website related to Trump. Even more bets on Trump can be found across the spectrum. "It's something that people like to talk about," Cooley said about Trump. Cooley's company got a huge response last year by putting up what are called "prop bets" about the president. That being the case, this year, Bet DSI have expanded the options. "Wherever the mainstream media are, and the people are aggregating to, we want to try and capitalize on those hot topics and trending items," Cooley said. Bet DSI has prop bets including which will be the largest number: Trump's approval rating, or the longest field goal made in the Super Bowl on Sunday. Cooley said the big money right now is on a simple question: will the president attend the Super Bowl?
"RIP to the Super Bowl halftime show, no longer a cultural institution" via Maeve McDermott of USA TODAY — As the messy lead-up to 2019's Super Bowl LIII halftime show has shown us, things are quite different this time around, with the confirmed performers dealing with waves of bad press in the weeks leading up to what's supposed to be one of the most exciting gigs of their careers — proof of just how far the halftime show has fallen as one of music's so-called biggest nights. Months-delayed announcements, angry fan petitions, hard-line charity stipulations — this is not how halftime shows rolled out a decade ago. In the 10 years since Bruce Springsteen famously crotch-slid into a camera during his 2009 halftime show performance, the NFL became toxic to social-justice-minded artists and their fans — turning the once-coveted performance slot into guaranteed bad PR.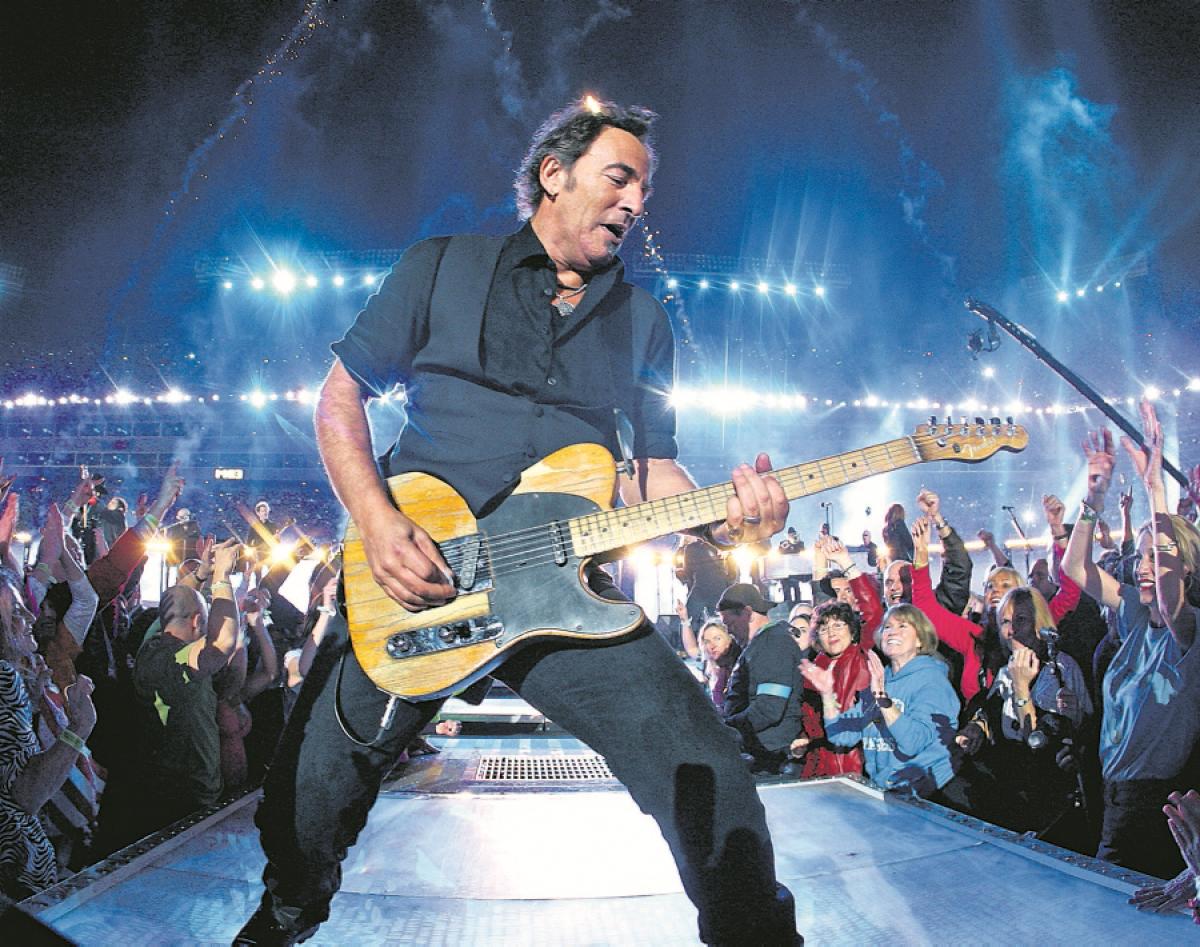 "Super Bowl ads offer simple escapism with star power" via Mae Anderson of The Associated Press — Star power abounds in this year's Super Bowl ads. As much as this year's Super Bowl will be a battle on the field between the New England Patriots and the Los Angeles Rams, it will be a battle between advertisers over who gets the buzz — and who gets forgotten. Celebrities are a relatively safe bet to garner goodwill from Super Bowl viewers who aren't looking to be lectured. There has been a retreat from more overtly political ads that were seen during the 2017 Super Bowl from such companies as 84 Lumber and Airbnb. "The big theme is a return to lighthearted humor," University of Virginia professor Kim Whitler said. "There's an acknowledgment the Super Bowl is about entertainment." Digital ads are expected to make up nearly 60 percent of ad spending by 2020, according to eMarketer, up from about 50 percent in 2018. Yet a 30-second Super Bowl ad can cost more than $5 million.
— HAPPY BIRTHDAY —
Belated birthday wishes to the uber-talented Kelsey Swithers of Bascom Communications and Consulting. The bench is deep over at BCC. More belated wishes to former U.S. Rep. Gwen Graham and our former colleague Ryan Ray. Celebrating today is Sen. Oscar Braynon, Kevin Beckner, and Emil Infante. Here's wishing Katie Webb of Colodny Fass a very special birthday. She turns 29 on Saturday.