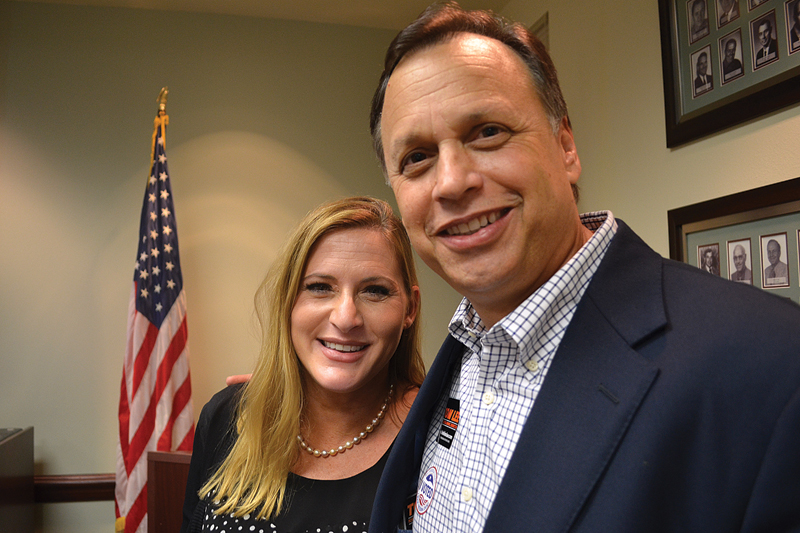 Many key players in Tallahassee know and trust her from way back.
When the original choice to be Florida's new Secretary of State resigned in scandal last week, Gov. Ron DeSantis knew he needed someone with integrity, experience, connections, and brains to take over.
Quickly, Laurel Lee became the obvious answer.
DeSantis moved decisively after photos from 2005 emerged of Mike Ertel in blackface as a Hurricane Katrina victim at a Halloween party. Ertel immediately resigned and DeSantis zeroed in on Lee.
"The call came through last Saturday, asking if she would take the position," said her husband, state Sen. Tom Lee of Thonotosassa. "We talked it over, considered everything, and by Sunday night she agreed to accept."
It helped that she had already been vetted because DeSantis considered her last summer as his choice to be Lieutenant Governor. It enabled the new Governor to put the first real hiccup of his administration in the rearview mirror.
She still must be confirmed by the state Senate, but that shouldn't be a problem because Lee's credentials are impeccable. Her husband sees that as a rare opportunity.
"I'll be the envy of every spouse in the state," he said with a chuckle. "I get to ask my wife questions while she's under oath."
Actually, he will certainly recuse himself from the discussion.
"Maybe I'll slip the questions to someone else," he said.
Laurel Lee has served as a judge since 2013 in Hillsborough County's 13th Judicial Circuit. She has been a prosecutor and an assistant federal defender. Lee also was on the board for the Pepin Academy K-12 charter school.
She has been a member of the Federalist Society, and she also was a volunteer lawyer for the Bay Area Legal Services Domestic Violence Assistance Project.
Oh, and she is a member of Mensa.
"She's a really unusual character," her husband said. "She was a fitness model too while back in college. You usually don't get all of that in one package.
"Even more than all that though, she is the most caring and loving person I know. She has that kind Princess Diana persona. People like to be around her."
Many key players in Tallahassee know and trust her from way back. That's another factor that made Lee an easy choice.
Attorney General Ashley Moody has been a close friend since their days at the University of Florida. When Moody ran to be a Circuit Court judge in 2006, Lee was her campaign treasurer.
She clerked for Moody's father, U.S. District Judge James A. Moody.
Lee was a sorority sister with Adam Putnam's wife Melissa. Agriculture Commissioner Nikki Fried was in Blue Key Leadership Honorary at Florida with Lee.
"I think she will be a breath of fresh air in Tallahassee," Tom Lee said. "Everyone who has had experience in her courtroom gives a glowing response when they talk about her, whether they won or lost their case."
The Secretary of State oversees Florida elections, among many other tasks. As we know, Florida doesn't have the best track record with elections. Lee will be a key figure in helping the state prepare for 2020 and repair its image as a ballot bumbler.
"This will be a cultural change for her, but she is ready," Lee said.
That transition is underway. Laurel Lee already arrived in Tallahassee, where she is learning about her new duties. She will enroll the couple's young daughter in school there, while she and Tom Lee work out the mechanics of a distance relationship. He, of course, must maintain a residence in Hillsborough to keep his state Senate seat.
"I have no intention of leaving my constituents high and dry," he said. "We'll sort through the residency issue and figure out how to make it work. I'm just so excited for her. She has a great chance to make a real difference, and I'm sure she will. She is the right person for the job."