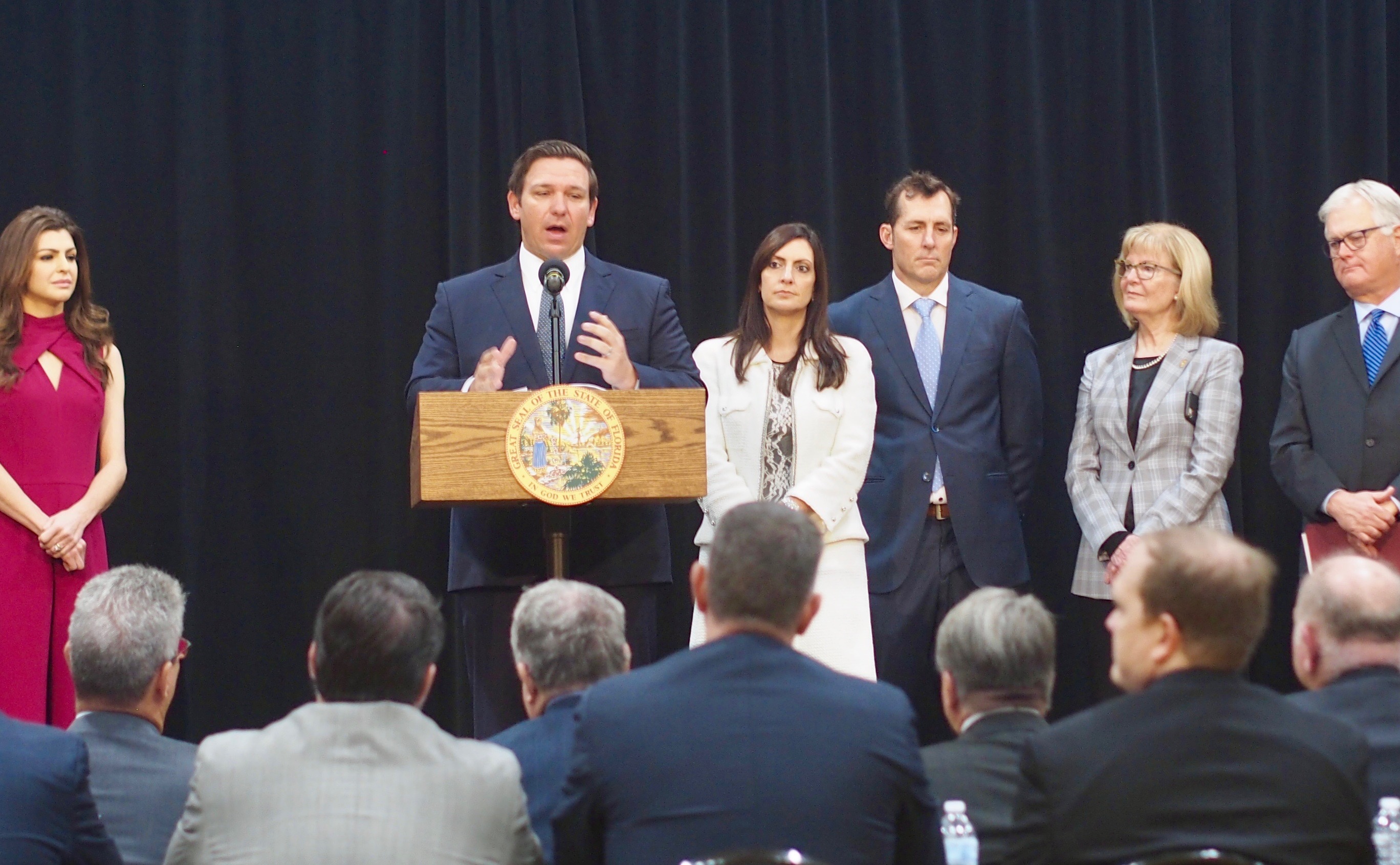 "Florida's occupational licensing system needs to be overhauled," DeSantis said.
Why does Florida even license interior designers or lab technicians? And why do barbers have to have 2,000 hours of training before they can get licenses?
Gov. Ron DeSantis posed those kinds of questions as challenges Thursday to 17 Florida licensing boards assembled for a day-long "Deregathon" workshop in Orlando. His edict: that they find ways to pare back licensing requirements that he believes are preventing some Floridians from launching careers.
"Are we putting up roadblocks to success or are we welcoming people into these?" DeSantis said. "I think Florida's occupational licensing system needs to be overhauled."
DeSantis, joined by Lt. Gov. Jeanette Nuñez and Florida Business and Professional Regulation Secretary Halsey Beshears who are essentially chairing this event, kicked off the workshop with the demand that they consider the difference between licensing requirements that protect the public and those he said appear to protect the professions from competition.
"I think it's legitimate to have regulations or licensing goals of protecting consumers and protecting the safety of the public. I do not think it is legitimate goal of of regulation or licensure to try to create a guild to basically raise prices for consumers," he said.
DeSantis is in effect asking the state's licensure boards such as the Barbers Board, the Real Estate Appraisal Board, the Board of Landscape Architecture, the Board of Pilot Commissions, the Construction Industries Licensing Board and others to relinquish some of their powers over their professions, particularly the gateway powers of deciding who can practice and who cannot.
He, Nuñez, and Beshears took turns arguing that licensing requirements are preventing people from starting careers, and may most impact lower-income people struggling to develop professions while holding down one or more low-wage jobs.
"The professions you represent have long been considered the gateways to hard-working careers. But over time, unintentional regulations have managed to create more of a gate and less of a gateway for those who wish to access the professional labor force," Beshears said. "They actually wind up hurting the people we're trying to help the most. And they stifle competition."
The 17 boards each had their own tables spread out Thursday across the gymnasium floor of Valencia College's East Campus. Their directive is that they spend several hours Thursday hashing through the governor's challenge, and then present reports and recommendations at the end of the day. The audience also was filled with a handful of lobbyists representing various professional interests concerned about the quality and credibility of their professions, which could be compromised if the gates are opened too far.
DeSantis charged that Florida's occupational licensing system is in many ways more onerous than most other states, including New York and California, saying "We're out of step." The Republican governor even cited a report from Democratic former President Barack Obama's administration bemoaning that states' licensing has become a barrier to employment.
DeSantis went after barbering regulations a couple of times. "You see all these different areas where we require some of this stuff, and I look at it and say, '2,000 hours just to get a license to become a barber? Is that really? If it was 1,000 hours would somehow the public be at risk from that? That's what I want you guys to do, to be honest about it."