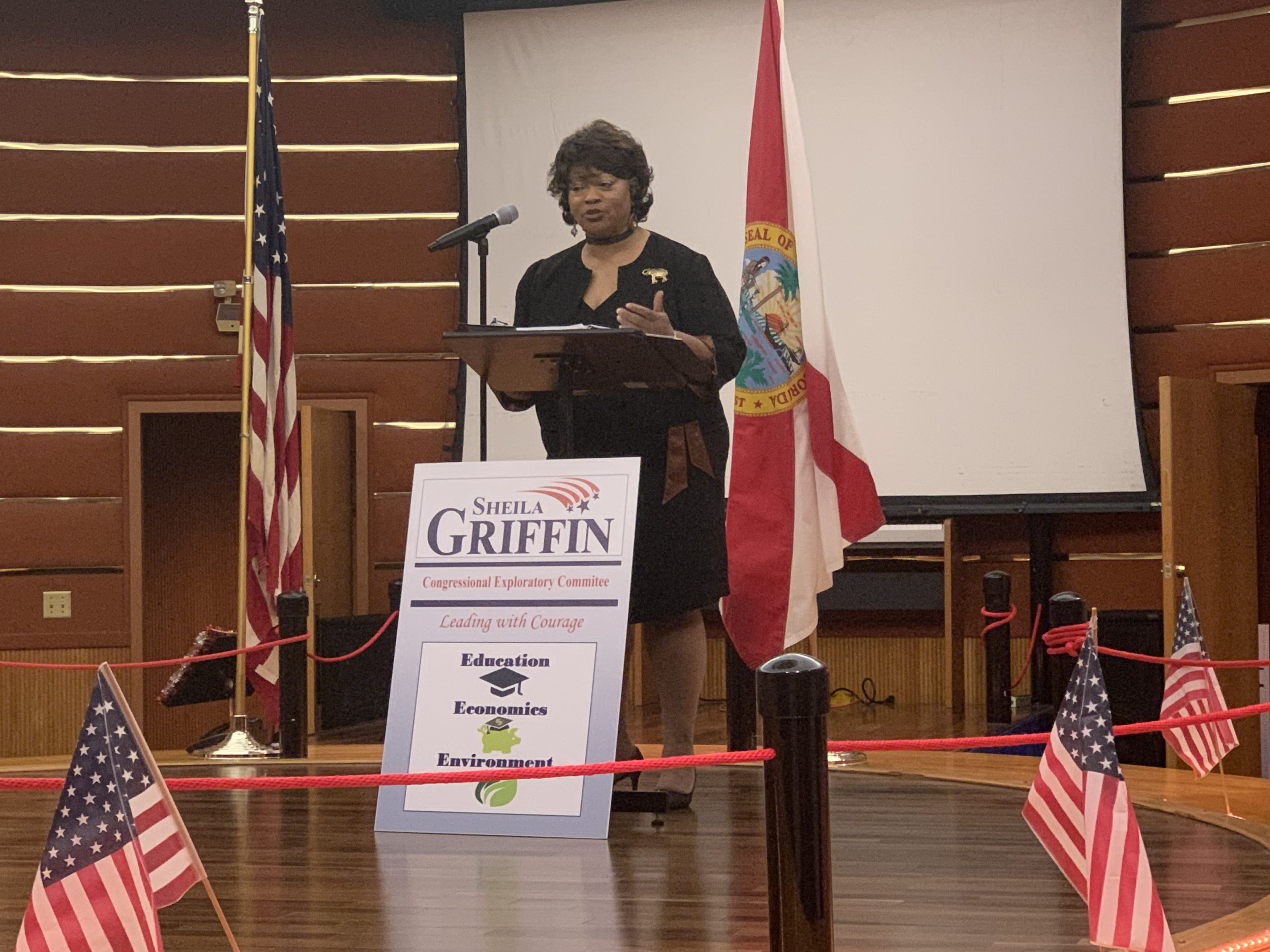 "I won't be changing my mind about what party I want to represent."
Former St. Petersburg City Council candidate Sheila Griffin launched an exploratory committee Friday to determine whether to challenge Charlie Crist in 2020 for Congressional District 13 in Pinellas County.
Griffin's comments during a launch party at an office building near Quaker Steak and Lube in Pinellas Park sounded like those made by someone who's already made up her mind.
"As we look forward … [constituents] deserve to have a leader that is engaged," Griffin said. "They deserve to have somebody who already has substance and I am that person."
Griffin is something of an outlier in Pinellas County politics.
When she ran for City Council in 2015 she was the lone Republican in the race to replace Wengay Newton. Lisa Wheeler-Bowman, then Lisa Wheeler-Brown, wound up soundly winning that race after Griffin's campaign failed to gain momentum.
She took a political hit when reports surfaced that her law license had been suspended by the Florida Bar twice in 2007 and 2011 over ethics complaints that included her failing to adequately represent a paying client.
Griffin claimed it was a simple misunderstanding involving case information she never received because she was working out-of-state at the time.
Now Griffin is stepping back into the political spotlight hoping to unseat Crist.
"There is a path to victory," Griffin said, referring to doubts that a Republican could win in a district that now solidly favors Democrats.
Griffin hit Crist on his past political flip-flops, switching first from the Republican Party to no-party affiliation and then later to the Democratic Party.
"I won't be changing my mind about what party I want to represent," Griffin said to a chorus of "amens."
If Griffin does run, she'll do so on a three-point platform: Education, economy and environment.
On education, Griffin said she supports school choice.
"Your zip code should not determine whether your child gets the education they need," she said.
Griffin also blasted the current Congress for failing to pass a balanced budget. She likened the continued climate in Washington of driving up the national debt instead of balancing the budget, to buying a child a new bike when the family can't afford to pay their bills.
Despite her optimism and enthusiasm, Griffin said she still has a long way to go before deciding whether or not to run. She said she will be meeting with local and national Republican groups over the next weeks to gauge support and will closely monitor how much money she's able to raise before deciding if a bid against a well-funded Democrat is a worthy endeavor.
From the looks of her initial announcement, it doesn't look promising. About 20 people showed up to her exploratory committee launch. Of those, nearly half were family members. Griffin said she's working to gather support through an online platform on a newly launched website, Twitter and through meetings with black Republican constituent groups.
Griffin said it's a step worth looking into.
"When people who are qualified to step up don't, people who aren't, (will,)" Griffin said.