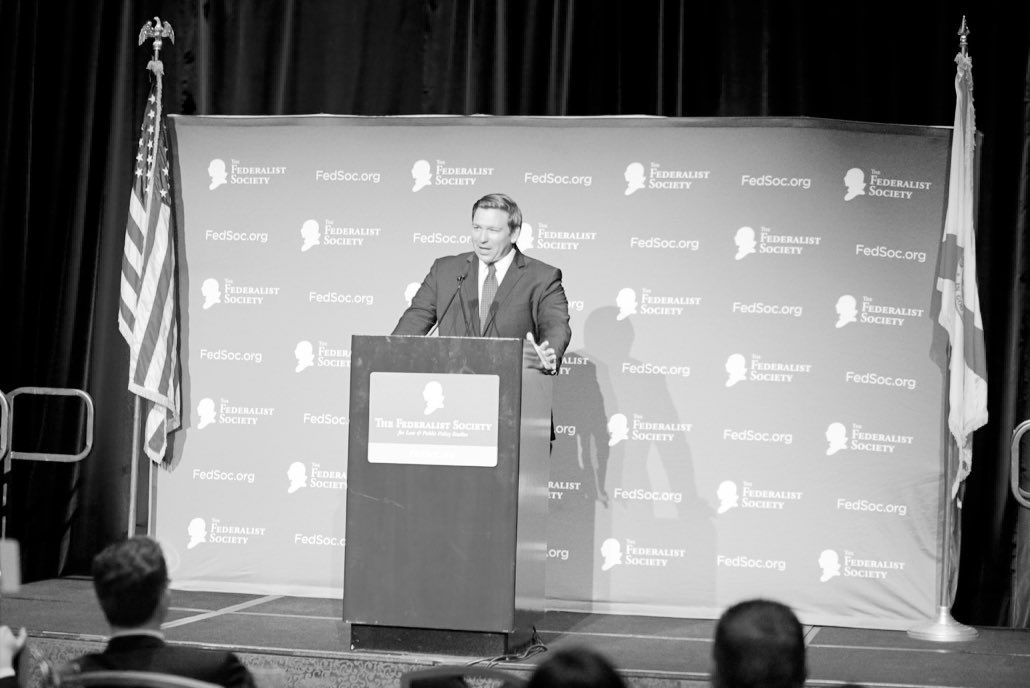 Florida's new governor slammed the high court for redistricting rulings.
Gov. Ron DeSantis told legal conservatives Friday that the Florida Supreme Court too often favors Democrats in rulings, such as in redistricting cases. But he promised that will now change.
Speaking at the annual convention for the Federalist Society, held this year at the Convention Center at Yacht & Beach Club in Lake Buena Vista, the Republican slammed Florida's high court as an activist one.
"You have a court that's constantly gone beyond the bounds of what is judicial into the realm of what is really legislative," he said, in comments first reported by Florida Trend's Jason Garcia.
"By the way— is this just a big coincidence?" he said. "Anything that had a political color to it just always happened to be decided in the way of the Democratic Party."
He specifically cited redistricting as a concern.
The state Supreme Court in 2015 rejected a congressional map drawn by the Florida Legislature in favor of one drawn by the League of Women Voters and other groups.
Of course, under that map, Florida voters in November still elected a majority Republican U.S. House delegation.
There's now a 14-13 split, elected the same cycle voters elected a Republican governor and U.S. senator by less than a 0.5-percent margins.
But those at the event celebrated a dramatic shift in the court following DeSantis' election. The new governor in his first few weeks on the job had the chance to appoint three justices to replace jurists retiring because of age.
Legal experts now consider the court a 6-1 conservative body after years of being regarded as a split or liberal make-up.
DeSantis earned a standing ovation mentioning his judicial appointments.
The governor also expressed a desire to see constitutional amendments placed during special elections after watching voters approve nearly everything at the bottom on ballot in November.
And speakers at the Federalist Society events suggested conservative in leadership in Tallahassee would also translate to election supervision more favorable to conservatives.
"We need to start putting people in these [election supervisor] positions who have experience and credentials," said Chris Sautter during a panel at the event. "Florida needs more unified rules and structures."
Kendall Coffey, another speaker, said a conservative justice department will allow efforts to stop voter fraud to move forward as well.
"Election crimes tarnish the sanctity of democracy," he said. "The DOJ wants to do more and should do more. No level of fraud is acceptable."