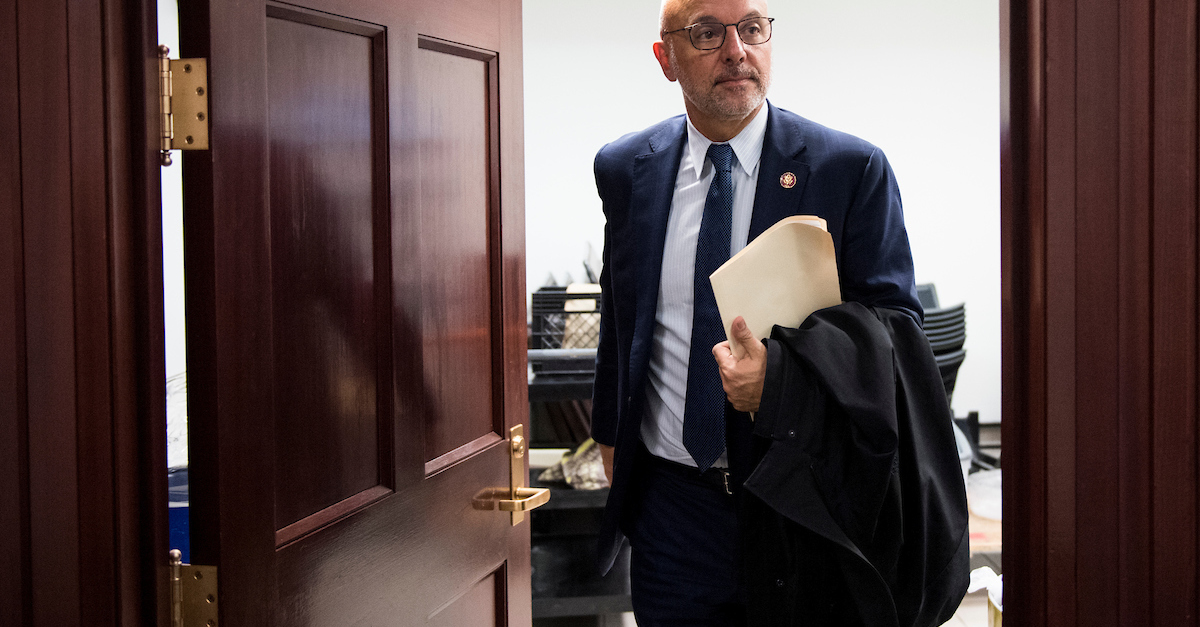 Omar is being condemned for amplifying conspiracy theories surrounding Jewish money.
U.S. Rep. Ted Deutch has joined the chorus of criticism over a pair of recent tweets from U.S. Rep. Ilhan Omar of Minnesota, calling her comments "anti-Semitic." Those calls have since prompted Omar to apologize.
Omar tweeted in response to a report that Republican Leader Kevin McCarthy would seek to reprimand her and U.S. Rep. Rashida Tlaib of Michigan for their criticisms of Israel. Omar, who is Muslim, tweeted of McCarthy's desire to punish her, "It's all about the Benjamins baby."
When asked by a fellow Twitter user who she thought was "paying" McCarthy, Omar tweeted, "AIPAC!" The American Israel Public Affairs Committee (AIPAC) is a pro-Israel lobbying group.
While criticizing politicians for acting on behalf of their donors is a well-worn rallying cry, Omar was roundly condemned for amplifying offensive stereotypes and conspiracy theories surrounding Jewish money.
"One of the oldest anti-Semitic conspiracies is about Jewish money as an instrument of global domination," said U.S. Sen. Marco Rubio.
But Omar wasn't just hammered by Republicans. Deutch joined Democratic House Leadership in calling out the comments as well.
"Trafficking in anti-Semitic tropes is unacceptable and deeply worrisome to the Jewish community," Deutch said.
"The use of stereotypes and offensive rhetoric by members of Congress, whether anti-Semitic or racist, must come to an end. They should never be a part of any conversation about the policies of Congress. They do not belong in any conversation, period."
Monday afternoon, Omar released a statement apologizing for the remarks, though maintaining her criticism of AIPAC's lobbying efforts.
"Anti-Semitism is real and I am grateful for Jewish allies and colleagues who are educating me on the painful history of anti-Semitic tropes," Omar said.
"My intention is never to offend my constituents or Jewish Americans as a whole. We have to always be willing to step back and think through criticism, just as I expect people to hear me when others attack me for my identity. This is why I unequivocally apologize.
"At the same time, I reaffirm the problematic role of lobbyists in our politics, whether it be AIPAC, the NRA or the fossil fuel industry. It's gone on too long and we must be willing to address it."
This isn't the first time Omar's comments have been labeled "anti-Semitic." In 2012, she tweeted during a conflict between Israel and the Palestinians, "Israel has hypnotized the world, may Allah awaken the people and help them see the evil doings of Israel."
Omar has since called that phrasing an "ugly sentiment" and "offensive." She also recognized it as an "anti-Semitic trope" which she used "unknowingly."
Speaker of the House Nancy Pelosi was joined by House Democratic Leadership in releasing a statement on Omar's AIPAC comments.
"Anti-Semitism must be called out, confronted and condemned whenever it is encountered, without exception," the members wrote.
"Congresswoman Omar's use of anti-Semitic tropes and prejudicial accusations about Israel's supporters is deeply offensive. We condemn these remarks and we call upon Congresswoman Omar to immediately apologize for these hurtful comments."
That apology request has since been acceded to by Omar. However, no formal punishment has been issued. The National Republican Congressional Committee (NRCC) pounced on the statement from Democratic leadership for its purported lack of teeth.
"Nancy Pelosi and her leadership team have made clear there are no consequences for the anti-Semites in their caucus," said NRCC Spokeswoman Camille Gallo.
In his remarks, Deutch, who is Jewish, said he planned to reach out to Omar directly to discuss the impact of her comments.
"I look forward to exploring productive and effective ways to ensure that all my colleagues understand why this is so hurtful to me and my community and why it cannot be tolerated in the U.S. House or Senate," the Boca Raton Democrat said.