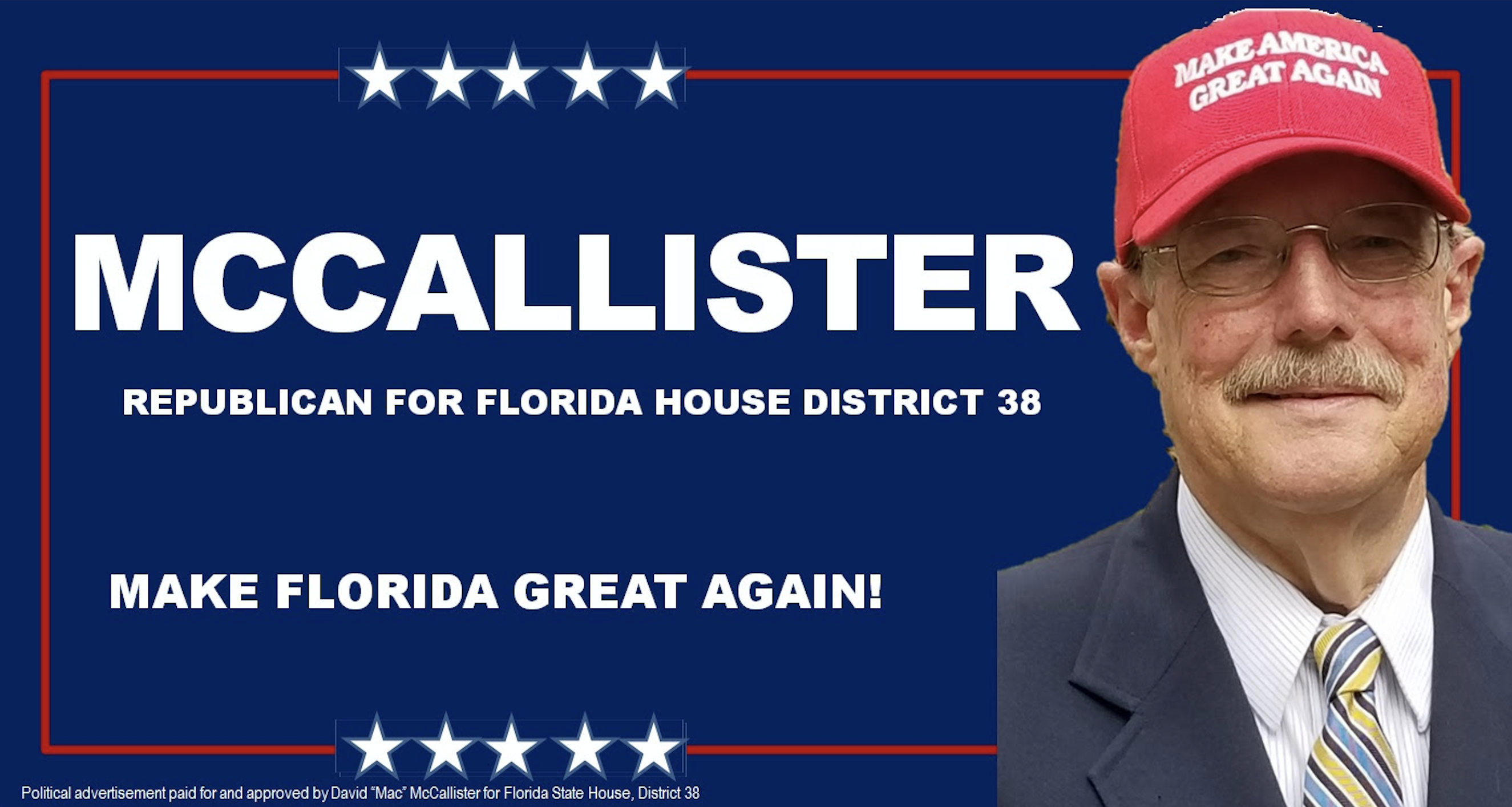 "The radical left's agenda is to destroy the past in order to control the future."
A Tampa Bay conservative firebrand is running in the House District 38 special election to replace Danny Burgess.
David "Mac" McCallister is running as a pro-Trump Republican for the Pasco County district.
Burgess vacated office to head the state's Department of Veterans Affairs.
McCallister is best known in the region for his advocacy on southern heritage issues and has for years been a mainstay at Hillsborough County Commission meetings advocating for Confederate issues as the head of the local chapter of the Sons of Confederate Veterans.
McCallister also spearheaded the group Save Southern Heritage in efforts to save a Confederate monument in front of the Hillsborough County Courthouse that was ultimately unsuccessful. The monument was moved to a private cemetery.
The group came under fire for doxxing more than 100 civil rights activists who were advocating for its removal. The group considered filing suit against the group but ultimately dropped its pursuit.
"This issue is kind of fake news really," McCallister said. "It's only been made divisive by far left liberals. When I've stood up and spoken for veterans, it's for all veterans."
McCallister told Florida Politics he's running to be a Donald Trump ally in Tallahassee and will support the President's America First agenda including removing restrictions on bump stocks, banning removal of historical monuments including Confederate ones, stopping sanctuary cities and protecting the "unborn and newly born" by supporting fetal heartbeat legislation.
"The radical left's agenda is to destroy the past in order to control the future," McCallister said about preserving historic monuments.
Asked to elaborate on that agenda, McCallister said there is any number of examples of ANTIFA and Democratic Socialist groups, and he suggested researching vandalism on things like the Lincoln Memorial and a Vietnam Veterans Wall memorial in California.
Vandals indeed have defaced such monuments in recent years, though authorities in most cases have not identified a culprit.
Still, McCallister sees an erosion of history that could lead to the military members of today not being properly honored tomorrow.
While his ideas might not be popular in urban centers, McCallister's views are better received in the deep red Pasco district. The voting population is more than two thirds white and Democrats typically don't even dare run for a seat. In the 2018 election, no Democrat ran. 
Before that Burgess ran unopposed.
It's a mostly rural district where McCallister's commitment to upholding Second Amendment rights is likely to be well-received, though his plan to overturn a ban on bump stocks is controversial. Even Trump, who McCallister vows to align his policies with, has supported banning them.
Bump stocks use a semi-automatic rifle's recoil to allow the shooter to fire in rapid succession, mimicking the firing action of a fully automatic weapon. The tools were banned in places all over the country after the 2017 Las Vegas shooting in which a bump stock-equipped weapon was used in the mass shooting at an outdoor concert that led to 59 deaths and more than 800 injuries.
Supporters of such bans argue bump stocks are a way to get around restrictions on automatic weapons through a fairly simple modification.
But McCallister said the ban is a "slippery slope" leading to further infringement on gun rights, which he calls "a God-given right embodied in the constitution."
"It's not the bump stocks that is the problem," McCallister said. "The thing to do is focus on the criminal themselves. There's nothing wrong with having a bump stock on your gun."
McCallister further drew a correlation between the "attacks" on gun rights and banning airplanes, which have been used to kill en masse as well — the point is that most would find that ridiculous.
McCallister did say he was amenable to ensuring proper background checks to ensure guns did not wind up in the wrong hands as long as such measures weren't "a means of depriving people of their rights."
McCallister will face Randy Maggard in the Republican Primary April 9. Maggard is active with the Pasco County Republican Party and has backing from some of the region's top GOP officials including Sen. Wilton Simpson who is slated to serve as Senate President next year.
McCallister called Maggard the establishment candidate.
"We have our own little swamp in Tallahassee and I want to help clean that up," he said. "We don't need never Trumpers."
The winner of the Republican Primary will face Democrat Kelly Smith in the general special election June 18.