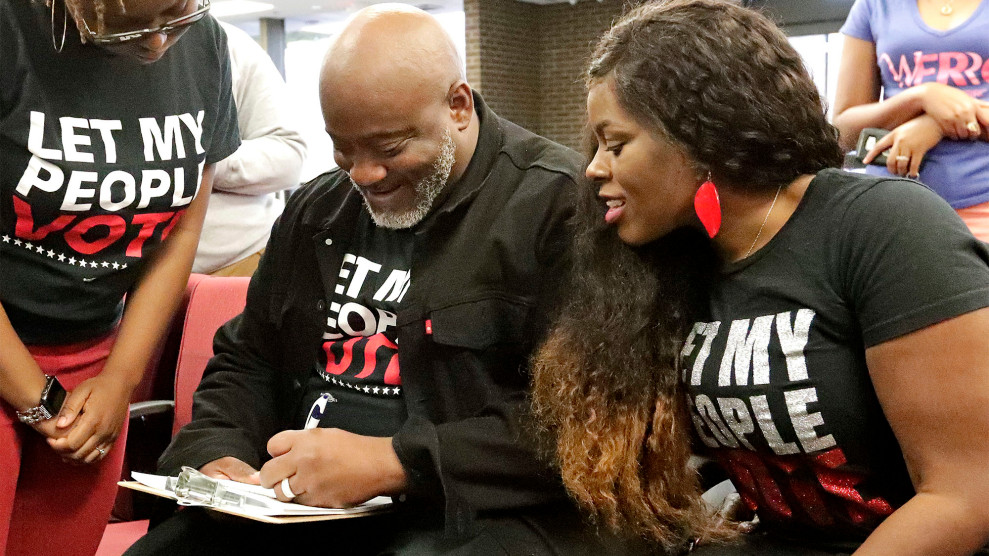 "There is not a document that says, 'You have completed your sentence.'"
Floridians who have been convicted of most felonies and completed their sentences can and are being registered to vote under Amendment 4 but a House hearing Thursday shed light on numerous ambiguities in Florida law and practice that show the system is full of holes.
Florida does not have a concrete system to determine whether people have completed their sentences, there is uncertainty about the broad definitions of the two disqualifying groups of felonies, murder and sex crimes, and there is complexity in tracking and confirming out-of-state felony convictions, a joint hearing of  Thursday of the House Judiciary Committee and the House Criminal Justice Subcommittee revealed.
Those are among the issues that the Florida Legislature will have to tackle as it deals with the constitutional amendment overwhelmingly approved in November by Florida voters, restoring voter rights to an estimated 1.4 million Floridians who've completed their felony sentences, and who were not convicted of murder or sex crimes.
As the combined committees listened to testimony from and questioned a panel of eight experts who included a judge, a prosecutor, a county clerk of courts, a county supervisor of elections and representatives of appropriate state agencies, none of the members suggested they have any intention of stopping or slowing down the registration efforts. But the witnesses provided several points indicating that Florida law, Florida courts, and various state and county bureaucracies do not provide all the answers, at least not easily, to determine who is or is not eligible.
They also spoke more broadly about restorations of rights, arguing that Florida could and should do more to help people who have completed sentences be more employable, and receive other rights such as serving jury duty.
Throughout Florida, county supervisors of elections all are accepting voter registrations from people who check the box that declares they were convicted of a felony but have completed their sentences, and those people are being put on the voter rolls, as the amendment states and intends. But supervisors are doing that out of assumptions putting faith in the applicants, not putting faith in certainty of the laws, said Paul Lux, Supervisor of Elections in Okaloosa County and president of the Florida State Association of Supervisors of Elections
"If someone calls our office and says, 'Am I eligible to re-register' to vote now? Unfortunately our answer is we're not really sure," Lux said.
The applications are forwarded to the Florida Department of Law Enforcement which checks to be sure the voter qualifies, and that department has the authority to kick it back with a red flag. But documentation and clear-cut definitions may be hard to come by.
"Our job is to remove the subjectivity and provide everybody on the panel and who is involved in the system objectivity so that people that Rep. [James] Bush and the rest of us represent have their rights enacted as the voters intended," said Judiciary Committee Chair Paul Renner, a Republican from Palm Coast.
The uncertainties are many:
– How can someone know if they have completed their sentence?
While the answer may seem obvious, and the returning citizens may conclude that they have done so in good faith, the answer may not be easy to document, and there are disagreements over what may qualify as a sentencing requirement.
The closest that comes is if someone asks the Florida Department of Corrections to be granted early release from probation, and they can get a DoC document saying "they have successfully completed it;" otherwise there is no such document, said Jack Cambell, State Attorney for Florida's 2nd Judicial Circuit and representing the Florida Prosecuting Attorneys Association.
"There is not a document that says, 'You have completed your sentence,'" said Chief Judge Frederick Lauten, of Florida's 9th Judicial Circuit. "Most of the people I sentence I never see again. And I never give them something that says, 'Congratulations' or 'You have completed your sentence.'"
And he added that the legal definition of any individual's completed sentence needs to come from the judiciary that did the sentencing.
– Does completion of sentence include financial conditions, such as when defendants are ordered to pay fines, court costs, and restitution?
Those payments are not always clearly tracked, and sometime restitution is even paid privately. Courts sometimes don't get back involved unless someone files a complaint, and those are often turned into civil suits, outside the criminal justice system.
Lux told of a roofing scam that victimized him after Hurricane Ivan. The roofer was convicted of fraud and went to prison. He also was ordered to pay back all the money he took from people who never actually got a roof repaired. In Lux's case that was $4,000.
"They are no longer in jail. Paul Lux doesn't have his $4,000. So if that person walks into my office to register tomorrow, do I accept the registration, or don't I accept the registration? Have they met all met all terms of their sentence or have they not? And the blunt answer is: I don't know," Lux said.
– In most cases the county clerks of court or comptrollers maintain the relevent records on sentences and whatever information is available about terms that have been completed. Those are digitized statewide going back to 2000. Before then the records management is county-by-county, and at some point in time the records become microfilm or paper documents in archives warehouses.
"It's those older records that really become a challenge," said Carolyn Timmonn, Clerk of the Circuit Court and Comptroller for Martin County, and representing the Florida Court Clerks & Comptrollers.
– Legal definitions may muddy the status of the two disqualifying felonies: murder and sex crimes, as various Florida statutes cover different crimes included or not included in those categories. And in other states the definitions can be different from what they are in Florida.
"There is some ambiguity at this point… Prosecutors are of the opinion of looking for a definition from this body of, 'What is murder?' In statutory definition that certainly is defined as first-degree, second-degree and third-degree murder. But a question for us and for you all is, Where is manslaughter? Where does an out-of-state conviction for homicide come in? Are you going to do it on a statutory basis or are you going to do it on a factual basis?" Campbell said. "The same with the definition of a felony sex offense."
Bush, a Miami Democrat, had raised concerns for the returning citizens applying to become voters. If so much is so ambiguous, do they risk being prosecuted for perjury or fraud if they believe they have completed their sentence and fill out the voter applications, only to have someone come back later and declare, no, that's wrong?
Campbell and Lauten sought to reassure him and the voters that would not happen. Campbell said prosecutors wouldn't consider filing charges unless it was clear that the intent was fraud, such as if someone still in prison filled out the form. Lauten referred to the legal point known as the rule of lenity, which holds that if the law is unclear the courts need to side with the accused.
Criminal Justice Subcommittee Chair James Grant, a Republican from Tampa, raised what he called his nightmare scenario, which was a very close election that is contested, and the losing side starts challenging the eligibility of returning citizen voters by running checks on all of their court records after the election.
But others assured Grant that a voter's eligibility cannot be challenged after an election.
"Once those folks have voted they have voted and you can't go back and take those votes away," Lux said.
Last updated on February 14, 2019