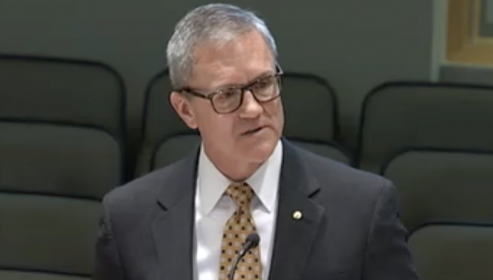 'It has been made clear to me that for UCF to succeed ... new leadership is required.'
University of Central Florida President Dale Whittaker has submitted his resignation in the midst of the school's spending scandal, offering to step down less than eight months after he took the helm.
Whittaker, who has been provost for four years under previous President John Hitt before being unanimously selected to succeed him last March, offered his resignation Tuesday morning. He becomes the next and biggest to fall as the Florida Board of Governors and Florida Legislature investigate how the university had misspent $50 million during the last few years of Hitt's 26-year reign at the Orlando university, the nation's second biggest in terms of total enrollment.
Whittaker became president July 1, 2018.
Without expressly saying that the board would accept Whittaker's resignation, UCF Board of Trustees Chairman Robert Garvy declared that Whittaker was putting the students and the university first. Garvy said he would call a special meeting of the boards to address the matter.
Whittaker's role to date in the scandal, at least as thus far, has been characterized as having been in a position to know that the university was misspending state operations money to construct unauthorized buildings, yet without knowing that the university was violating any state rules or laws.
"I have never wavered in my efforts to completely address every aspect of these challenges," Whittaker wrote in a message to the UCF community. "However, despite my work to find and solve these problems, it has been made clear to me that for UCF to succeed with our state leaders in the future, new leadership is required."
That message was being made bluntly by some state leaders who had expressed strong concerns about how the university was addressing the spending issues, which first came to light last year shortly after Hitt retired. House Speaker Jose Oliva has declared the matter a high priority for the House Public Integrity and Ethics Committee.
"Today, President Whittaker took a major step towards repairing the relationship between UCF and the legislature. While there are several who shoulder more of the blame for the improper spending that occurred at UCF, President Whittaker knows, ultimate responsibility rests with the executive. I wish President Whittaker the best in his future endeavors," Oliva said in a written statement issued by his office.
Last week Marcos Marchena resigned from the university's board of trustees. Previously he had stepped down as the board's chairman.
The board had laid much of the blame on now-retired UCF Chief Financial Officer Bill Merck, who stepped down in August.
Four other top UCF executives were fired, by Whittaker, in January, after an outside firm completed and delivered an investigation to the board of trustees.
Traditionally, a university's provost ascends to acting president in a sudden vacancy. If so, that would be Elizabeth Dooley, who would become the first woman and first African-American to head UCF.  She came to UCF in 2015 as vice provost for teaching and learning and dean of the College of Undergraduate Studies, rose to interim provost when Whittaker became president, and was promoted to provost in October. An education doctor, she came to UCF from West Virginia University, where she had spent 25 years, at one  point as WVU's associate provost for undergraduate academic affairs. She also is a coal miner's daughter.
The outside Bryan Cave Leighton Paisner report, commissioned by the UCF Board of Trustees and presented in January painted a scenario in which UCF had fallen way behind in its construction and longterm capital maintenance because of the deep cuts during the Great Recession to the state's Public Education Capital Outlay funds. It found that the University's top staff, in an effort largely blamed on Merck but also including Hitt, decided to transfer $38 million of Education and General Fund money to pay for construction of Trevor Colbourn Hall. The report also found that an additional $13.8 million of E&G funding was used in eight other university construction projects across the campus. Another $32.7 million in E&G funds were budgeted for construction projects but never spent, and that money has been removed from the university's construction budgets.
The UCF Board of Trustees previously sanctioned Whittaker by taking away some performance bonuses. The board also stripped bonuses from Merck and cancelled a "president emeritus" contract with Hitt.
Whittaker submitted his resignation as the Florida House Public Integrity and Ethics Committee cancelled a meeting set for Tuesday afternoon to look into the spending scandal. Whittaker was among 14 UCF officials and former officials whom the committee decided to subpoena, along with Hitt, Marchena, and Merck.
"Sometimes the best leadership decision you can make is to entrust leadership to others," Whittaker stated in his resignation letter. "I have concluded that for UCF to succeed with our state leaders in the future, new leadership will be required. I do not reach this conclusion lightly, because it has been my privilege and honor to lead UCF through one of the most serious challenges in its history. To help our university completely transition beyond its current circumstances, I believe my own personal transition is necessary."
Last week House Higher Education Appropriations Subcommittee Chair Randy Fine lashed out at UCF for not taking the scandal seriously enough. Fine, a Republican from Brevard County, argued that UCF should be shut down, a comment he later walked back, saying he said it just to express to UCF the gravity of the situation.
The UCF Board of Trustees also is planning to select a new chair to replace Garvy, whose term expires before the next board chairman's term would expire.
"Dale has served this University with distinction since his arrival as Provost in 2014 and his selection as President in 2018. His record of achievements, personal integrity, leadership, engagement, and insistence on the highest standards of personal conduct have been recognized and admired throughout our institution, the 68,000 students we serve and the central Florida community," Garvy stated in a letter he sent to other UCF trustees. "In his offer to resign, Dr. Whittaker is putting the interests of our students and the University above his own. I am grateful for his willingness to subordinate those interests to the needs of our students, our two hundred and eighty thousand graduates, and tens of thousands of businesses, organizations, and entities that rely on UCF's talent and significant economic impact."
State Rep. Tom Leek, who chairs the House Public Integrity and Ethics Committee, echoed Oliva's statements.
"I believe President Whittaker was placed in his position at an inopportune time and much of what occurred was already underway. But as the Speaker said, ultimate responsibility rests with the executive," Leek stated. "President Whittaker, as the leader of the University, recognized that reality and is stepping down for the good of the institution. We wish him all the best for the future."
In his letter to the UCF Board of Trustees, Whittaker said that upon learning state dollars had been misspent, his first goal was to support an investigation into the matter.
"To accomplish the first goal I directed all our university personnel to fully support the investigation initiated by the Board of Trustees, as well as the investigation being conducted by the Florida Board of Governors and the Florida Legislature, to ensure that a full, accurate, and complete inquiry and record is made of all the circumstances surrounding [Trevor Colbourn Hall] and other projects," Whittaker wrote.
Whittaker mentioned two other goals in his letter: implementing reforms to ensure no such incident happens again and restoring the public's trust in UCF.
"We have made great progress and UCF is pointed in the right direction," Whittaker wrote. "However, to fully implement my goal of restoring confidence in UCF by state government leaders, it has been made clear to me that one additional step is needed."
That additional step, he said, is offering his resignation.
State Rep. Carlos Guillermo Smith, an Orlando Democrat who represents a district that includes UCF, said he views Whittaker's decision as a way to protect students and faculty from an "overzealous Republican Legislature looking for excuses to punish public universities."
"I hope [Whittaker's] decision ends the Legislature's obsession with UCF so we can move on and work together to make Florida' state university system our nation's best," Smith tweeted on Tuesday.
___
The News Service of Florida contributed to this post.