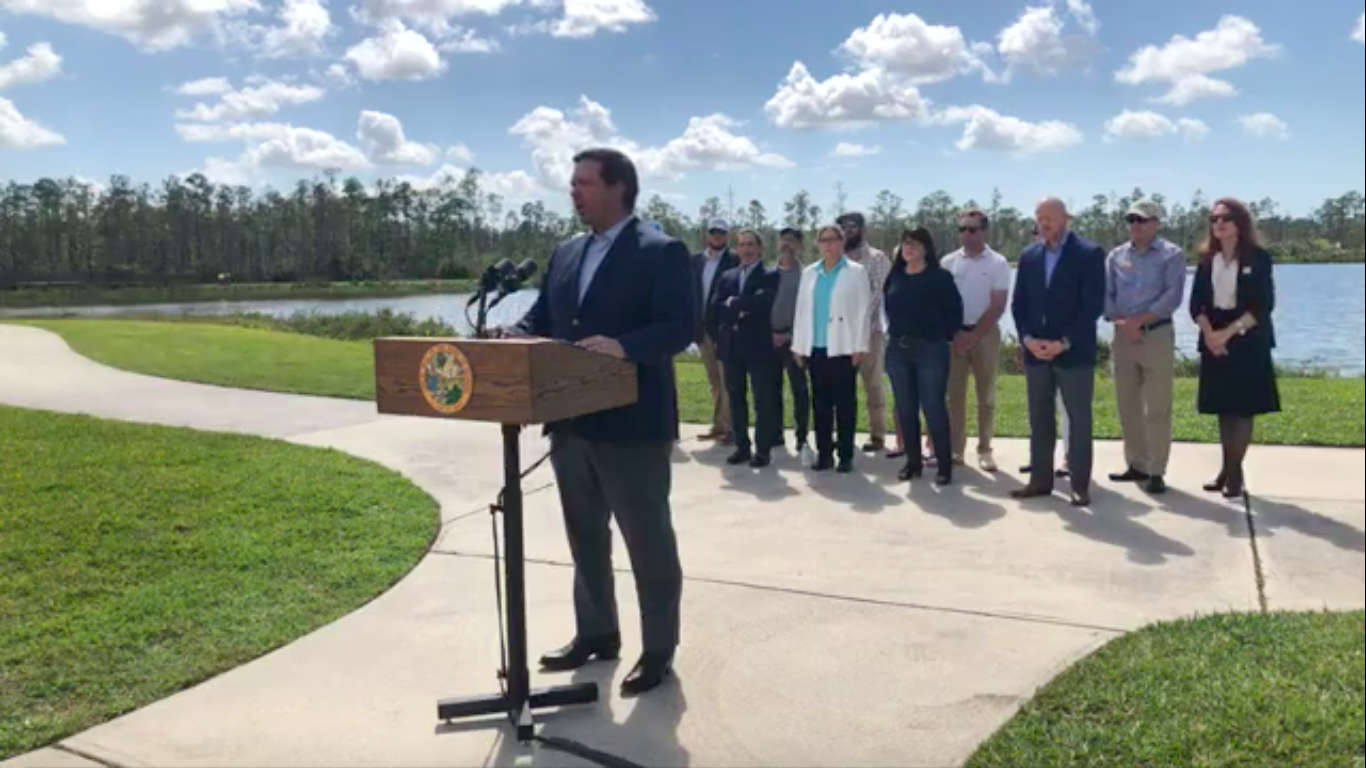 "They all care about the water problems we've had. They're all committed to fixing it."
Gov. Ron DeSantis on Thursday continued his effort to completely remake the South Florida Water Management District Governing Board.
During a press conference in Naples, the Republican governor named three new board members: Charlie Martinez, Cheryl Meads and Charlette Roman.
At a Stuart event later in the day, DeSantis also announced the appointment of Jacqui Thurlow-Lippisch.
"If you look at these people, they have all done very well in their careers. They bring a lot of aptitude," DeSantis said. "They all care about the water problems we've had. They're all committed to fixing it."
Roman, a Marco Island City Council member, will hold a Collier County seat on the board. A retired Army Colonel, DeSantis stressed that background while noting the need for the water management district to work with the Army Corps of Engineers.
She praised the governor at the press conference for prioritizing environmental issues.
"Healthy waterways are indeed key to our continued economic prosperity and quality of life," she said. "I am committed to working to make your vision, and the vision of the citizens of Florida, a reality here."
Meads, also an elected official on the Islamorada Village Council, said she felt humbled by the appointment. She promised a shift in practices at the much maligned water management district.
"This appointment imposes responsibility that is not for the faint of heart, that is not for those representing the desires of special interest groups and that is not for personal gain," Meads said.
"We are not the same Florida that established the central and southern flood control district in 1949."
She will represent Monroe County on the board.
And Martinez, a lifelong South Floridian, will take a Miami-Dade seat. He said the district must work to ensure algal blooms like that paralyzing much of South Florida be prevented
"The red tide event that we suffered this year can never, ever happen again," he said.
Martinez said the board would stop any policy that allowed another massive bloom, even as a worst case scenario.
Thurlow-Lippisch, a former mayor of Sewall's Point who served on the 2017-18 Constitution Revision Commission, said Florida's waterways remained a priority for all citizens.
"Generation after generation, we have ignored the science and the signs in our excitement to build cities and towns and build the greatest agriculture empire on earth," she said.
She labeled the St. Lucie and Caloosahatchee rivers and other Florida bodies as "not more than dead canals." She stressed particularly interest in protecting the St. Lucie and Indian River Lagoon, Treasure Coast water bodies.
The governor said Thurlow-Lippisch had the strong recommendation of U.S. Rep. Brian Mast, who was on hand for the Stuart announcement.
DeSantis said another appointment will be made to the district board Thursday afternoon. The appointments follow DeSantis naming Chancey Goss and "Alligator" Ron Bergeron to the nine-member board.
Two days after DeSantis took office as governor, he called on all members of the water management district's governing board to resign.
Most have done so. The only remaining board members, James Moran and Sam Accursio, have terms that end in March.
DeSantis said he plans to fill the remaining two spots on the board some time next week, and for there to be a full board when the governing board next meets.
The governor at the press conferences reemphasized his commitment to spending $2.5 billion on water quality efforts over his first term. He said he recently requested support from President Donald Trump to provide $200 million a year toward that goal.
He also promised his administration would appeal a recent court order demanding the state issue a permit to drill in the Everglades.
In Stuart, DeSantis acknowledged disagreement on Florida's east and west coasts about how to manage Lake Okeechobee. On the east coast, he said, there seems strong support to have no discharges from Lake Okeechobee into the river.
But to the west, there's interest in moving some more water south while limiting blue-green algal blooms accompanying releases.
The Everglades Foundation applauded the appointments to the board.
"The Governor has put together a diverse cross-section of local governments, business leaders and friends of the environment who will act as concerned and committed stewards of our water and natural resources," said Foundation CEO Eric Eikenberg.
"We look forward to working with this new board to protect and restore America's Everglades. He should be congratulated, and we wish all the new governing board members Godspeed."