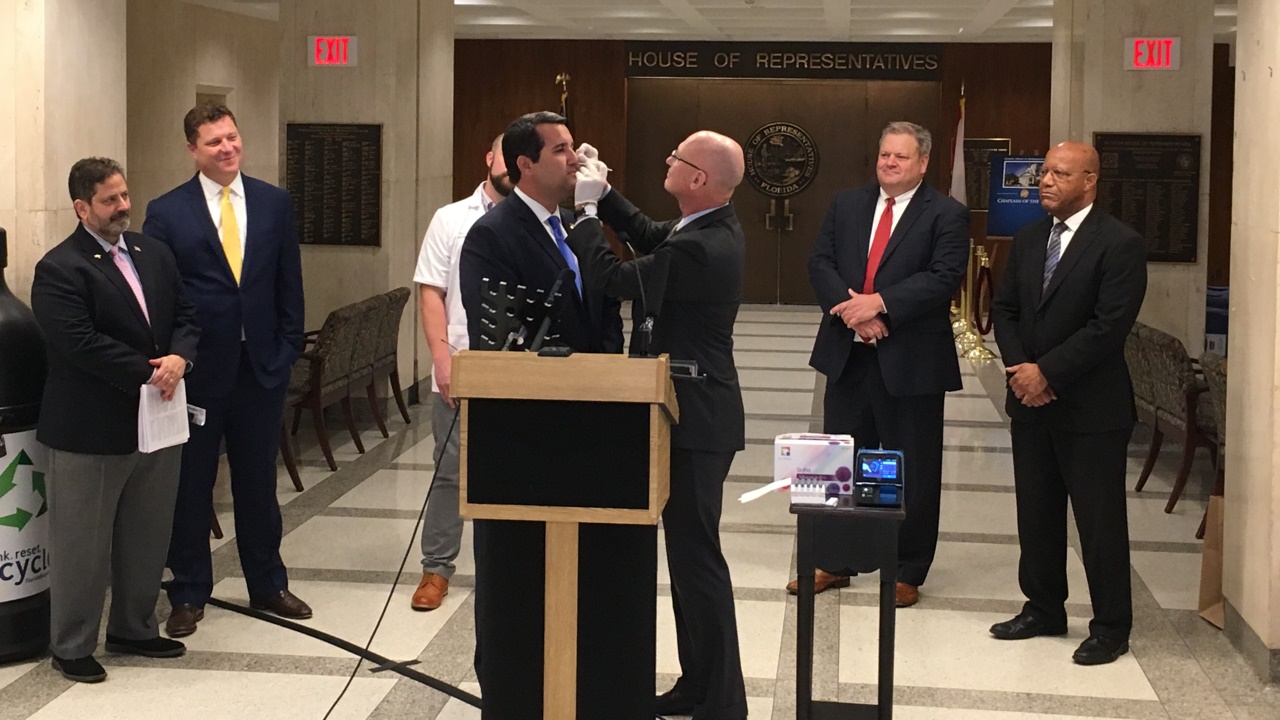 The bills could save patients a trip to the doctor
Those who come down with the flu or strep throat would be able to avoid a trip to the doctor if a proposal from Sen. Jeff Brandes, Rep. Rene Plasencia and Rep. Tyler Sirois gets some traction.
SB 300 and HB 111 would give pharmacists the authority to provide point-of-care testing and treatment for Influenza and Streptococcus, saving the infirm from trying to squeeze in a doctor appointment before the treatment window flies by for prescription drugs such as Tamiflu.
"Eighty thousand people died and hundreds of thousands were hospitalized because of influenza last winter in the U.S.," said Brandes, a St. Petersburg Republican. "This legislation is a no-brainer.
"With advancements in technology in the medical field, comes the time to advance the way services are provided to Florida patients.  It is time that we allow pharmacists — with the notification of the patient's primary care physician — to test and treat Floridians for the flu, as well as strep.
"Both are very contagious illnesses that could be stopped faster if we increase the access points for diagnosis and treatment."
The idea isn't a new one — the news release announcing the proposals notes fifteen states other states, most of them west of the Mississippi, already allow pharmacists to treat the common yet highly contagious viruses.
"As a teacher and a coach, I understand the need to increase Floridians' access to care by allowing point-of-care testing and treatment for Influenza and Strep," said Plasencia, an Orlando Republican.
"That is why I have filed HB 111 to allow pharmacists to perform a simple swab test that provides results within 15 minutes or less.  Pharmacists can already perform much more complicated procedures; and, this good public policy simply allows Floridians to get diagnosed and treated for two illnesses that can rapidly spread if not quickly addressed."
Sirois added that the measure would also give Floridians the ability to seek treatment 24 hours a day without forcing them to drive across town to the doc.
"Eighty-six percent of the population lives within five miles of a pharmacy and many are open 24-hours, I jumped at the opportunity to work with Representative Plasencia on HB 111," the Cocoa Republican said.  "As a father of two, I know first-hand how quickly the flu and strep can come on.  By having another access point to be diagnosed and treated, Floridians can shorten the duration and severity of these illnesses."
Avon Park Rep. Cary Pigman, a medical doctor who sponsorsed a prior version of the bill, provided an on-site demonstration of a rapid flu test at a Thursday press conference in the Capitol.
Florida law already allows pharmacists to provide a handful of treatments, such as give vaccines, that were once reserved for doctors and nurses so long as they are certified by the Florida Board of Pharmacy. The new bill would would put in place similar requirements, including 8 hours of continuing education courses.