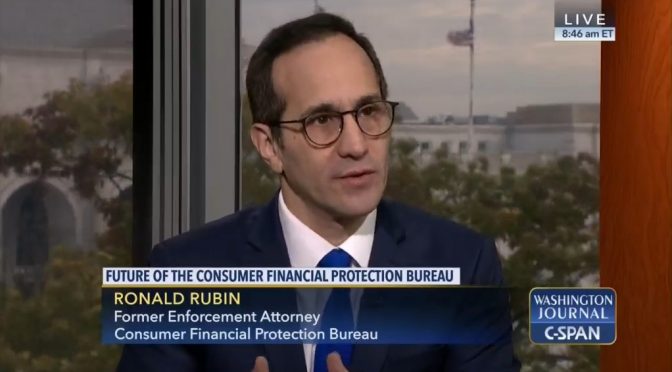 CFO Jimmy Patronis had pressured the former OFR Commissioner to leave last year.
Gov. Ron DeSantis and the Florida Cabinet on Tuesday hired Ronald Rubin as Commissioner of the Office of Financial Regulation (OFR).
Rubin has been an enforcement attorney for the federal Consumer Financial Protection Bureau and worked at the U.S. Securities and Exchange Commission (SEC).
DeSantis and the Cabinet opted to pay Rubin the same salary as Insurance Commissioner David Altmaier, who currently makes nearly $166,000 per year.
Rubin's hire comes after the former OFR Commissioner, Drew Breakspear, quit last June. 
CFO Jimmy Patronis pressured Breakspear to leave the position. Patronis' office had said he received numerous calls for a new top regulator from mortgage and security industry leaders who had clashed with the agency.
Rubin, while being interviewed from the Cabinet, agreed with concerns raised by Agriculture Commissioner Nikki Fried and Patronis that banks need to accept money from the medical marijuana industry. Banks in Florida and other states have shunned cannabis companies because marijuana remains illegal under federal law.
"Not having good banking services creates very bad problems … which invites crime, basically. But, also, it hurts revenue of the state," Rubin said.
He also indicated he is reluctant to support advocating the use of cryptocurrency, an issue that has drawn concerns from Patronis.
"In my mind, I'm still not certain that, basically, that you can't have a run on Bitcoin (a prominent type of cryptocurrency), that there is nothing to support it in a way that people will not lose confidence in it," Rubin said.
—
Material from The News Service of Florida is used in this post.