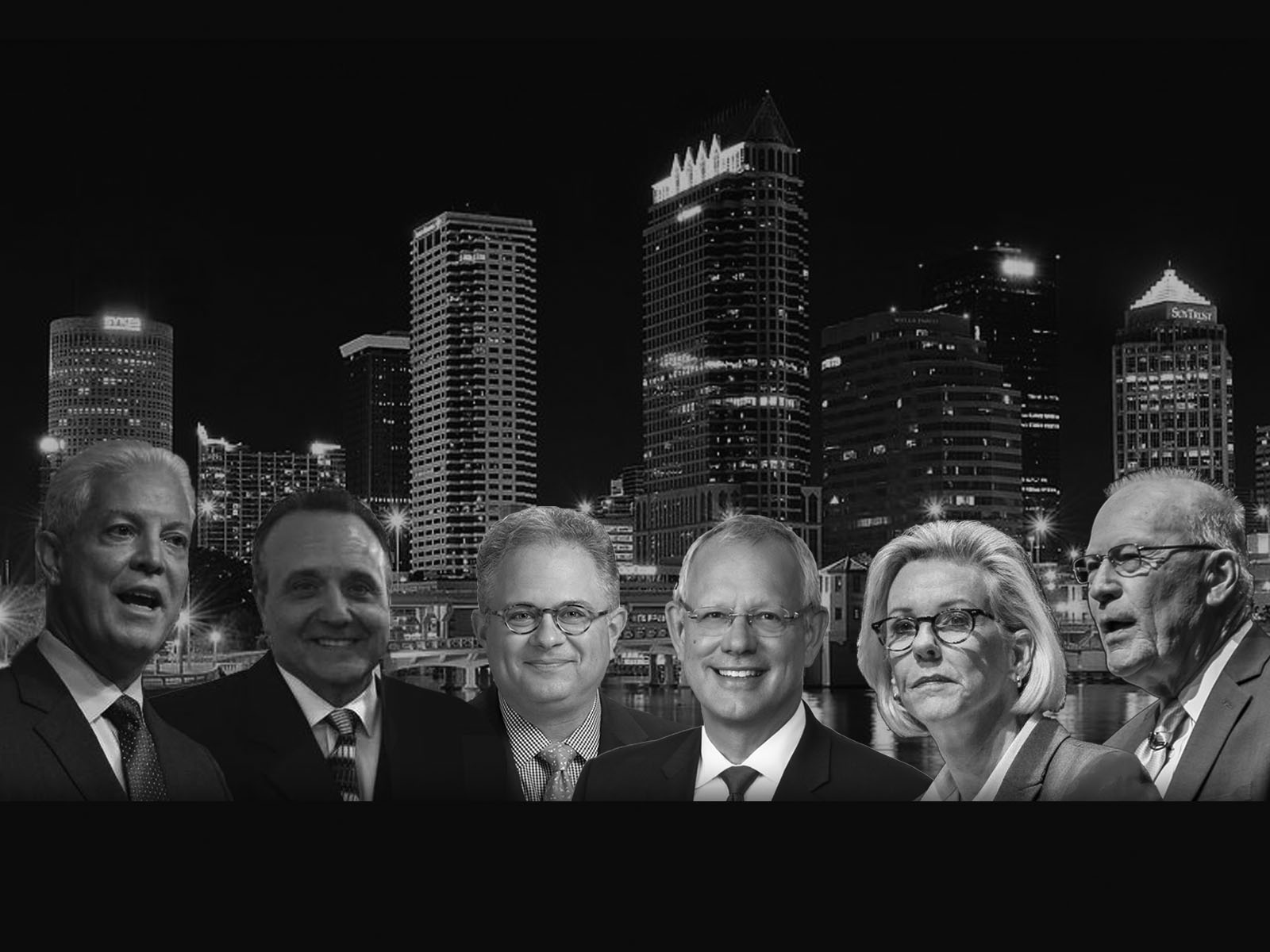 The mayor's race in Tampa is anything but soggy.
Candidates spent Day 2 of early voting battling the elements. The wet weather seems to have kept voters from the polls. Just 500 people cast a ballot — about 170 fewer than Monday.
Still, the mayor's race in Tampa is anything but soggy.
Tuesday rolled in alleged reports that Dick Greco Jr. and David Straz might have a feud brewing while Straz answered to his minimum wage proposal some are questioning. If Greco is eyeing Straz as his top political target, it wouldn't be a surprise. Straz is thought to be sitting in the No. 2 spot in the race, positioning himself for a runoff April 23 with Jane Castor. If that expectation holds, he's the man to take out if other candidates want to move beyond March 5.
Here's how it shook out.
"Greco betrayed Straz; is now running questionable GOP-centric strategy" via Florida Politics — As reported by Peter Schorsch, a source with close ties to the Greco family says Straz found out Greco Jr. would run for mayor while he was visiting Greco Sr. in the hospital and after the family had promised to endorse him in the race. The family even reportedly finalized a news release announcing the endorsement.
According to Schorsch, a source also claimed it was Greco who sent out a text last week criticizing Straz for endorsing Andrew Gillum for governor and painting him a far-left extremist.
From Schorsch:
"That started after Linda Greco, who apparently is in complete control of her adult son, had a flame out with the initial campaign manager, Joey Precopio, causing him to walk out the door. The campaign then brought on Republican consultant April Shiff. Her hiring has seen Greco Jr.'s campaign move to the right. … The only answer is he's looking to squeeze into the potential runoff against front-runner Jane Castor. Either that or he and his mother are so acidic they're just looking to deny Straz a shot. But the most damning piece of the puzzle is that Greco Jr. has only lived in Tampa for about a year. He owned a home in Homosassa through late 2017 and claimed a homestead exemption on it, so he either lived there or was A-OK committing property tax fraud. … After less than two years in the city, it certainly takes some chutzpah to run for Mayor."
"Straz's $15 minimum wage isn't so cut and dry" via Florida Politics — If Greco is trying to pass Straz off as far-left, Straz is giving him a hand. The millionaire retired banker is flooding the city with campaign ads and mailers touting his commitment to raising the city's minimum wage to $15 an hour, a stance held by the progressive Fight for $15 group. But some are scratching their heads wondering why Straz hasn't pushed harder for the Straz Center for the Performing Arts to also pay its workers $15 an hour. 
"While Straz's position as a donor does not give him direct authority to control wages and other budget decisions, there's a perception that his stature with the organization should give him at least some influence. Asked whether he's pushed for increasing the Center's minimum wage, the Straz campaign wouldn't say and offered only a brief statement. "David is passionate and proud to support the arts and will continue to do so. He is not involved in day-to-day operations at the Straz Center," spokesperson Jarrod Holbrook wrote in a statement. Holbrook also reminded that Straz is putting his money where his mouth is on the campaign trail. All of his campaign staff are paid at least $15 an hour, Holbrook said.
"Bob Buckhorn irked at Straz flyer that reads like a mayoral endorsement" via Tampa Bay Times — Times reporter Charlie Frago followed up on a mailer voters received Tuesday that contained a quote from Buckhorn praising Straz. " … His years of budget and banking experience will be invaluable in helping me navigate the uncertain economic realities that we'll face," the quote read, in part. The Straz campaign disclosed on the flier the quote was taken from a 2011 news release. Buckhorn told the Times the quote was "totally out of context." "It's completely inappropriate to be included now with the inference that I'm endorsing him, which I absolutely am not," Buckhorn said. The Straz campaign issued a statement, which they provided to Florida Politics along with a photo of the mailer and a copy of the 2011 news release in which Straz had endorsed then-candidate Buckhorn, saying the quote was in-bounds because it disclosed that it was not an endorsement.
Straz served on Buckhorn's transition committee, but the two have been at odds since Straz entered the race to replace him. Buckhorn is expected to endorse Castor in the race but has not yet.
"Joe Henderson: Straz campaign may change way Tampa Mayor is elected" via Florida Politics — "He has had more time to hone his message because he hasn't been knocking on doors for campaign donations. In the last reporting cycle, the David Straz campaign raised just $11,000 outside of the candidate's own bank account. The other advantage is a bit more esoteric. He can truly pound the point that he isn't beholden to anyone. That can be effective. It's the blueprint Rick Scott used to win two terms as Florida's Governor and a U.S. Senate seat. Scott dipped into his savings to the tune of nearly $64 million in his campaign to beat Bill Nelson last November. And, of course, Donald Trump self-funded his campaign to win the Republican nomination for President. Straz obviously won't spend that kind of money but he already has spent $2.2 million in this effort. … Tampa has never seen anything like this."