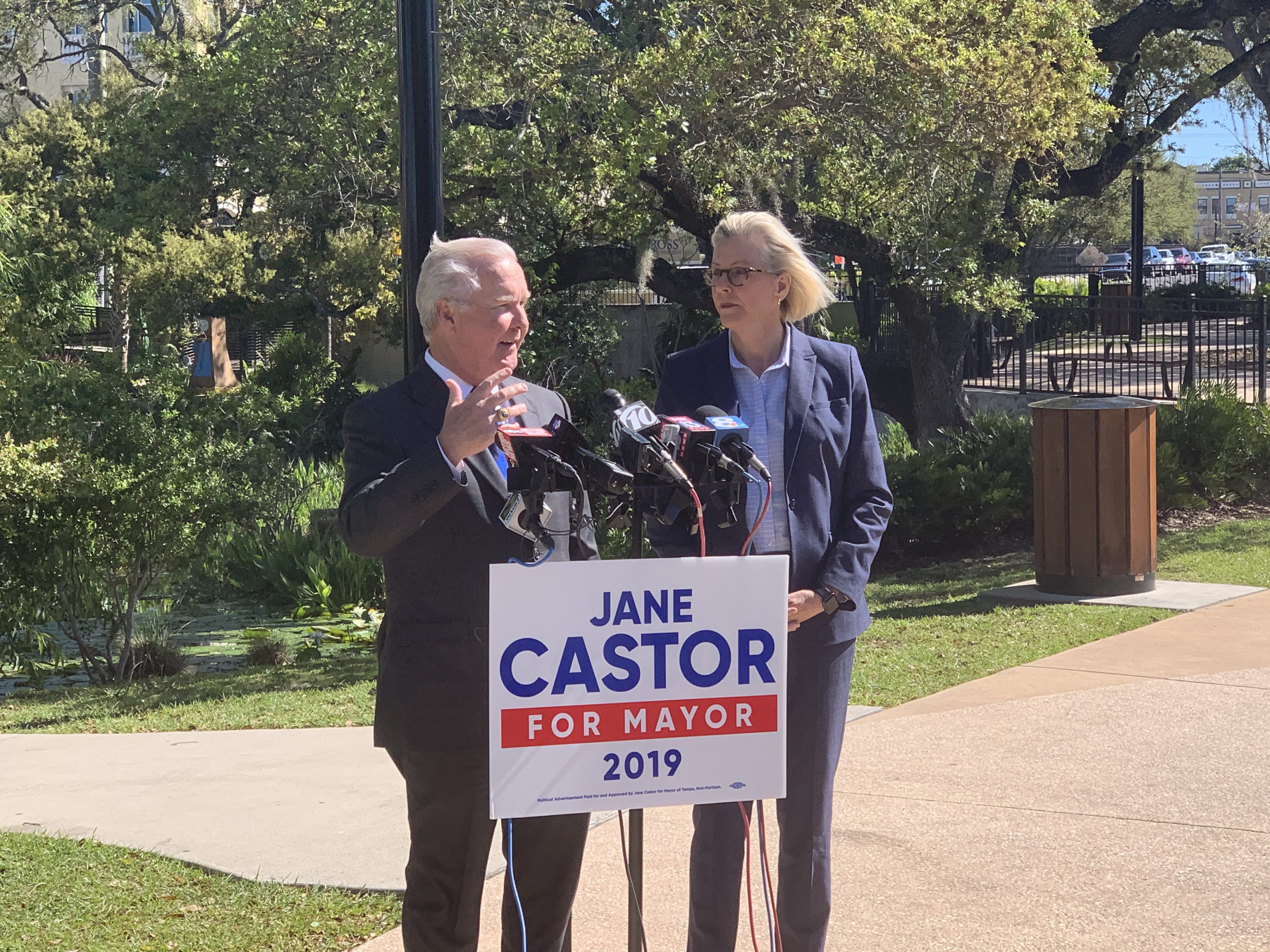 "It's not someone who is going to undo the work that we have done."
Tampa Mayor Bob Buckhorn endorsed Jane Castor in the race to replace him in City Hall.
Buckhorn announced his pick Wednesday morning at Water Works Park along the Hillsborough River less than 24-hours after Castor secured 48 percent of the vote against six other candidates, including David Straz who she'll face in the runoff.
Buckhorn's endorsement not only served as a nod to Castor's priorities but as a referendum on Straz's.
"When I think about who I want at the helm … [it's] not someone who is going to undo the work that we have done," Buckhorn said.
He wouldn't directly criticize Straz but made a clear implication that choosing Castor would move the city forward and continue the momentum Buckhorn built over the past eight years while a vote for Straz would send that progress backward.
While not surprising, Buckhorn's endorsement is huge. Buckhorn has faced some criticism during his tenure, but overall he's been a popular mayor whose successes, including developing the city's riverfront into a trendy destination, have been widely celebrated. His nod for Castor indicates his confidence that she'll pick up where he left off.
In his remarks, Buckhorn painted a stark difference between Castor and Straz, pointing repeatedly to her more than 30-year tenure with the Tampa Police Department.
"She knows every neighborhood in this community," Buckhorn said.
By contrast, Buckhorn lamented that Straz's attempts to "buy" the election is not what the community needs.
"You can't carpet bomb this election," Buckhorn said, referring to Straz's copious amounts of paid media.
Straz dumped more than $3 million of his own money into the race and is expected to re-up that financial commitment throughout the runoff. Not only did he buy far more television advertising than any other candidate in the race, but Straz also paid for outside companies to canvass neighborhoods.
Asked whether that's a potential problem in the runoff, Buckhorn dismissed the big money efforts.
"You can't just flood the airwaves with commercials if there's no relationship," he said.
Straz has already shown a willingness to go negative with his campaign tactics. During the general election campaign, he sent out at least two direct mail flyers criticizing Castor for supporting red light cameras and for the biking citation policy under her administration with the Tampa Police Department that led to disproportionate civil citations and arrests among African-American communities in the city.
Further, he hinted he would be hammering Castor on those issues heading into the seven-weeks of campaigning to follow in the runoff.
Castor said she would most certainly defend herself against such attacks, but had no plan to take her own campaign down that dark road.
"When we launched, I said that I was going to focus on the skills, knowledge and experience that I brought to the position of mayor and then focus on the issues that are important to our community," Castor said. "People here want a leader, a leader they can follow and they'll focus on that."
Castor received more than three times the amount of votes in the election than Straz. Asked whether he should bow out of the race and concede, Buckhorn said that's up to Straz.
"Certainly it is his money that he is investing," Buckhorn said.