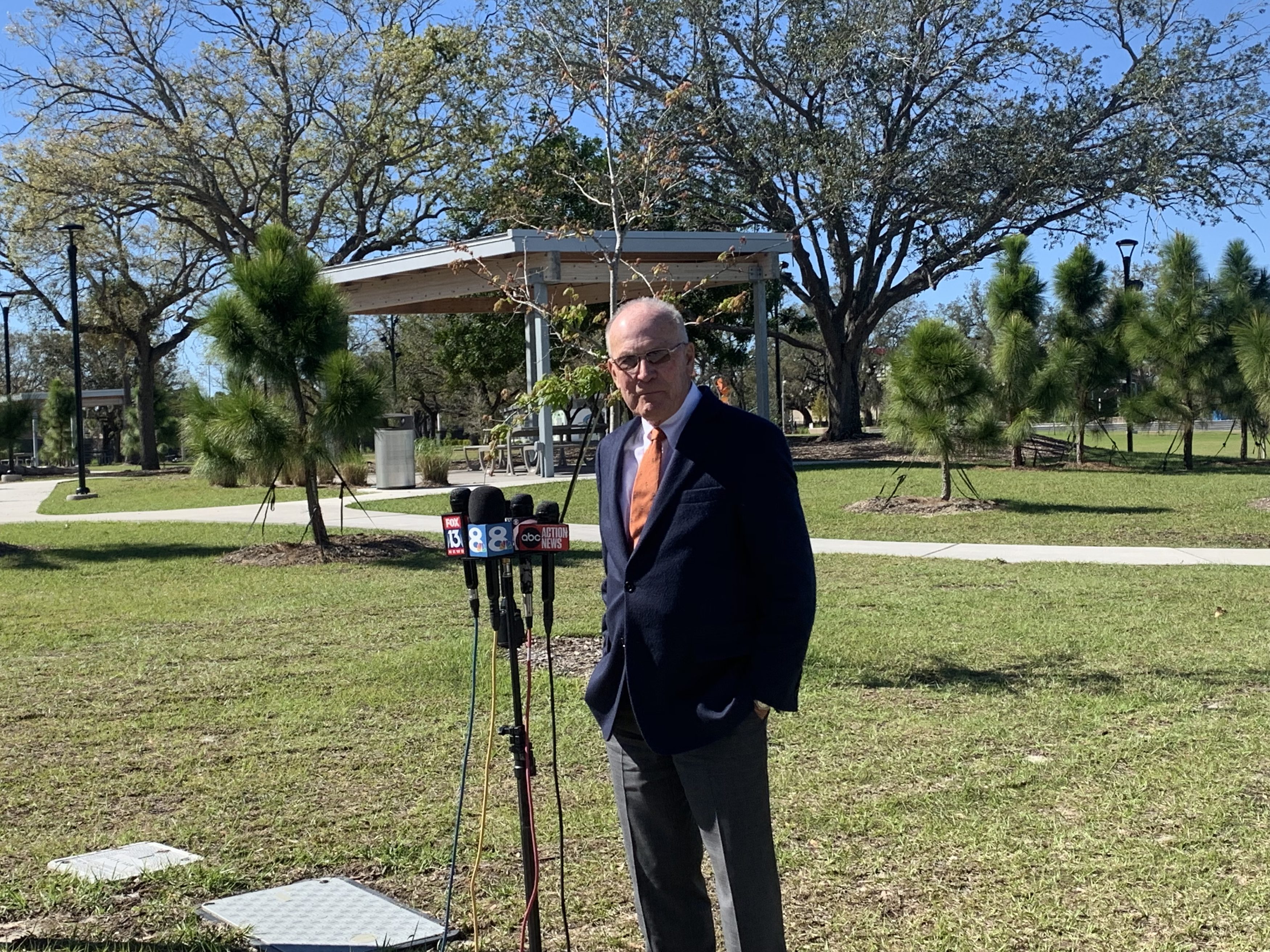 "The people of Tampa deserve having the best from their mayor and that's me."
Tampa mayoral candidate David Straz will not concede.
Straz won a place in the runoff against opponent Jane Castor despite earning less than a third of the votes she did.
Castor finished Election Day with 48 percent of the vote, while Straz came in with 15.5 percent.
"I would not consider conceding under any circumstances because the people of Tampa deserve having the best from their Mayor and that's me," Straz said during a news conference Wednesday at Julian B. Lane Riverfront Park on the Hillsborough River overlooking downtown.
With such a wide margin between the two candidates, it's difficult to find a path to victory for Straz, leading some to wonder if he would concede despite narrowly making the runoff.
Straz acknowledges he has an uphill battle but said he's prepared to fight his way to victory.
"There were 52 percent of the voters that did not vote for Jane Castor; I think that's very meaningful," he said. "Some people may have second thoughts about voting for her, and we would expect to get some of those."
Straz pointed out the obvious: The winning candidate needs more than 50 percent to win on April 23 and, of course, Castor didn't reach that mark. However, she only needs to gain another 2 percent on top of the support she already earned while Straz needs another 35 percent. It seems a nearly impossible climb.
Straz's only advantage in the next seven weeks of campaigning is money. The wealthy retired banker dumped more than $3 million into the race already and said he's prepared to spend "whatever it takes to win" in the runoff race.
Asked about how much money he has already spent, Straz told reporters the amount of money spent is relative.
"The people that don't like spending that much money are the people that don't have it," Straz said.
He then implied his wealth is an advantage for citizens of Tampa.
"I think my fellow citizens deserve having the best and they need somebody with substantial dollars into the campaign," he added.
Asked if he was implying his wealth made him a better candidate, Straz lamented that was "a typical media thing" and said that was not what he meant.
Straz also weighed in on his campaign strategy moving forward. During an earlier press event in which Tampa Mayor Bob Buckhorn endorsed Castor, the former police chief vowed to keep her campaign clean and positive, only saying that she would defend her record if necessary, but otherwise stick to her skills and experience.
Straz would not make the same commitment.
"Well, this is a free country, right? You can do whatever you want to do," Straz said. "I plan to run a campaign that's truthful and honest. If there are things that come up that are negative, as long as they are truthful and honest, I think that's perfectly all right."
Straz chose Julian B. Lane Riverfront Park as the setting for his postelection news conference to highlight a familiar campaign talking point criticizing Buckhorn's administration for spending $35 million to redevelop the park. It's an expense, Straz argues, that came at the detriment of other Tampa neighborhoods including East and West Tampa. Technically, however, the park is in West Tampa.
In a campaign email announcing the Wednesday news conference, Straz's communications director Jarrod Holbrook provided without context a copy of a 2011 news release in which Straz had endorsed Buckhorn for Mayor. There's a quote from Buckhorn praising Straz in that news release.
Straz's campaign used the quote in a campaign flyer. It included a disclaimer that the quote was not an official endorsement, but Buckhorn was annoyed with its use saying it was misleading and could give voters the impression he supported Straz.
The 8-year-old Buckhorn quote praises Straz for his commitment to the city and calls him an asset to its residents.
"I presume he hasn't changed his mind about that now that he's been able to actually remember what he said," Straz said of the letter.
Buckhorn didn't respond to Straz's comment following a request, but earlier Wednesday implied Straz would take the city in the wrong direction.
He said he wanted a new Mayor who would carry his torch forward, "not someone who is going to undo the work that we have done." Considering there's only one other person left in the race, the implication was clear.