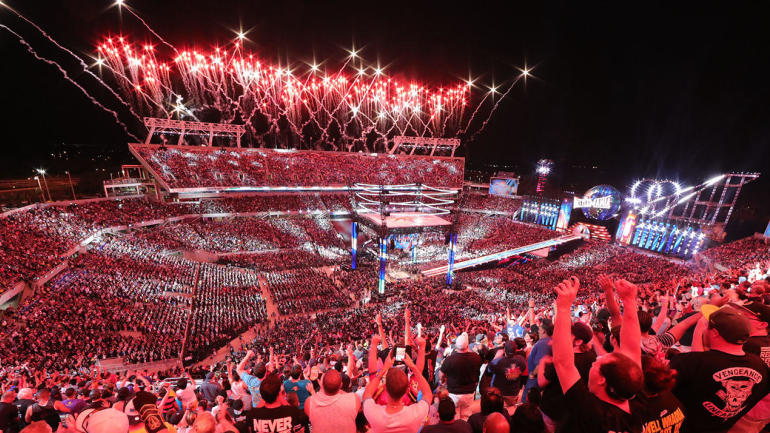 "Stop repeating bogus economic impact claims ... PLEASE"
If you hear a statistic on how many dollars or jobs an event promises to bring to your community … don't believe it.
In recent decades, economic impact projections, once used to estimate the benefit of a new business, have all-too-often become nothing more than exaggerated justifications for big spending of taxpayer money.
Full disclosure: I plagiarized the above … from myself … two years ago, when Hillsborough County and the state of Florida gave America's most valuable sports franchise, the Yankees, $26 million in stadium subsidies, following the team's completely made-up claim they brought $9 million to Tampa … every single time they played a Spring Training game.
Sadly, I need to keep repeating myself because there's a new chorus of bogus economic impact claims ringing around Florida following World Wrestling Entertainment's announcement that Raymond James Stadium will host WrestleMania 36.
Unlike the Yankees, at least the WWE hired a firm to provide an inflated claim of $150-$175 million of economic impact for its one-day WrestleMania event.
The Tampa Bay Times broke the story, and it was a good scoop. WWE even gave the paper credit in its official news release!
Don't be fooled; the attribution wasn't because WWE is an upstanding institution that supports the Fourth Estate by properly citing good journalism.
The WWE mentioned the Times in its opening line because Joey Knight wrote: "Tampa never previously has hosted a WrestleMania, which often attracts live crowds of more than 50,000 as well as a sizable pay-per-view (and WWE Network) audience, and can generate $150-175 million in economic impact on the host community."
The corporation is merely trying to legitimize its inflated economic impact claim; a claim the Times repeated in its breaking news article, without any citation of source or disclaimer of who paid for the economic impact report.
A cottage industry of deception
The website for Enigma Research Corp., which produced the WWE report, boasts the firm can "use case studies to convince brands to sponsor events or enhance current activations."
That would also seem to include convincing governments to sponsor and enhance events as well.
As I've pointed out in previous investigations, these reports are marketing tools, not economic tools.
After a marketing professor from Florida State produced a few rosy "economic impact" reports, he found himself getting a LOT of work from governments and special interests pushing specific spending programs.
These reports make grand "economic impact" claims, without really explaining what they mean.
"Impact" is not revenue.
These reports seldom take into account basic economic principals, such as leakage and displacement.
Leakage is money spent locally, like at a chain hotel or restaurant, that gets shipped out to another region, like where the company is headquartered.
Displacement (or substitution, or cannibalism) is when event money displaces money that would have been spent in the community anyway, even without the event.
These kinds of reports like to pretend nobody would ever want to stay in a Florida hotel in March/April if it were not for things like WrestleMania or Spring Training.
Most real economists could never get this kind of work for pro sports or corporations; they're too honest.
"Move the decimal place one place to the left," economist Victor Matheson told me in 2017 while trying to determine true economic impact from an inflated report, which was sponsored by a party with a vested interest in its projections.
Heads in beds
Under Matheson's estimate, WrestleMania could still be worth $15+ million to Tampa Bay next year — that's good news, if the cost of hosting isn't too significant.
The key to events like this is "heads-in-beds."
Unlike regular-season MLB games, for instance, one-time events like WrestleMania or a Super Bowl draw far more out-of-town visitors who bring outside money into your community.
Rob Higgins with the Tampa Bay Sports Commission is keenly aware of this equation, and (to his credit) he has withdrawn Tampa from consideration for events like the World Cup because the organizer's demands didn't justify the payoff.
Higgins also knows not to throw around economic impact projections within 100 miles of me, because they never hold water.
Following Tampa's success of hosting the January 2017 College Football Playoff championship, I took a look at Hillsborough County's tax receipts.
Despite claims the CFP — and more than a week's worth of events — brought more than $100 million to the area, there was absolutely no evidence of a surge in tax receipts the month of the game.
Higgins lets his work speak for itself; Super Bowls and WrestleMania are nice, but the real value is in landing youth and college sports tournaments, which bring hundreds of thousands of visitors to Hillsborough County each year at virtually no public cost.
A brilliant strategy
Tell me if this 2018 WWE news release sounds familiar:
"As first reported by The New York Post and Times-Picayune, WWE and Louisiana Gov. John Bel Edwards announced today that WrestleMania 34 generated $175 million in economic impact for the greater New Orleans region."
WWE and other pro teams employ a brilliant strategy: spoon-feed reporters and editors gift-wrapped statistics; watch them regurgitate said statistics without ever fact-checking, challenging or providing context; then, use those publications to legitimize your deceptive statistics.
To Knight's credit, a subsequent Times article on the WrestleMania announcement made it very clear that the WWE paid for the report.
But the damage was done, and no matter how many 4-year-olds I need to drag into my reporting to make a point … my megaphone will never be as loud as WWE's, and media outlets will continue to do the corporation's dirty work with inflated economic impact figures.
That junk then gets quoted, repeated and retweeted across social media, further legitimizing their giant deception.
I reached out to both WWE and Engima Research; but as of Thursday afternoon, I have not heard back.
And if they know how to Google me, I may never get a call back — they simply have no need for investigative journalists (or economists) when there is a storyline to promote.
Come to think of it, promoting a fake storyline is what WWE does best.
We can only hope media outlets and elected officials call them out on it.