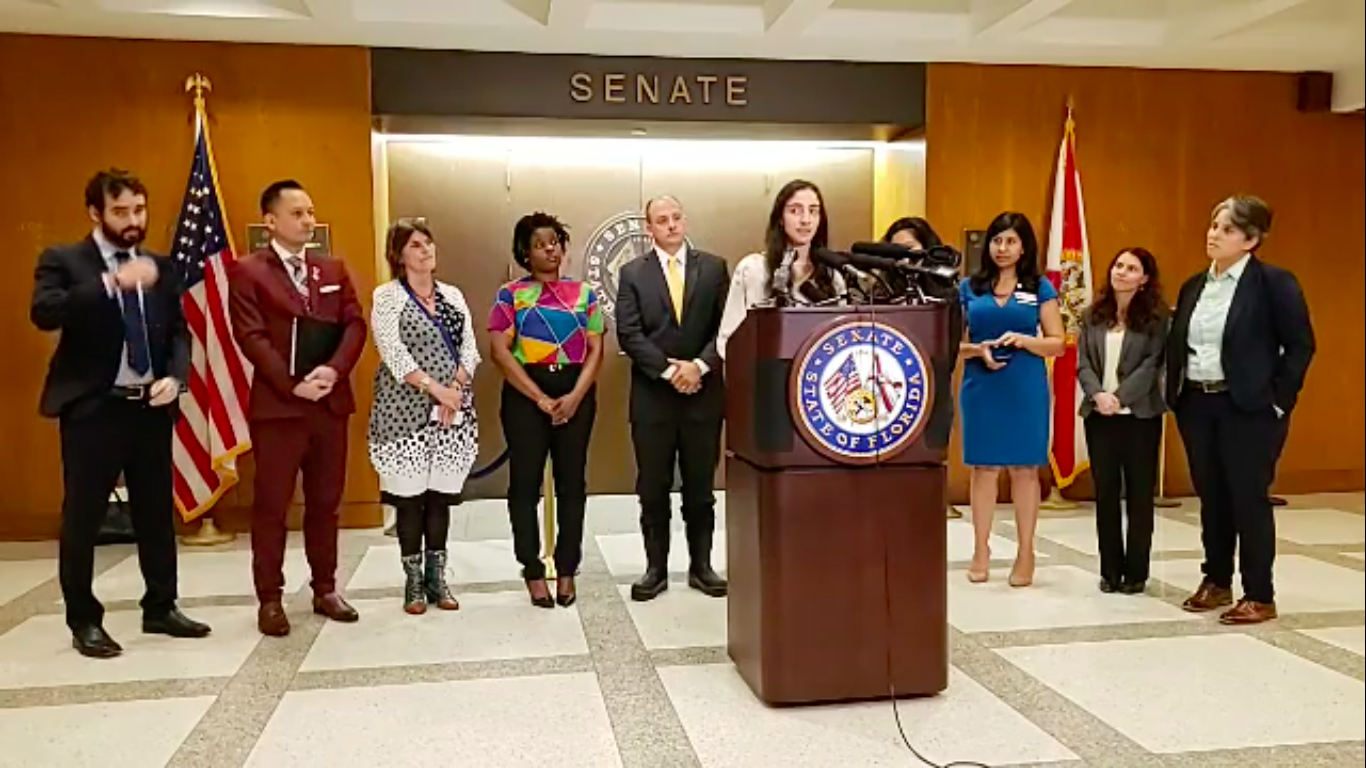 Ban on nonexistent policies would sow fear, Democrats say.
Democratic lawmakers say Florida has no sanctuary cities, but Republicans might create them by passing a supposed ban.
"Why create this phantom of sanctuary cities?" asked Sen. José Javier Rodríguez, a Miami Democrat, at a Monday press conference. "Frankly, it's to keep the issue of immigration alive."
Worse, that may happen as Venezuelan refugees flee violence and oppression for genuine sanctuary in America.
Lawmakers from the House and Senate stood alongside immigrant families and advocates to decry a bill (SB 168) proposed by Sen. Joe Gruters, a Sarasota Republican.
The bill sponsor, who attended the press conference to hear criticism first-hand, has called the ban his top priority of the legislative session. Gruters also is the Florida GOP chair.
Gov. Ron DeSantis promoted the bill, and called it out as an important issue in his first State of the State address.
But Democrats say if there's a good time when DeSantis should change course, this is it.
"Here's a perfect position to moderate if you want to extend this honeymoon period," Rodríguez said. "It's quickly ending."
Sen. Annette Taddeo, a Miami Democrat, hopes some Republicans will help scuttle the legislation. She pointed to op-eds from Republican agriculture leaders suggesting this policy will hurt the industry.
"Talk to these Republicans in business affected by this bill," she said.
The lawmakers also shared a podium with Natalie Charco, a Florida State University student whose parents are undocumented. Charco right now is a recipient of the Deferred Action for Childhood Arrivals program.
She said her family feels fearful to drive and visit her at school. Her father has been stopped before and cited for driving without a license. If that happens again, he could be brought in on a felony charge, which he frets will trigger an Immigration and Customs Enforcement (ICE) detainer.
"SB 168 imposes so much fear in communities," Charco said. "A broken tail-light can lead to separating families." And the specter of deportation leads to loved ones missing milestones in Charco's life, she said.
Rep. Carlos Guillermo Smith, an Orlando Democrat, said the idea Florida should crack down on immigrants flies in the face of Republican positions on ending the Nicolás Maduro regime in Venezuela.
"A lot has changed in the last year. We have a political and humanitarian crisis in Venezuela," Guillermo Smith said.
"Republicans are tripping over themselves to appear in solidarity with the Venezuelan people while advocating for legislation that will escalate mass deportations."
Notably, a number of Florida federal leaders have advocated for granting Temporary Protected Status to Venezuelan refugees fleeing that regime. But to date, no such protections exist.
And Democrats also presented the legislation as a violation of home rule. Rodriguez noted that no cities claim the mantle today of being sanctuary cities, but he has tried repeatedly to learn if Miami-Dade County will get reclassified that way under the bill.
The jurisdiction for five years had a policy criticized as a sanctuary position. Gruters' bill will require all jurisdictions to hold individuals for up to 48 hours if ICE has a detainer on them.